Jay Leno Gets His Own Tata Nano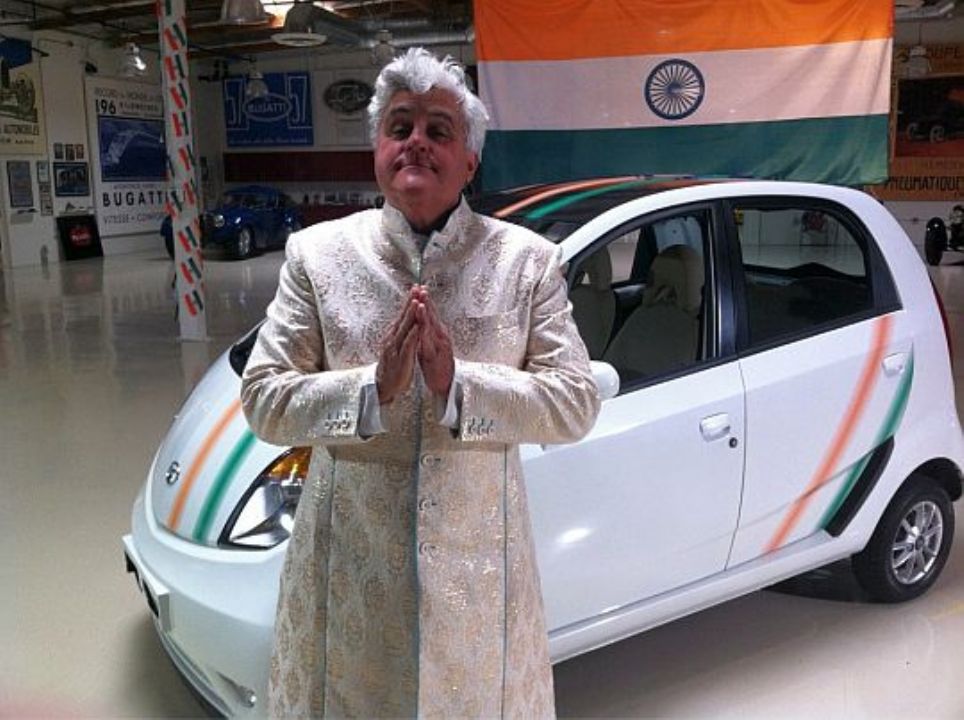 The Tata Nano is indeed going places, with the world's cheapest car now entering Jay Leno's garage. Jay Leno is the famous host of 'The Tonight Show with Jay Leno' and is an avid car and motorcycle buff. His garage includes 100 cars and 90 motorcycles including a Royal Enfield. His vehicle collection includes custom made automobiles to high end supercars. But amongst all of this, there stands the humble Tata Nano. The Tata Nano he has bought is white in colour and features the special Indian tri-colour on it.
Jay Leno dressed up in a sherwani (and Adidas shoes) to greet the Nano into his garage. He also roped in some bollywood dancers to perform at the time the Nano drove into his garage. The top-end Nano CX which Leno received has some accessories put on it (like the alloy wheels). The popular host also writes about cars for the Sunday Times and will be giving his opinion on the Tata Nano soon. Leno also has a Smart car in his collection so we need to see if he draws some Nano comparison with it.
While Jay Leno taking to the Nano is indeed a surprise, could Tata Motors have gifted it to him? There is no better publicity than celebrity endorsement. We will have to wait and watch if Leno adding the Nano to his garage has any positive impact on the sales figures of the world's cheapest car. We would also like to know how often Leno actually drives the Nano, rather than just parking the vehicle in his garage.