Top 25 Selling Cars In June 2019
Maruti Suzuki continues to dominate in spite of the slowdown.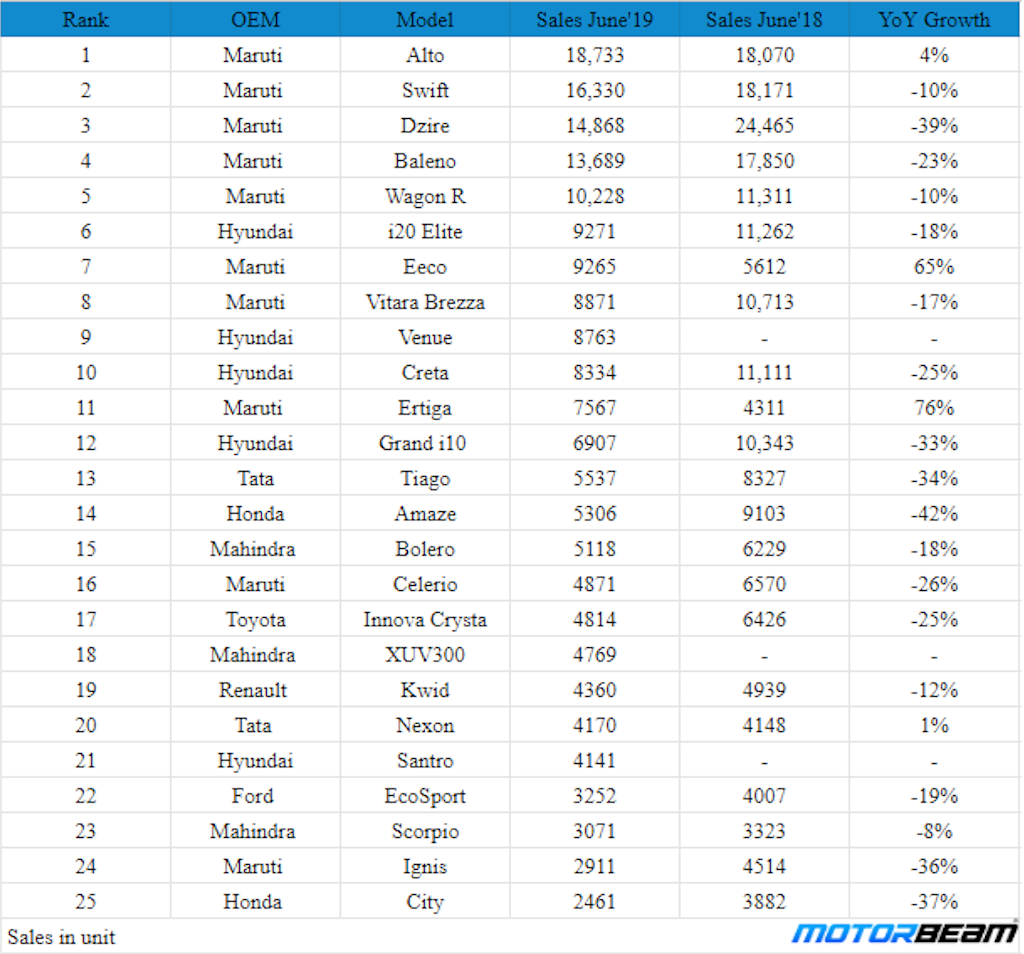 Is it a surprise that a Maruti Suzuki commuter vehicle has topped June 2019 car sales? Or the fact that it's the beloved Alto? Or that all top five cars are Marutis? No, no and no. While the auto industry is struggling to keep it together, this Indian automobile manufacturer seems to have it all in the bag with its 5 cars in the top 25.
Maruti Suzuki Alto at the first rank is 1 of the only 4 cars in the list with a positive year on year (YoY) growth. After selling 18,733 units in June'19, the Alto has witnessed a growth of 4%. It has also regained the top spot which was taken by the Maruti Suzuki Swift last month.
Talking about the Maruti Swift, one of the most selling hatchbacks in India has slid to the second rank from the top spot last month. With a YoY of -10%, the Swift has managed to sell 16,330 units as compared to 14,868 units of the Dzire, which is a close third. While Maruti Suzuki has witnessed a fall of 8% from May'19 to June'19, sales have dropped 17% from last year.
Hyundai with a YoY of -7%, has bagged the 6th position with the Elite i20. The premium hatchback has climbed two positions nudging the Hyundai Creta (previous 7th now 10th) and Maruti Eeco (previous 6th now 7th) after selling 9271 units. At number 11 is the Maruti Ertiga which has recorded the highest growth at 76% where the Indian manufacturer has sold 7567 units in June'19.
Tata Motors with its hatchback Tiago is the third OEM on the list running past Honda and its fleet. From the 20th position last month with the Nexon, Tata has saved face and is up at the 12th position with the Tiago. Despite the climb, the Tiago has witnessed a YoY figure of -34% after clocking 5537 units in June'19. Also, with the Nexon on the 20th spot, Tata is the only manufacturer, other than Maruti, with positive growth.
Coming to the end of the list, the Mahindra Scorpio, Maruti Ignis and Honda City are at the 23rd, 24th, and 25th position respectively as these vehicles are nearing the end of their lifecycle.
June 2019 Car Sales
– Maruti Suzuki retains the lead with 10 cars in the top 25 list
– The Maruti Ertiga has recorded the highest growth at 76%
– Tata upstages Honda by sliding past Amaze with the Tiago in sales