Update – Kia Sonet Customer Shares Concerning Service Experience – Car Damaged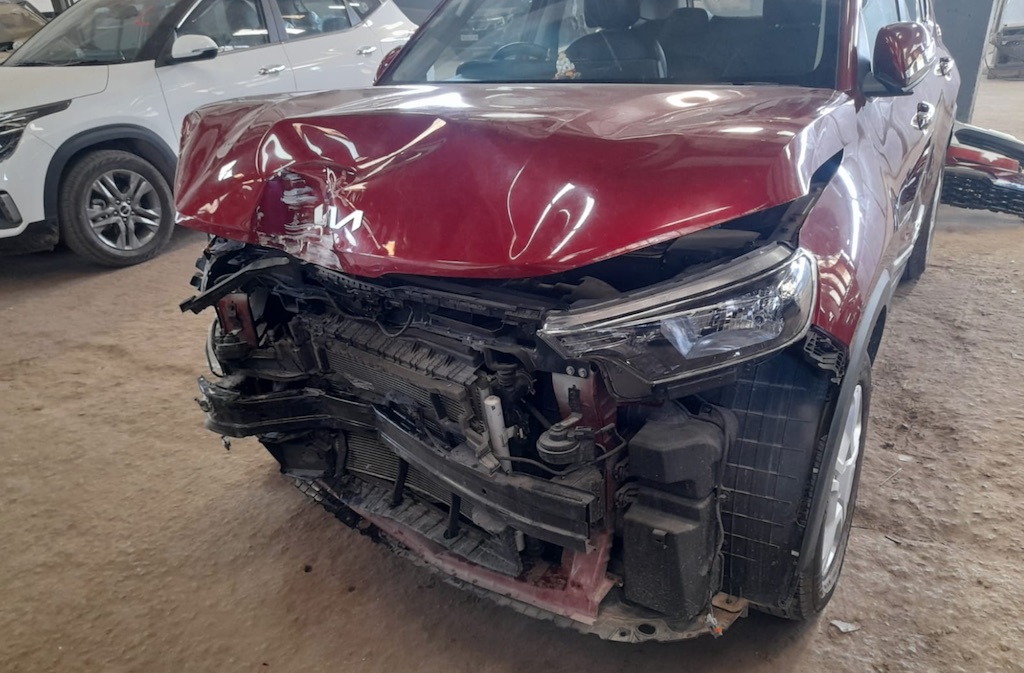 Update – The customer has stated that Kia India has promised to give him a new car as replacement. We think this is a fantastic move by the automaker to gain back the customer's faith and loyalty in the brand, setting an example for others to follow. We hope the customer enjoys his new car to the fullest.
A customer of the Kia India reached out to us sharing his experience of getting his car serviced. Jalaj Agarwal has a Kia Sonet which is less than a year old and he gave the vehicle for servicing at Rajesh Kia Motors Service Centre, Jaipur, Rajasthan on 17th November 2022.
The vehicle was supposed to be given back to him after the service but he got a call from the service centre that the vehicle had gone out for a post-service test drive and had a collision with a cow because of which there is some damage to the vehicle. The customer asked the service manager to send photos of the car and he was shocked to see the front-end of his car completely damaged.
The service manager remained firm in his stand that the vehicle had indeed collided with a cow that suddenly came in front of the car but when the customer reached the service centre, the service manager changed his version and stated that a cleaner drove the vehicle and banged it into a wall within the service centre.
The customer checked the CCTV footage and looking at the video, it is very clear that the vehicle was manhandled by the staff causing a lot of damage to it and agony to the owner of the vehicle. Moreover, the service centre has been asking the customer to claim his insurance so that they can repair his car.
The service centre was also supposed to provide another loaner car in the interim but the customer is still car-less and the company has been making him wait.
It is quite saddening to see the vehicle in this condition and we're sure Jalaj would be heartbroken. A major accident like this would mean that the structure rigidity of the vehicle wouldn't be the same anymore and no amount of repairs may make it as good as factory-spec. An accidental vehicle will also fetch much lower value during resale.
Kia is a very big automaker with global repute and the company should ideally repair/replace the vehicle to the best of their abilities and provide a satisfactory compensation to their customer to win back his faith in the brand. We hope Kia India intervenes and actively resolves this matter at the earliest.
The owner of the vehicle has put out a thread on Twitter with all the details. You can check it out – HERE