KTM RC 200 Unveiled In Pictures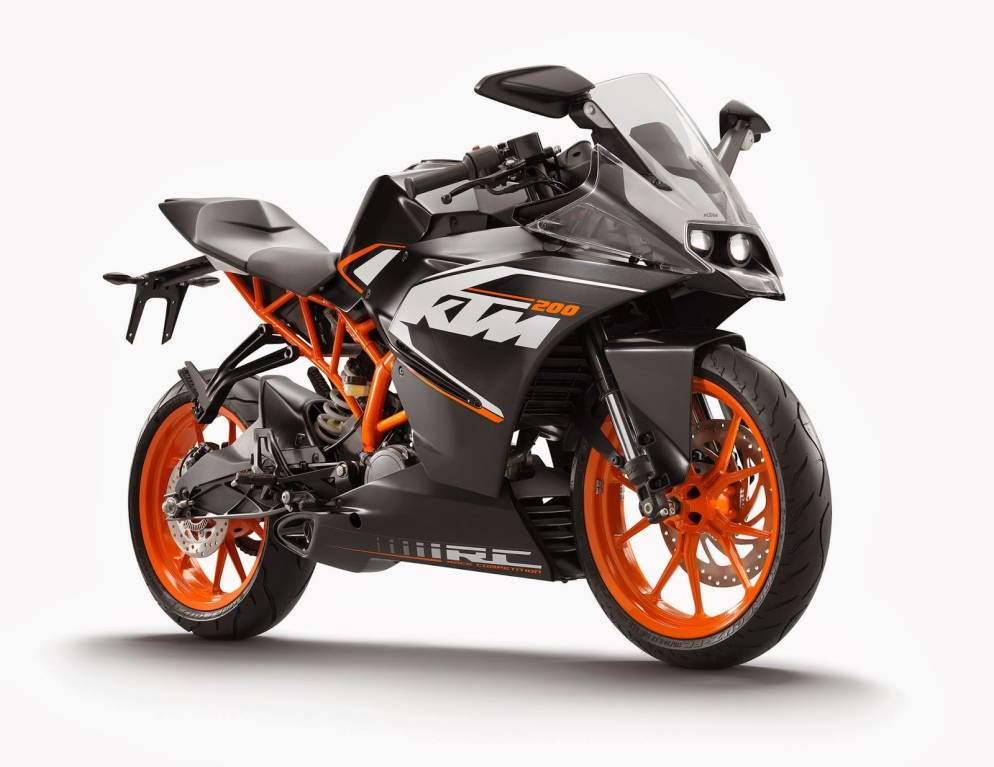 KTM will be unveiling three RC bikes next week at the Milan Motorcycle Show and pictures of all of them are now out, that too in high resolution showcasing each and everything about the bike. KTM had confirmed earlier this year about its plans to launch a 200cc full faired bike under the RC moniker next year. KTM had also unveiled the RC 250R Production Racer which boasts of a 250cc, single-cylinder engine with 50 PS of power at 13,000 RPM and 28 Nm of torque at 11,000 RPM. This high revving engine is for the company's racing efforts and won't be put on commercial sale as it costs a whooping Rs. 33 lakhs. Instead we will get the KTM RC 200.
The KTM RC 200 will share its design language with the RC 125 and RC 390 just like the Duke 200 shares its styling with the Duke 125 and Duke 200. In between the RC and Duke series itself, there is heavy parts sharing and the engine, wheels, chassis, cluster, brakes, etc are all the same. However KTM has made styling changes to lure the "full fairing" loving crowd. The bike will also be fantastic on the track with its sporty ergonomics. The RC 200 has a higher seat height and lower suspension travel at the front (reduced by 25 mm).
The front of the KTM RC 200 gets twin headlights which seem to look good from certain angles. The side is the sportiest part of the bike and this 200cc KTM appears drop dead gorgeous with its sweet looking fairing. The rear is inspired from the 1190 RC8 and thus the rising tail gets a similar tail light as the RC8. There doesn't seem to be pillion grab rails and the pictures showing tank bags (and even a navigation device, both of them would be PowerParts of course) on the rear seat conveys that KTM might promote the RC series of motorcycle as touring machines. Obviously there are clip-on handle bars, fairing mounted rear view mirrors and orange coloured trellis frame.
The KTM RC 200 will produce 25 PS of power and 19.2 Nm of torque from its 199.5cc, single-cylinder engine. The gearing might be tweaked for a higher top speed and we can expect the RC 200 to comfortably hit a top speed in excess of 140 km/hr. The tank is smaller at 10-litres and the RC 200 itself weighs 7-8 kgs more than the Duke 200. Expect the KTM RC 200 to be priced at Rs. 1.6 lakhs (ex-showroom) with it rivalling the Honda CBR250R in the Indian market. Bajaj Auto manufactures the small capacity KTM street bikes (sub 500cc) at its Chakan facility which helps in lower production costs and higher profits for the Indian-Austrian duo.
[flickr size="center" float="medium"]http://www.flickr.com/photos/motorbeam/10506864023/[/flickr]
[flickr size="center" float="medium"]http://www.flickr.com/photos/motorbeam/10506664775/[/flickr]
[flickr size="center" float="medium"]http://www.flickr.com/photos/motorbeam/10506660266/[/flickr]
[flickr size="center" float="medium"]http://www.flickr.com/photos/motorbeam/10506863163/[/flickr]
[flickr size="center" float="medium"]http://www.flickr.com/photos/motorbeam/10506687034/[/flickr]
[flickr size="center" float="medium"]http://www.flickr.com/photos/motorbeam/10506863123/[/flickr]
[flickr size="center" float="medium"]http://www.flickr.com/photos/motorbeam/10506660405/[/flickr]
[flickr size="center" float="medium"]http://www.flickr.com/photos/motorbeam/10506660615/[/flickr]
[flickr size="center" float="medium"]http://www.flickr.com/photos/motorbeam/10506686904/[/flickr]
[flickr size="center" float="medium"]http://www.flickr.com/photos/motorbeam/10506863003/[/flickr]
[flickr size="center" float="medium"]http://www.flickr.com/photos/motorbeam/10506660615/[/flickr]
[flickr size="center" float="medium"]http://www.flickr.com/photos/motorbeam/10506661675/[/flickr]
[flickr size="center" float="medium"]http://www.flickr.com/photos/motorbeam/10506687644/[/flickr]
[flickr size="center" float="medium"]http://www.flickr.com/photos/motorbeam/10506662915/[/flickr]
[flickr size="center" float="medium"]http://www.flickr.com/photos/motorbeam/10506658646/[/flickr]
[flickr size="center" float="medium"]http://www.flickr.com/photos/motorbeam/10506861873/[/flickr]
[flickr size="center" float="medium"]http://www.flickr.com/photos/motorbeam/10506663865/[/flickr]
[flickr size="center" float="medium"]http://www.flickr.com/photos/motorbeam/10506863753/[/flickr]
[flickr size="center" float="medium"]http://www.flickr.com/photos/motorbeam/10506661126/[/flickr]