KTM RC 390 Spotted On Test In India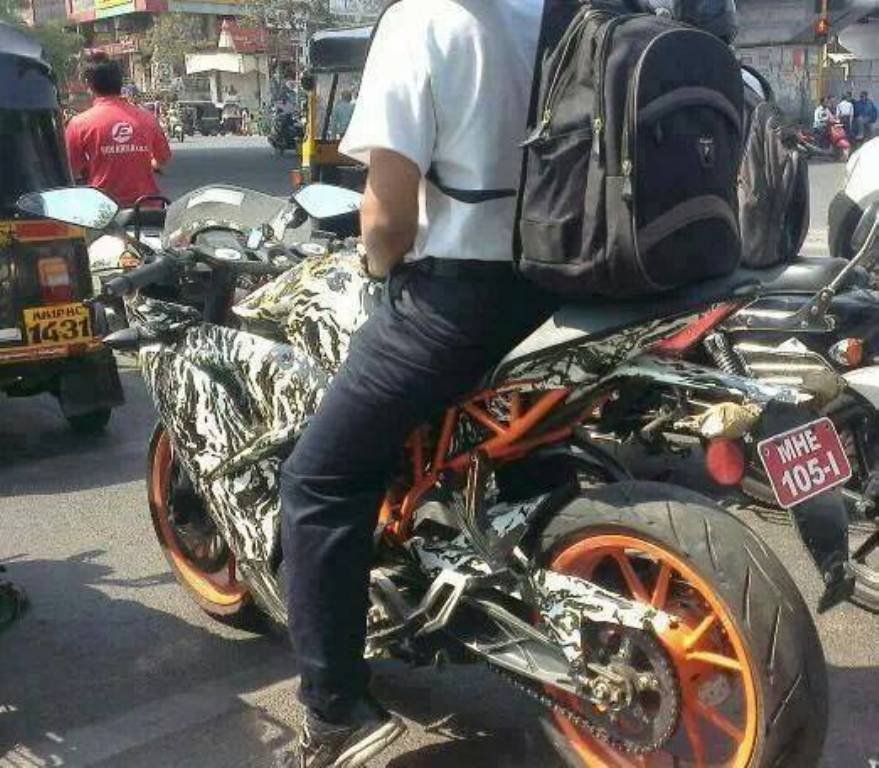 The day you have been waiting for, the KTM RC 390 has been spotted on test in India and the bike is set for a launch by the middle of the year. KTM won't showcase the RC 390 at the 2014 Auto Expo as the Austrian manufacturer isn't participating at India's largest motoring event. This is the first time the RC 390 has been spotted in India and the bike features heavy camouflage. India is the sole country in the world which manufactures the RC 390 as Bajaj Auto produces most sub 500cc KTM bikes at its Chakan factory.
The RC 390 will be launched after the RC 200, which is going to see higher demand in India. The KTM RC 390 is expected to be priced at Rs. 2.60 lakhs (on-road, Mumbai) with the engine being identical to the Duke 390 in terms of gearing as well. The RC being more slippier is expected to boast a higher top speed by up to 10 km/hr. The 373.2cc liquid-cooled single outputs an impressive 43.5 PS of peak juice with 35 Nm of twisting force making the mid and top-range of the machine absolutely ballistic. Top speed is expected to be around 175 km/hr.
The RC 200 will be priced around Rs. 1.8 lakhs (on-road, Mumbai) and will look very similar to the RC 390. It too will use the same 200cc mill from its Duke counterpart, which belts out 25 raw and galloping horses along with a peak torque of 19.2 Nm. While the RC 390 will nudge past 100 km/hr from standstill in a mere 5.6 seconds, the RC 200 will take close to 9.3 seconds. Both bikes are bound to be a hit although they aren't touring machines as what many people believe. The riding position is supersport so the RCs should be at home on the track. Many thanks to Ananthu SG for sharing the picture of the on test RC 390 with us.
[flickr size="center" float="medium"]http://www.flickr.com/photos/motorbeam/10693402404/[/flickr]
[flickr size="center" float="medium"]http://www.flickr.com/photos/motorbeam/10693405044/[/flickr]
[flickr size="center" float="medium"]http://www.flickr.com/photos/motorbeam/10693413396/[/flickr]
[flickr size="center" float="medium"]http://www.flickr.com/photos/motorbeam/10693402174/[/flickr]
[flickr size="center" float="medium"]http://www.flickr.com/photos/motorbeam/10693415286/[/flickr]