Mahindra Centuro Long Term – Initial Report
Mahindra Centuro Long Term
The Mahindra Centuro redefines the quotient of value for money in the Indian market today.
When was the last time when everybody was surprised by the entry of a manufacturer into the two-wheeler space from a different field of expertise. When was the last time we were taken by storm after witnessing a commuter motorcycle launch? It is undoubtedly the Mahindra Centuro. Mahindra's previous attempt to enter the two-wheeler segment was not that fruitful. However, they have taken those fruits, injected a dose of sugar into it and entered the market. Sure, you will find it sweet at first bite, however will it give you diabetes or the sugar is organic and will keep you away from harm's way? The simple idea behind here is that when we tested the Mahindra Centuro we were very impressed with its features, dynamics and good value proposition. That's were long term analysis are required and this is why we were eager to spend time on a daily basis with the Centuro. We asked Mahindra for it, and they kindly sent us one. We find out if the Mahindra Centuro has been "golden" for us.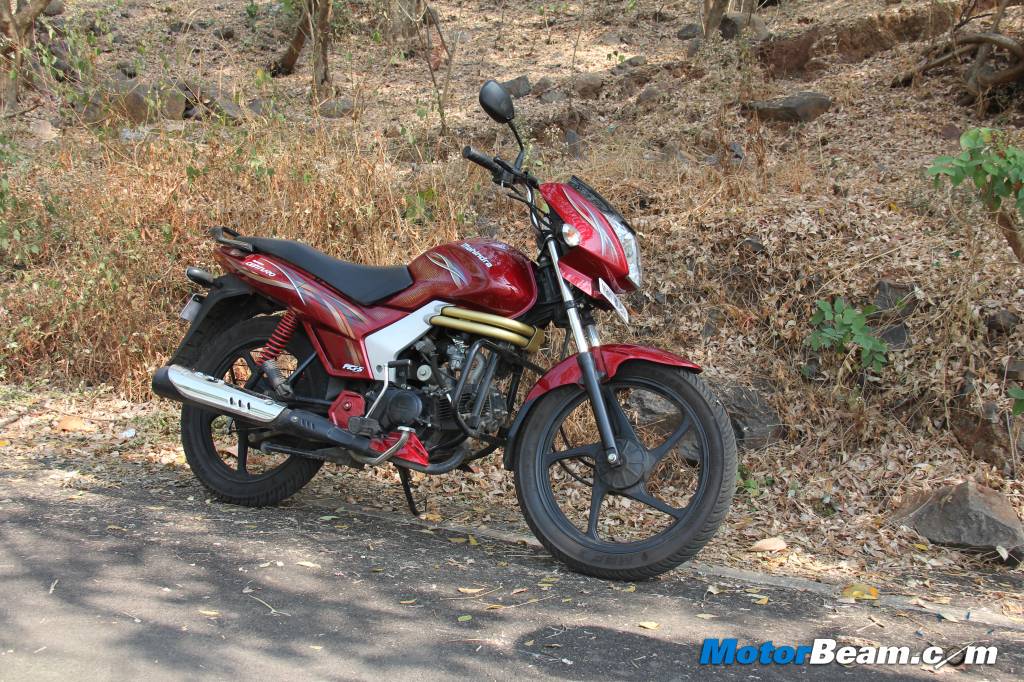 We have tested the Centuro for 600 kms in a very short period (approx. time is under a month) which pretty much sums up that we have not declined it just because it's not as powerful like our other long term fleet bikes. We have been using it for doing chores around the entire Mumbai (not just local). The styling keeps other commuters on their toes to recognize which company this motorcycle belongs to. The features keep us entertained and dazzled right from starting the motorcycle to parking it. Let us explain here.
The speedometer has everything you would ever need for a commuter, forget commuter, it's more than enough for enthusiasts as well (cannot wait to see enthusiast motorcycles from Mahindra). The distance to empty works as precise as a clock. This is step-through in every aspect. It is a feat when you consider it is done with a bike, which has a carburetor! The engine starts up in one click after days of no use and even when washed with water un-appropriately, a rarity for low capacity motorcycles and scooters. Coming to the important part and answering the nation's favourite question "mileage kya hai boss?" Well the Mahindra Centuro is giving us 55 km/l because we have been riding it hard and fast. Until the time we get used to it, the Centuro should easily come near to the 65 km/l mark, which we mentioned in our road test report. Complete details of highway, city and average km/l numbers will follow in the next full report.
Fuel injection makes this very easy with the use of sensors. However, in a carburettor it becomes equally hard to do so. The flip key becomes a partner in boredom. Park the bike where you can see it and keep troubling ongoing passers. Fun begins when somebody sits on it and you can make the person literally jump in fear. Nobody would expect this gadgetry from a 110cc motorcycle. LED tail lights are must these days for superior illumination at the rear and the one on the Centuro ends up blinding at the rear, if distance is too close for comfort. Speaking of comfort, the ride is comfortable and so is the seat.
The power in the Centuro is enough to cruise at 70 km/hr, which makes it ideal and safe too in our semi-mad traffic conditions. You still have 15 km/hr remaining if you want to execute an overtake. The engine is best in mid and top end of the power band. A characteristic seen on Honda motorcycles of the same category. This idea keeps enthusiasts happy to an extent and makes commuters feel they are riding more than what they paid for. Substantial feel and satisfaction is achieved when the bike has mid and top end power. Crawling in the city at low speeds is mostly dealt by the jerk free fuelling which the Centuro offers like any other commuter out there.
Overall, the Mahindra Centuro continues to be our pick in the commuter segment because it is almost faultless as of now. This is because we have not had any commuter motorcycle in our long-term fleet yet. Sure, there are options that are more powerful in the same category from Bajaj Auto and renowned reliable Japanese counterparts. The Mahindra Centuro is a product, which truly does it all. It entertains you, sets you apart from others by an enormous margin and tries not to disappoint you, not even in practicality. A couple thousand kilometers more and it should show its true positives and negatives points. Until then, let us save our fuel costs by riding commuters in a country which has the highest petrol prices in the world!