Mahindra e2oPlus Launched, Priced From Rs. 5.46 Lakhs
Mahindra e2oPlus launched, priced from Rs. 5.46 lakhs. It comes with more features, space and mechanical changes compared to the 2-door e2o.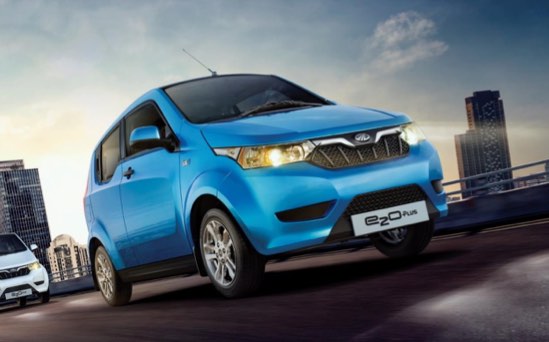 Mahindra has launched the four dour version of the e2o, christened as Mahindra e2oPlus. It is priced from Rs. 5.46 lakhs up to Rs. 8.46 lakhs (ex-showroom, Delhi). The new e2oPlus is not only a bigger version of the hatch but also comes with a ton of new features and mechanical changes that makes it more practical.
It also comes with new styling that includes Mahindra's signature grille. The e2oPlus comes with projector headlamps up front, the side profile boasts 14-inch alloy wheels and the rear door is integrated well to the compact body. The rear profile includes vertical LED tail lamps and the overall styling looks modern and fresh.
The wheelbase has been increased to 2258 mm and the ground clearance is 170 mm. Powering the Mahindra e2oPlus is a 3 Phase AC Induction motor that produces 30 kW of power at 3500 RPM and 91 Nm of torque at 2500 RPM. It comes with a 210 Ah Lithium Ion battery that provides a total range of 140 kms in full charge and the claimed top speed is 85 km/hr.
0-40 km/hr sprint takes 5.2 seconds while 0-60 km/hr is done in 9.5 seconds. The battery takes 9 hrs to fully charge from a regular 3 kW charger while the fast charging tech with 10 kW charger takes only 90 minutes for a 95 percent charge. It also comes with a reserve revive mode that offers 10 km of extra range.
The e2oPlus comes with an app for the owner to control various things such as the AC, door locks, battery indicator, etc. The car offers Android infotainment system that connects with your smartphone. There are four variants on offer, the range topping comes with 72V battery pack while the rest come with 48V battery pack.
Mahindra e2oPlus
– Mahindra e2oPlus launched, priced from Rs. 5.46 lakhs up to Rs. 8.46 lakhs
– Comes with four doors and longer wheelbase
– Offers 140 km of range and 85 km/hr top speed
– Full charge of the battery pack takes 9 hours