Mahindra Electric Sedan, SUV To Be Launched
Mahindra electric SUV, sedan to be launched, to make 120 HP and 67 HP of power respectively.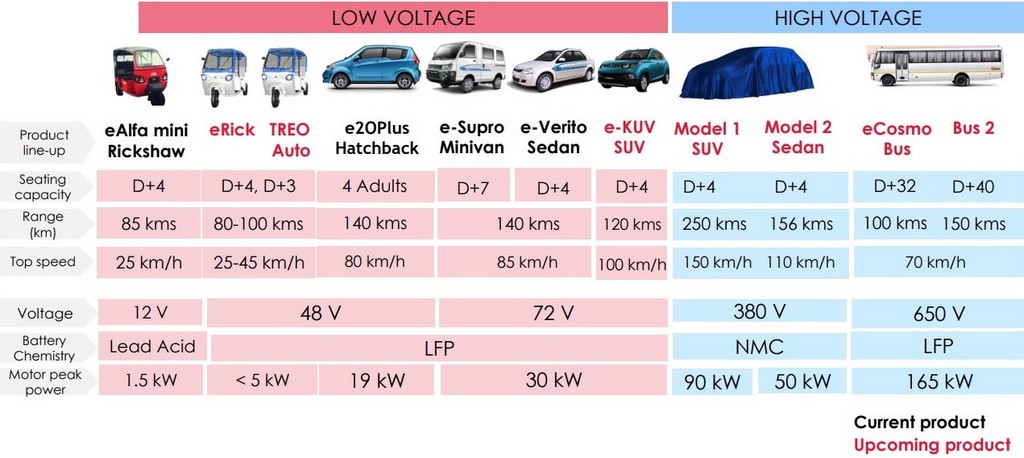 Mahindra seems to have considered the government's target of making India an all-electric car nation very seriously. The homegrown automaker has planned three EV launches in the passenger car segment along with two electric rickshaws and two electric buses in the commercial vehicles segment.
Of the three EVs planned in the passenger car market, one is the e-KUV100 which we've already seen at the 2018 Auto Expo. According to the image above, the other two EVs will be an all-electric SUV and a sedan. The electric SUV is likely to be based on the MESMA (Mahindra Electric Scalable Modular Architecture) platform and will use a 380V (380-volt) NMC (Nickel Manganese Cobalt) battery pack. The model's 90 kW (120 HP) powertrain will claim a top speed of 150 km/hr and a range of 250 kms.
The electric sedan, on the other hand, is again likely to be based on the MESMA platform and will be positioned above the e-Verito. The electric sedan too will use a 380V NMC battery pack which will deliver a maximum power output of 50 kW (67 HP) while giving a range of 156 kms. Top speed is rated at 110 km/hr.
Apart from the EVs in the passenger car space, the company is also considering introducing two new buses, one with a 100 kms range and the other with a 150 kms range. The former is called the Mahindra eCosmo and can accommodate up to 32 passengers while the latter (yet-to-be-named) can seat 40 passengers. Both the electric buses will have a top speed of 70 km/hr. Besides the electric buses, the Scorpio maker is also planning to launch two electric rickshaws called the eRick and Treo Auto.
Mahindra Electric Sedan
– Mahindra plotting new electric SUV and sedan
– Both electric cars to use 380V NMC battery pack
– e-KUV100 India launch by 2018-end
– Mahindra currently has 2 EVs in the passenger car space and 2 EVs in CV segment