Mahindra EV Bugatti Chiron Rival Under Development
Mahindra EV Bugatti Chiron rival under development, the Europe-based start-up is likely to be called Automobili Pininfarina.
Mahindra's plans for developing high-performance cars with Pininfarina are taking shape as the homegrown automaker is floating a start-up to boost its electric car ambitions. The Scorpio maker got the first-mover advantage in the nascent EV market in India after it acquired EV maker Reva in 2010. It now has huge ambitions to not only join the global EV race but is also making a bid for the top-end of the EV spectrum with plans to develop high-end, low-volume models to rival the best sports cars and SUVs in the world.
For this purpose, Mahindra has roped in former Audi India chief Micheal Perschke to head the EV company which is internally known as 'Project Montana'. Micheal Perschke has been assigned with the job of building the high-performance EV start-up from the scratch. The new company is likely to be called 'Automobili Pininfarina' and will see an initial investment of around $100 million (approximately Rs. 647 crores) from Mahindra. Post this infusion of funds, the company will look for outside investments to scale up operations. The new high-performance EVs will have design and styling done by Pininfarina and an official announcement with regards to this is expected at the inaugural Formula E race in Rome on 14th April 2018.
The new EVs will feature a Pininfarina badge thus fulfilling the dream of its founders to make a road-going car under its own brand name. A recent tweet by Anand Mahindra confirms the same. Leading the model line-up will be an electric supercar, internally known as the PF-Zero which is essentially a Bugatti Chiron rival and PF1 which will go against the likes of the Lamborghini Urus, the world's fastest SUV. And for this, Mahindra has roped in Rimac, a specialist EV company that displayed its second hypercar, the C_Two concept at this year's Geneva Motor Show. According to a Croatian-based company, the C_Two concept makes 1915 HP and can accelerate from 0-100 km/hr in just 1.85 seconds! Additionally, Rimac is also credited with the development and manufacture of the battery system for the Aston Martin-Red Bull Racing's AM-RB 001 hypercar and also the Koenigsegg Regera.
The new EV company will take inputs from Mahindra Racing whose success in Formula E racing brings invaluable know-how and experience with electric powertrains and battery management. According to company sources, the new start-up is likely to look at strategic partners for additional funding to expand its line-up, with an aim to launch 4 models at a total investment of $500 million (approximately Rs. 3200 crores).
Mahindra EV Bugatti Chiron Rival
– New Mahindra start-up likely to be called Automobili Pininfarina
– Start-up to make high-performance EV cars
– The cars to sport Pininfarina badge
– Mahindra to invest $100 million in the start-up
– 4 EVs planned, 1 supercar and 3 SUVs
– PF-Zero, the Bugatti Chron rival will go on sale by 2020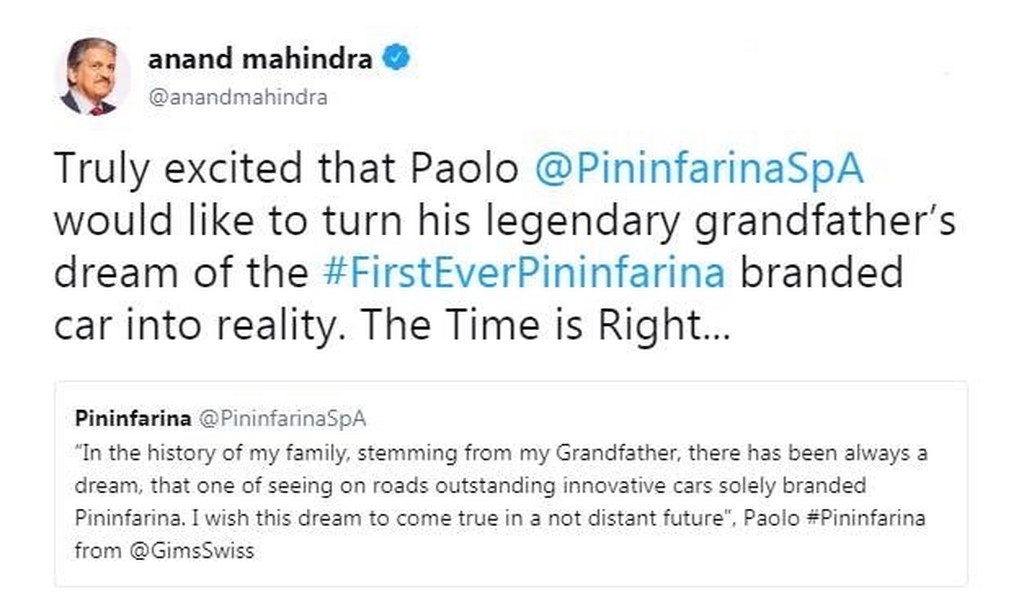 Source – AutocarIndia.com