Mahindra To Launch 3 Performance Electric Vehicles
3 new Mahindra EV launch planned by 2020, company to invest Rs. 3400 crores in EV technology by 2022.
Mahindra is currently the pioneer when it comes to EVs in India. It has the e2oPlus hatchback, eVerito sedan and the eSupro commercial van in its portfolio of EVs. Wanting to take forward its EV business in India, the automaker is working not one not two but three EVs with higher range (between 250-350 kms) and will launch them in the Indian market by 2020.
The electric division of the carmaker gave a presentation at a seminar on EVs and green shipping at the Norwegian Embassy in New Delhi. As evident from the images used below, there are sketches of three cars. The three EVs are based on the Mahindra KUV100, SsangYong Tivoli-based SUV and XUV Aero concept.
The EV based on the KUV100 was spotted doing tests recently. The KUV100 based EV will have a top speed of 186 km/hr and range of 350 kms while the EV based on the Tivoli will have a range of 250 kms and would be capable of doing a top speed of 150 km/hr. The third is a full-sized SUV based on the XUV Aero concept with a range of 300 kms (as per NEDC tests) and a top speed of 190 km/hr.
Mahindra, till now, had invested Rs. 600 crores in the EV business and is set to grow the investment to Rs. 4000 crores over the next 3-5 years. The company is investing in powertrains with an output of 200 HP and 400 Nm of torque. These will be highly-efficient Permanent Magnet Synchronous Motors (PMSM) and vector-controlled drive systems, taking efficiency levels from 80 to 94 percent. The powertrains will be available in single and dual-drive architecture from 90 to 165 kW (120 HP to 221 HP).
With a focus also on high-density batteries, Mahindra intends to take the density from 80 Wh/kg (watt-hour per kg) to 200 Wh/kg with up to seven times the pack energy capacity from 10 kWh to 70 kWh. These 48V to 650V systems will be capable of delivering a real-world mileage of up to 400 kms with globally benchmarked BMS (battery management systems).
Mahindra Performance Electric Vehicles
– Mahindra has planned to launch 3 new EVs by 2020
– EV based on KUV100 to be launched in India in 2018
– 2nd EV is a compact SUV based on the SsangYong Tivoli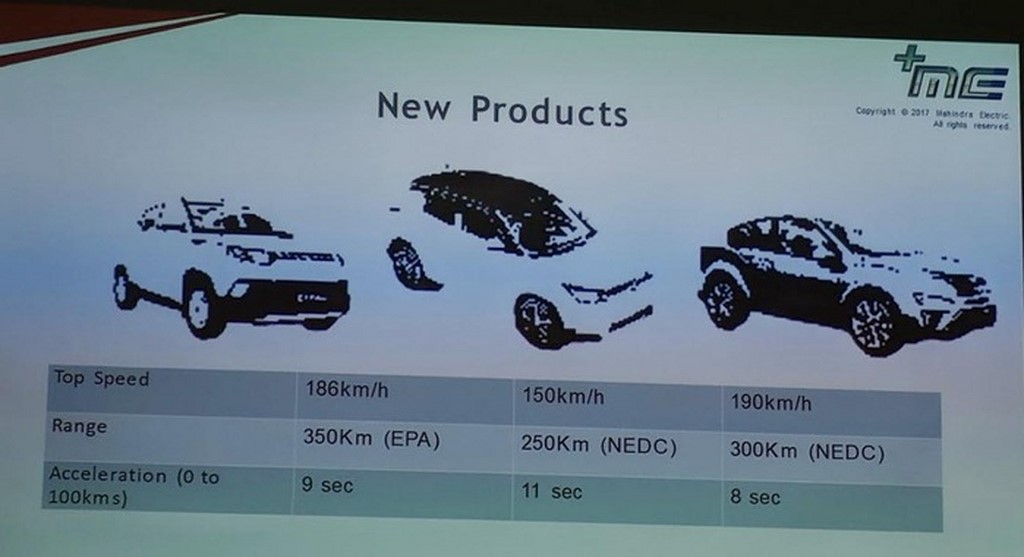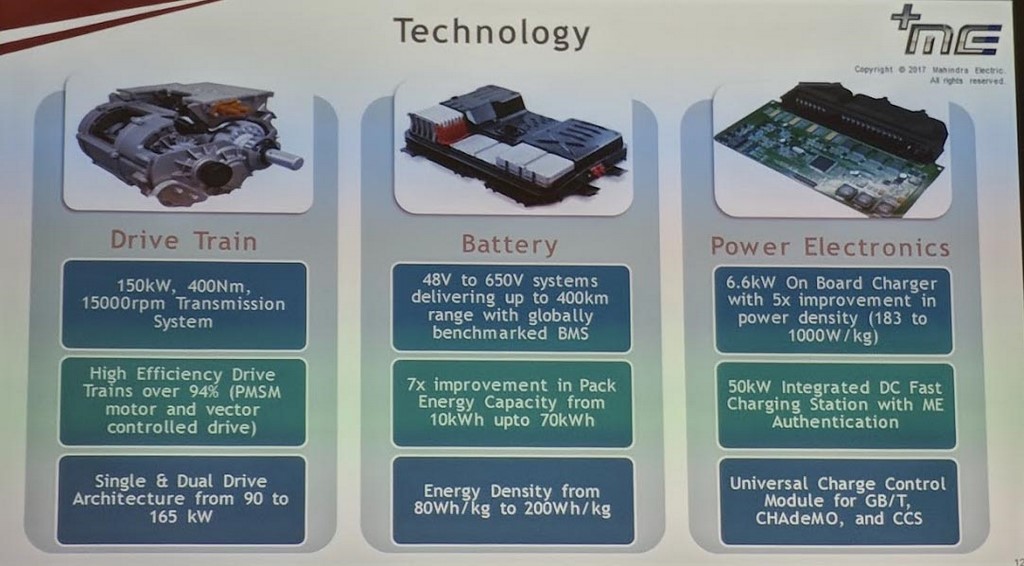 Source – AutocarPro.in