Mahindra Scorpio Ownership Review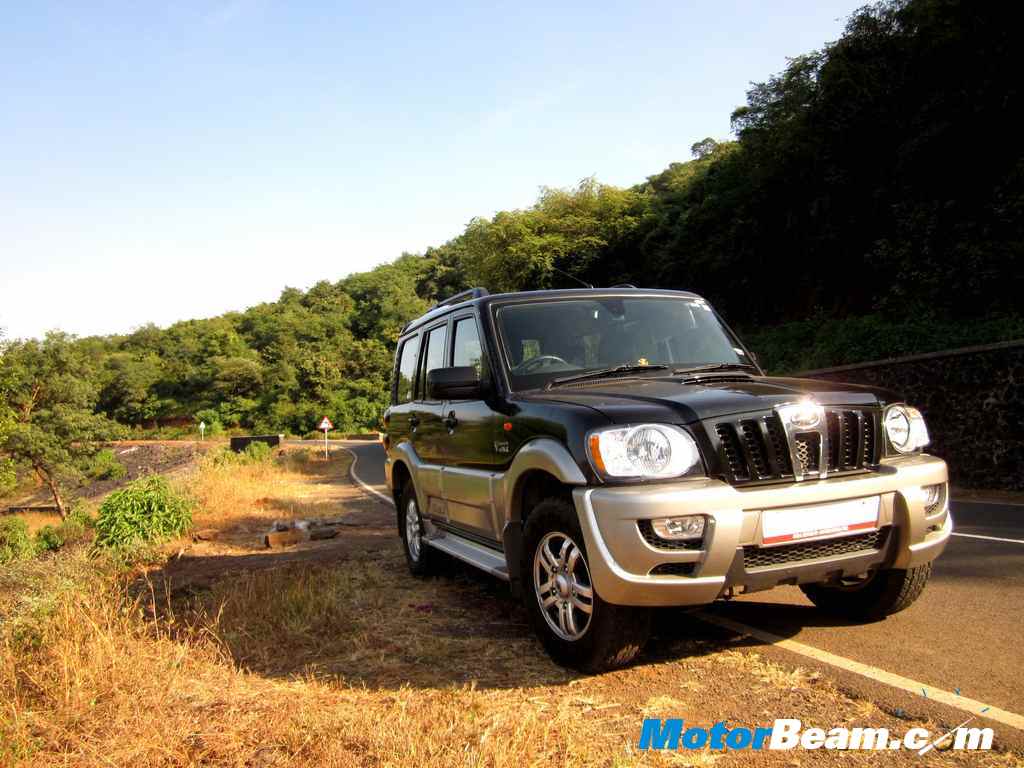 When it comes to SUV's, Indian's have a perception of what they should be like. The bigger, brasher and more muscular, the better! The Mahindra Scorpio is based on these very principles. One of the older SUV's in India, it not only looks muscular but is also equipped with Mahindra's latest technology and proves to be quite a good all rounder as well. This ownership review is of the top end VLX model.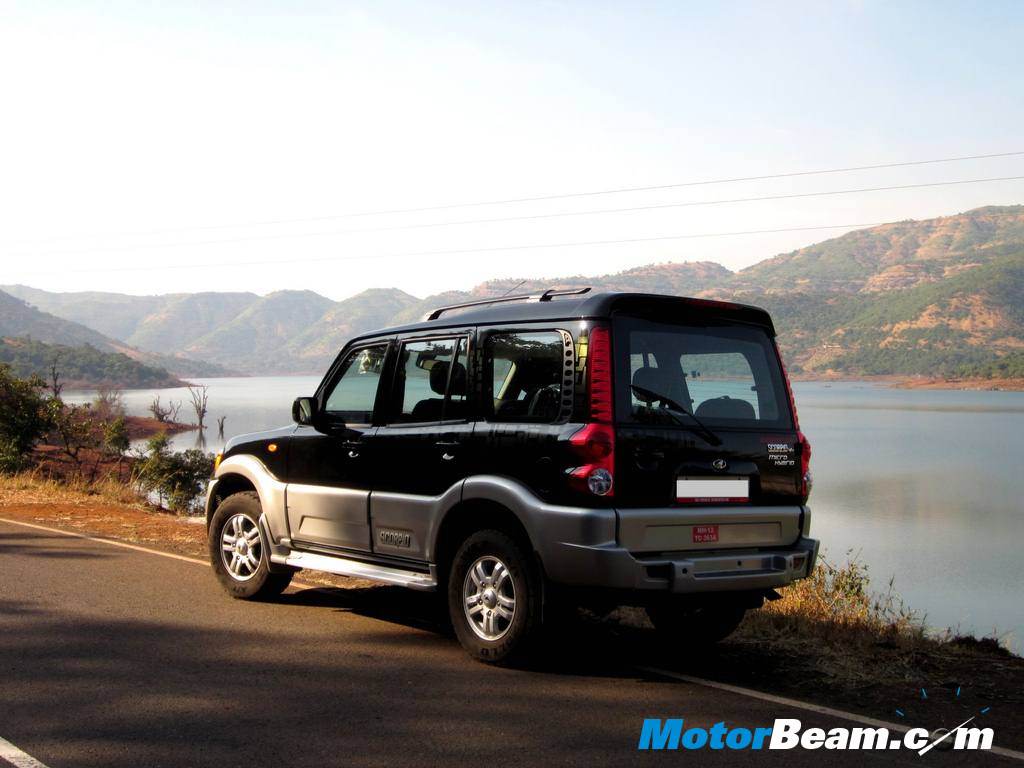 On the exterior, the Scorpio looks beefy. It has the typical huge square body with an aggressive face, macho bulges and large glass surfaces. There is an air intake scoop on the hood and the vehicle has huge 235/70 tyres and 15-inch alloy wheels. Overall paint quality and finish is very good. The roof rails, side plastic cladding in silver as well as the decals give it a very classy but intimidating look.
Couple of areas that were disappointing are the side steps that were not screwed properly to the body and they came loose on both sides within a couple of days itself. This issue was solved by simply fastening the screws properly by the showroom guys.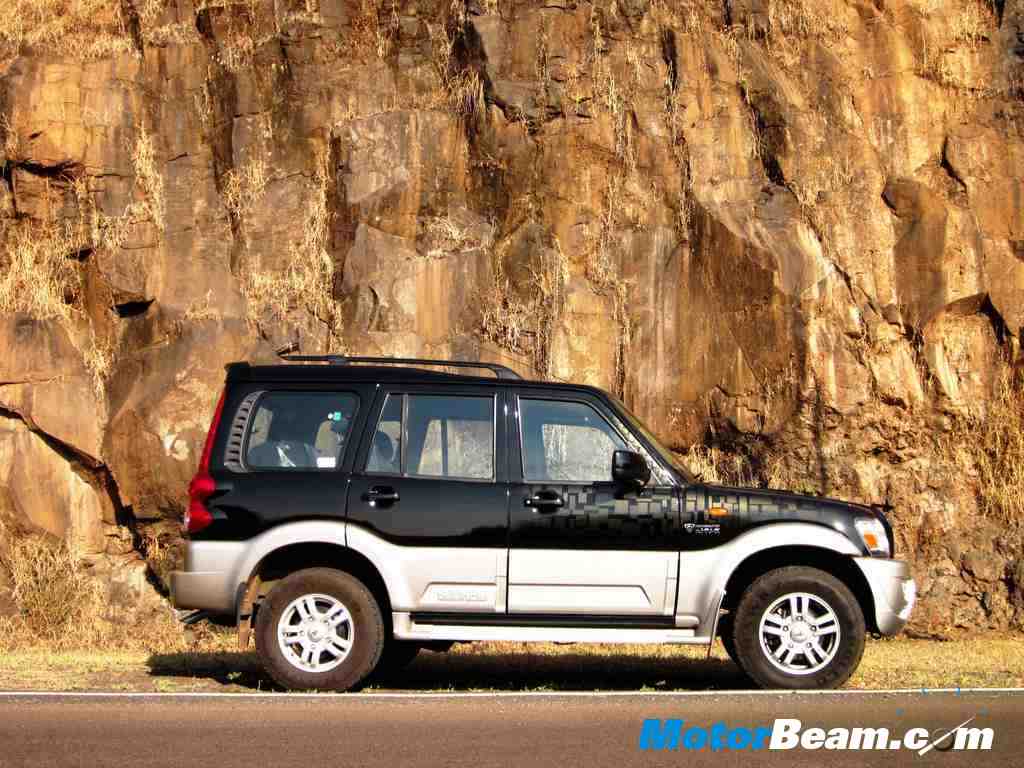 On the inside this latest version has lots of improvements in the interior quality and it is definitely a nice place to sit in. The black with dark brown plastics look good and overall quality of fabrics and plastics is decent. The central dash is finished in carbon fibre styled plastic which does look a bit out of place, but the Scorpio has tremendous amount of space. Up front, both driver and passenger get very comfortable big chairs and lot of leg and head room. Even the middle row will accommodate three comfortably or even four for shorter amounts of time. At the back though the captain seats are best for kids for long journeys. Even with the seats in place there is quite a lot of space for luggage and with the captain seats folded, there is enough space to move a house!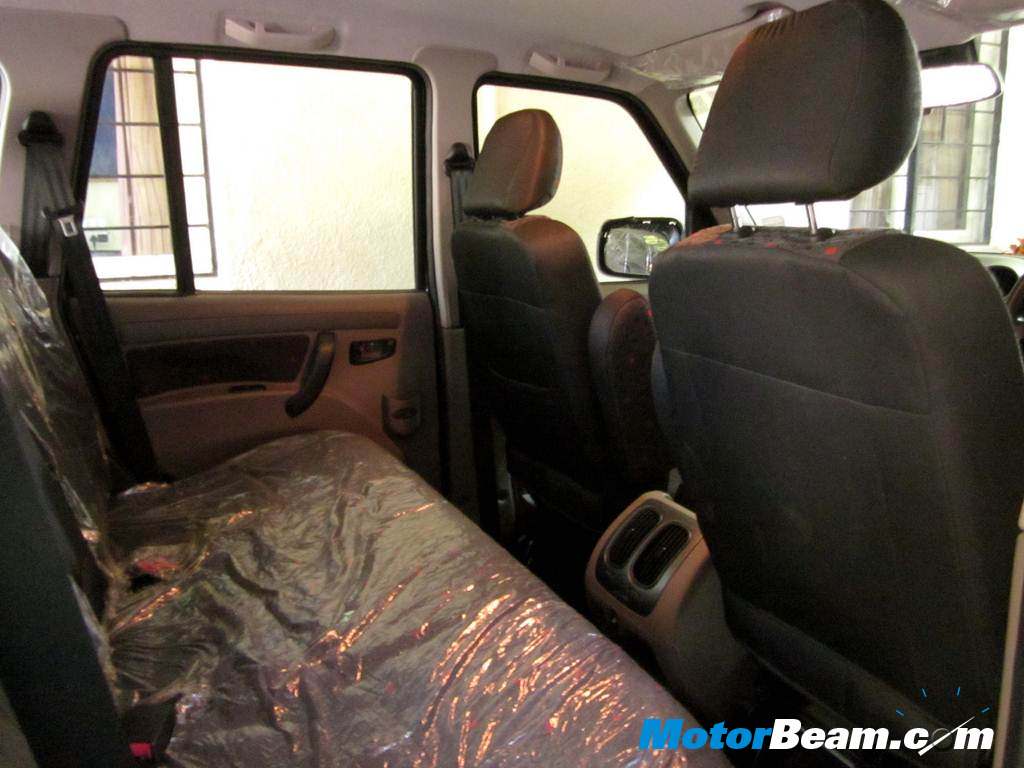 The biggest surprise is the features section. This top model comes with everything you can wish for. It has a double din CD/MP3 player, radio with AUX and USB compatibility. It also gets Bluetooth connectivity and can stream songs from the phone as well as answer and make calls. The quality of the sound system and speakers is pretty good and better than most factory fitted systems. Of course the sound is not the best available in the market and though the system is pretty loud, it lacks the crisp throw and will not completely please the enthusiast.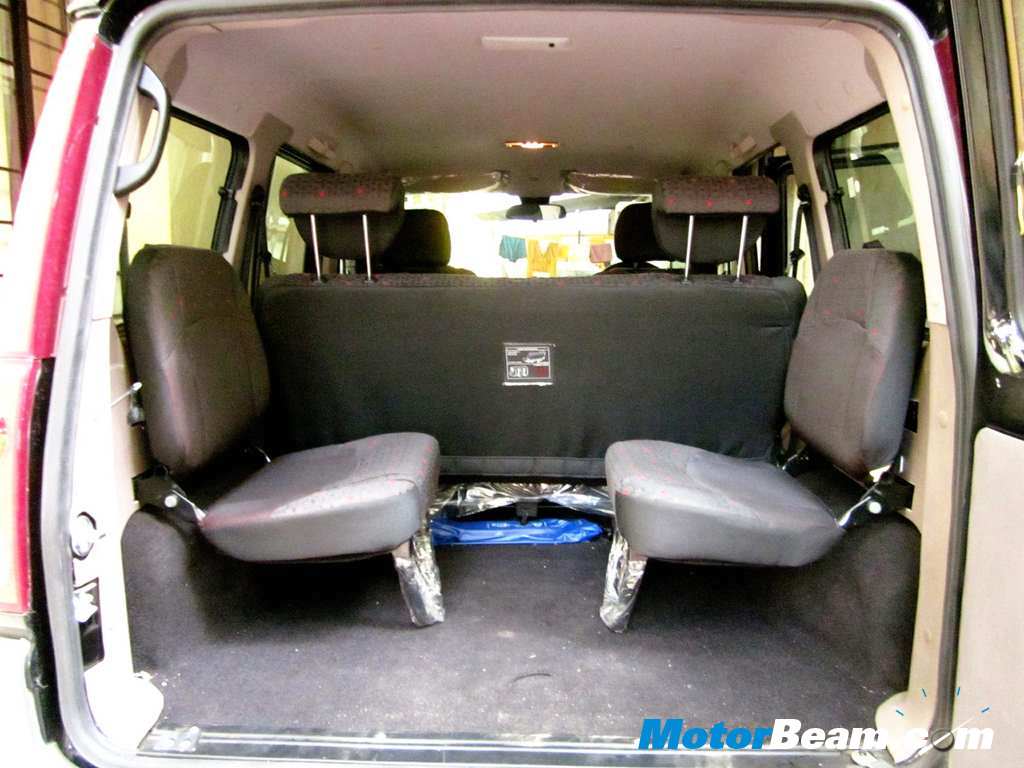 The feature list includes ABS, cruise control, auto light function, follow-me-home lights, rain sensing wiper function as well as Mahindra's Start-Stop system called the 'Micro-hybrid technology'. There are buttons on the steering wheel for the music system, cruise control and phone. The steering wheel only has rake adjustment. All these features are in tune with modern times and getting them on a typical SUV is welcome. Plus all features work flawlessly and come in pretty handy making driving a very comfortable experience.
However the omission of three important things is very surprising at this price point. This Rs. 12.5 lakh vehicle lacks airbags, automatic climate control and seat height adjustment! Lack of seat height adjustment can be quite a hassle when it comes to finding a good driving position. The under thigh cushion is very thick, which is good, but that raises your leg quite high. The clutch travel is very deep, thus depressing the clutch completely puts lot of pressure on the leg and can be a task in stop go traffic. Besides, driving the Scorpio may prove to be a difficult task for short individuals. The driving position compared to traditional Jeeps or old Mahindra UV's is better, but still is not the best. Either a better clutch position and lesser travel or the inclusion of seat height adjustment will improve comfort by miles.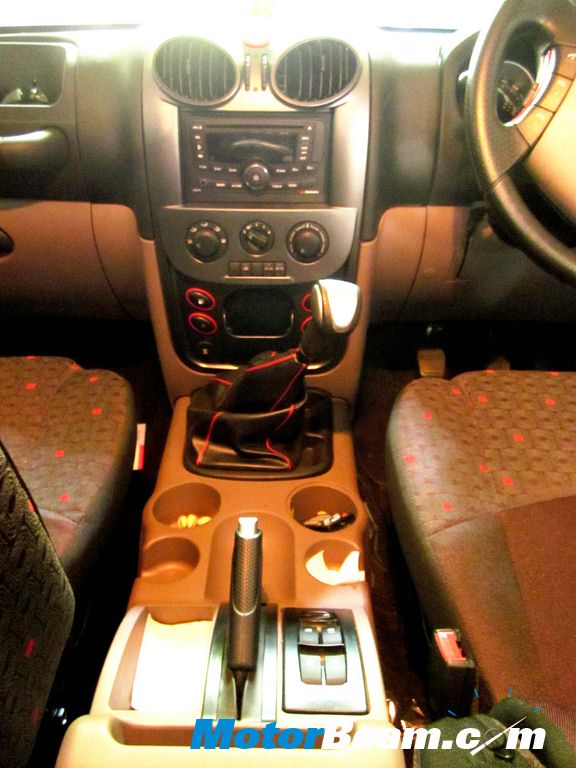 Coming to the engine, it is a 2.2-litre turbo-diesel producing 120 BHP of power and 290 Nm of torque. It is a very good, tractable engine and does pack a lot of punch. Even though it is quite noisy and we do feel quite a lot of vibrations, especially through the gear lever, it's livable on an everyday basis. On the move there is lot of torque in the very low non-turbo zone as well thus in the city during normal driving it does feel pretty decent to drive and not too many gear changes are required. But the car almost leaps as the turbo spools post 1800 RPM. The car accelerates very fast in the 1800 – 3000 RPM range. But the turbo lag and the sudden turbo surge is something one needs to get used to during slightly enthusiastic driving especially if you are not used to driving a diesel car very often. But with a sedate driving style, the Scorpio never feels awkward to drive. In terms of fuel efficiency, the Scorpio returned a decent 9.5 km/l in city driving and 13 km/l on the highway which is pretty good for a big vehicle with AC on throughout.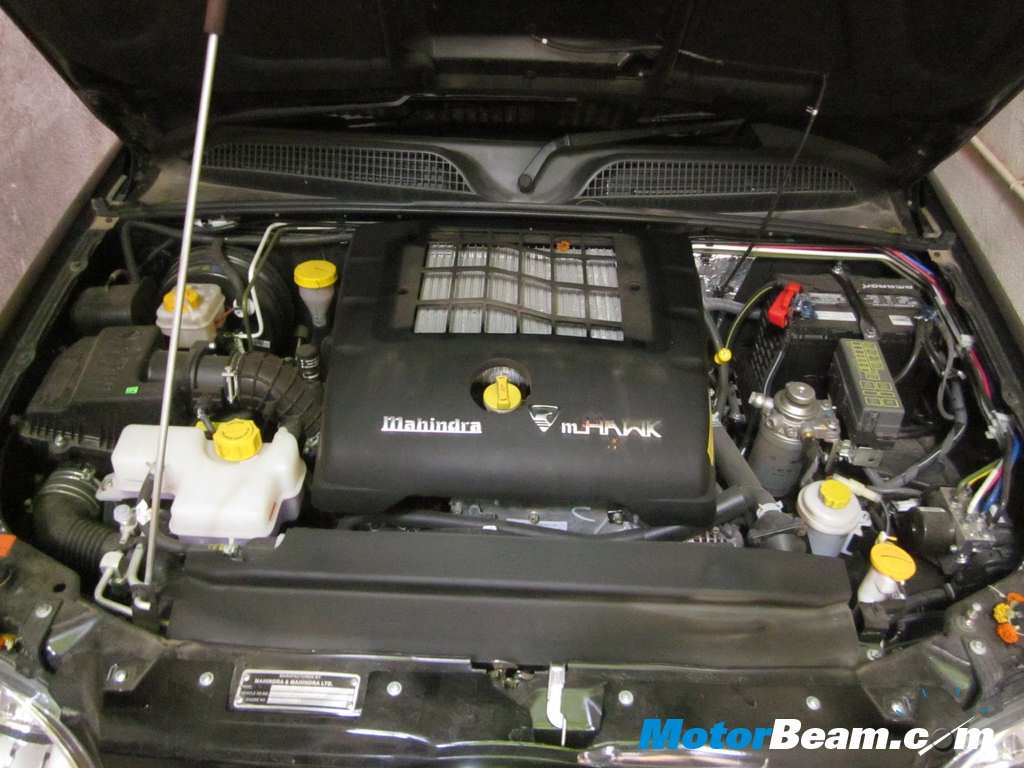 The gearbox feels pretty notchy and long throws does show Scorpio's UV roots but once you get used to it, it seems decent to use. Cruising is the Scorpio's second nature. The fifth gear is very well positioned. It feels at home on the highway and it is at 2000 RPM at 80 km/hr and at 2500 RPM at 100 km/hr. The car does not feel strained at this speed, but the engine sounds and feels a bit unrefined above 90 km/hr and vibrations can be felt through the gear lever.
Coming to the ride, it definitely seems better calibrated than the old Scorpio, but it cannot be said that Mahindra has been completely successful. The Scorpio pitches and rolls a lot on the move owing to its very high centre of gravity. Overall, during normal driving or slower speeds it is not that noticeable but at slightly higher speeds or slightly uneven surfaces it becomes immediately evident. On bad roads where we expect this high riding SUV to be excellent leaves a lot be desired in terms of ride quality. Unless you completely slow down to cross every small bump and undulation, one does feel the body undergoing too much movement in all three directions. Even on hard concrete city roads, the Scorpio seems unsettled.
Get to the smooth tarmac on the highways, the Scorpio becomes a different animal! On the NH4, where this SUV was most driven, it feels very smooth and comfortable. Of course sudden undulations or bumps do unsettle the vehicle, but otherwise it's quite a good cruiser. On the handling front, there is not much too much to talk about. Handling is not the Scorpio's forte and corners can be quite unsettling. The huge 235 section tyres help, but the suspension and chassis give up way too early.
So this Scorpio is a big SUV with a lot of bragging rights. It looks great, commands a lot of respect on the road and does most of the duties very well. Yes refinement and ride comfort is a slight compromise but as an overall package and a family holiday car, it almost fits the bill perfectly. It has lots features and feels pretty special to drive. Also considering the jump in quality of the XUV500 from Mahindra, we can expect the brand new Scorpio coming next year to be leaps and bound better than this one. So an already formidable SUV will have much better refinement, comfort and hopefully better handling too.