Tricked Out Mahindra Thar Showcased At 2016 Auto Expo [Live]
The hardcore off-roading vehicle sports many tools which are handy if you want to cross the Himalayas solo. The Thar has its own cult following across the country.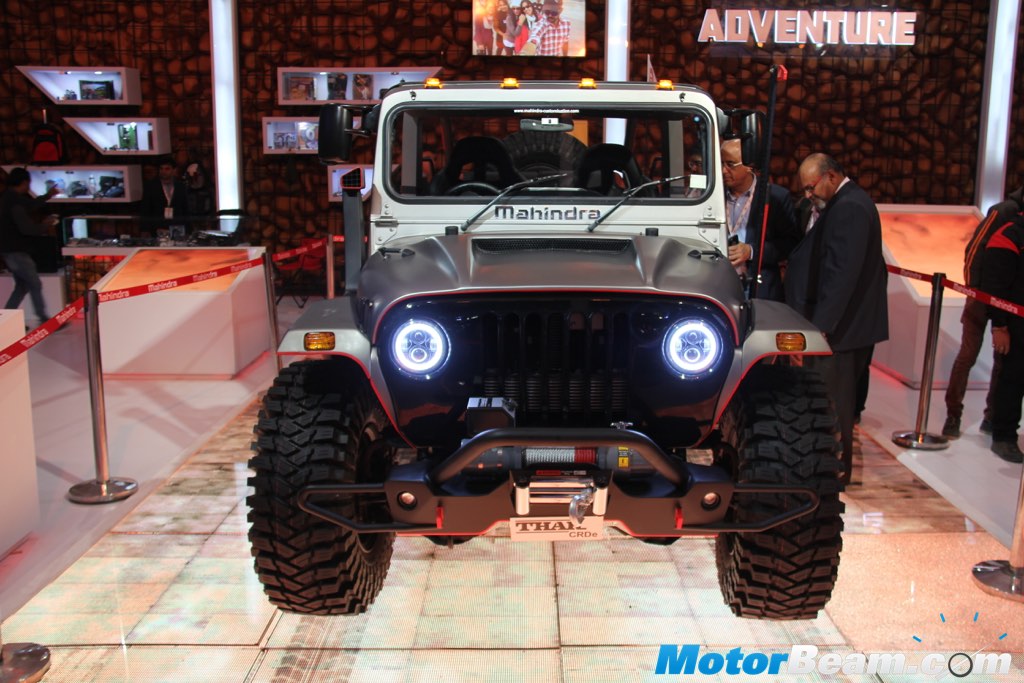 A car like the Mahindra Thar needs no introduction. Direct descendant of the Jeep CJ-3B, the Thar has made a place for itself in many hearts, be it the hardcore off-roading community or the person who wants a real car full of attitude. Mahindra itself knows this very well and thus has showcased a tricked out Thar at its adventure pavilion at the ongoing 2016 Auto Expo.
The Thar which has been displayed at the expo sports many useful additions to the stock car setup. The front gets a stinger bumper which is very useful in protecting the radiator in case the car topples down face forward. There is a heavy duty winch present on the winch plate in order to wrestle itself out of those sticky situations. The front fascia gets a dark grille and the headlights get some DRL treatment making the vehicle look even more menacing.
The hood gets a huge hood-scoop to cool the engine down and also present is a snorkel in case one wades into too deep waters. The main highlights of the Thar are the humongous MT tyres and the High-Lift jack for situations in which it gets stuck crossing the cliffs of the Grand Canyon. There are orange highlights all around the car which looks really nice on the matte grey paint job. It is also easy to spot the relatively high positioned twin exhaust system and LED tail lamps. All in all, the modifications are tasteful and befitting of a car of this stature.
Customised Mahindra Thar
– Sports lots of additions to the exteriors
– Gets useful features like MT tyres and a high-lift jack
– Comes with a twin-exhaust system too