March 2012 Sales Figures & Analysis
Month of March, as anticipated was a bestseller for all car manufacturers. Sales figures of every company pointed towards sky, sadly except for Fiat. Our FinMin created an atmosphere such that everyone was in hurry to grab their cars at old prices. Also Bubble created about extra duty on diesel cars also reflected in sales, as many diesel cars like Polos, Ventos, Sunny, Ritz shown rise in sales. Also as icing on the cake, the auspicious day of Gudhi Padwa (Hindu New Year) turned many car buyers to turn to showrooms. Hence we saw rise in sales of small cars as well. Let's go through the figures to get some clear picture.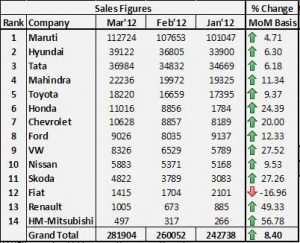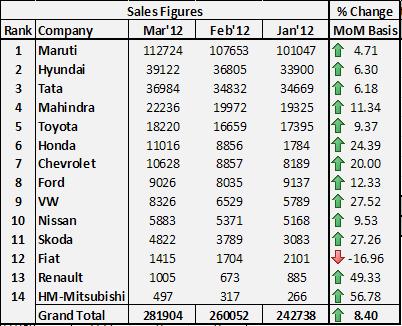 As soon as we see the table, first thing to notice is every company has shown growth in sales figures (MoM basis) all arrows are looking green and pointing North. Talking about companies which showed strongest growth figures, newest entrant Pajero sport took HM-Mitsubishi sales marks near 500 after very long time. Presence of elegant diesel lineup and corporate buying at financial year end, resulted in 20 plus % rise in sales figures for Renault, Skoda, VolksWagen and Chevrolet. Case of Honda was one to look at, when City went flat on face with drop in sales by 35 %. Brio came up strongly for rescue with rise of 311%. So, overall Honda managed 24 % growth.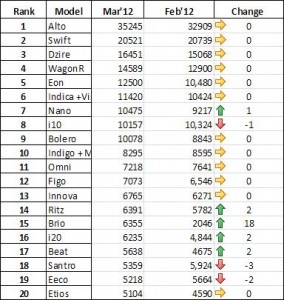 Amongst Top 20 hot sellers, there is no such change till number 13. Only Nano and i10 swapped their seats. No surprise Honda Brio climbed up the ladder by 18 positions and stood at number 15. Rest everyone is enjoying their places.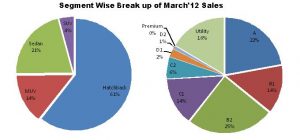 Above pictures is Clear and visible reason why every company wishes to have their small car the Best among the others. Out of 2.81 lakh cars sold in March, 61 % were the hatchbacks. Interestingly the difference between UVs and Sedan is narrowing up and this might go to such extent that someday UVs might overtake sedans. Surprisingly B2 segment where in big & pricy hatchbacks falls sold more than the small and cheaper hatchbacks like Altos and Nanos.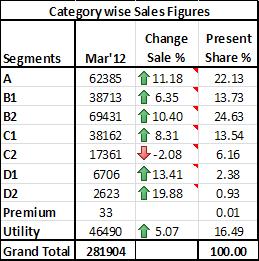 Further if we'll dig deeper into category wise breakup. 'A' category have seen positive trend, thanks to Nano crossing 10k mark and Eon also reaching past 12.5k figure. Beat and Indica range drove B1 segment North just because of diesel dilemma created pre-budget. B2 category is zooming with 24 % rise because of Brio. Rest categories are growing overall boom in market in the March.
Company wise Detailed Analysis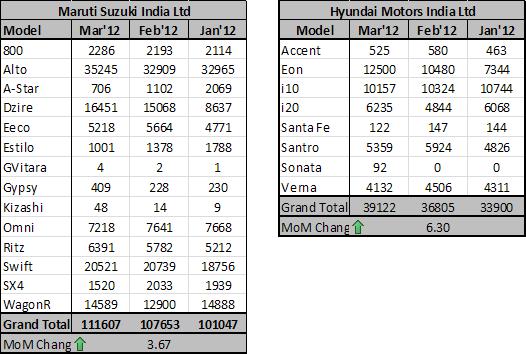 As it has always been Maruti Suzuki crossed 1 lakh mark with 112724 cars being sold in March. While Alto contributing the highest, Swift (in sedan and hatchback version taken together) is marching past Alto. Ritz seems to be happy, as it is getting customer majority diverted from Swift. In Hyundai's stable everybody is talking about pace of Hyundai Eon, because it has shown strong rise for last 2 months and has no eaten into Santro's market. But if we see Verna sales has fallen down may be because VW Vento took a major chunk of sales in this category.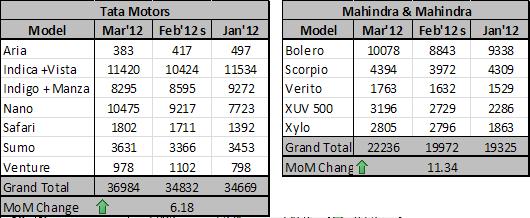 And here comes the Tata Nano with 10000 mark finally crossed. All the efforts from Tata seem to be giving fruits. As usual Aria continued downward trend and there is no visible end to it. M & M with every car selling better than previous month managed to record 11 % growth.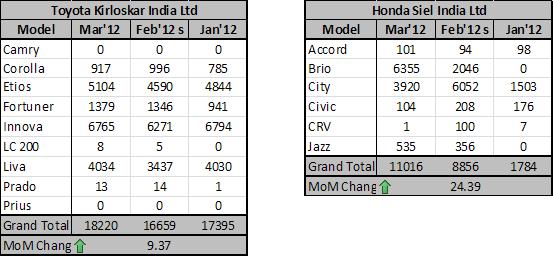 After not so good February for Etios twins, March showed them a north direction once again. Except Innova gaining steadily, everything else in Toyota's ground seems lifeless. We think coming months are going to be worse with Toyota with current product lineup. Honda Brio is the car which is talk of the town at the moment with whopping 311% rise in sales. Lack of diesel is showed up its effects on Honda City whose sales figure felt below 4k straight from 6k. This is matter of concern with Honda and it will worsen with time they take to introduce a nice diesel engine. This engine is also being missed by spacious and comfortable Jazz.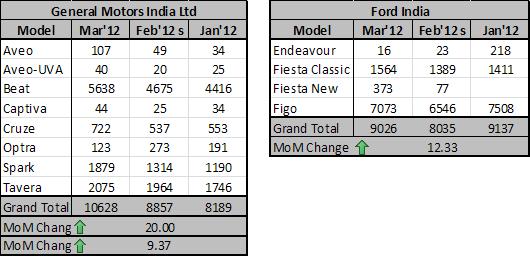 Except dated Optra, every product of Chevrolet grew considerably good. It took Chevrolet up by 20%. Beat diesel once again did the trick for GM with best economical diesel available in the market. Excellent auto-box of New Fiesta helped it to reach 373 numbers.

See the % change in sales figure of companies, both standing at 27 %! While for Volkswagen Vento did the trick with two fold rise in sales. This gave a mighty blow to Honda City and a shake to Hyundai Verna. Still classic Beetle is failed to find a single customer yet again. Now Mini's in picture, Beetles fait looks dark unless 2012 version kicks in. For Skoda Rapid is going upwards with 2882 numbers sold. See the numbers of Laura and Superb, this is the clear indication that many corporate buyer did their purchase before financial year ends. It's shocking to see that Fabia felt down to 770 numbers- is new Swift taking away the customers from Fabia?

If we see Renault-Nissan, its clearly visible that diesel helped both. Ending this financial year happily, Nissan recorded 9 % rise in monthly sales and Renault recorded 49%.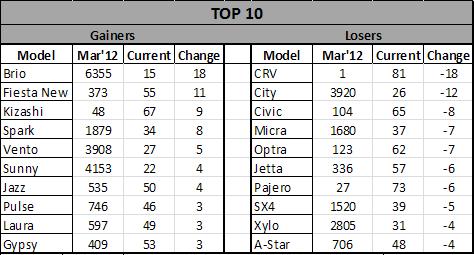 Things to look forward
– Ertiga: confirmed to be launched in this month.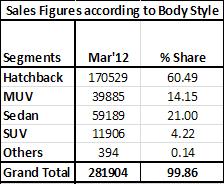 – New i20 out in the market.
– Etios twins being exported to South Africa.
– Jetta TSI also expected in April itself.
Despite of all the tension built up in automobile world at beginning of the month, end brought happiness to everyone's face. Now as new financial year started, every company will be now coming out with new strategy. We expect the market to be stable at current levels or slight downturn as many of the customers done with their buying in month of March. So out of 281904 sold, which one did you buy?