Maruti Suzuki Launches Limited Edition Swift RS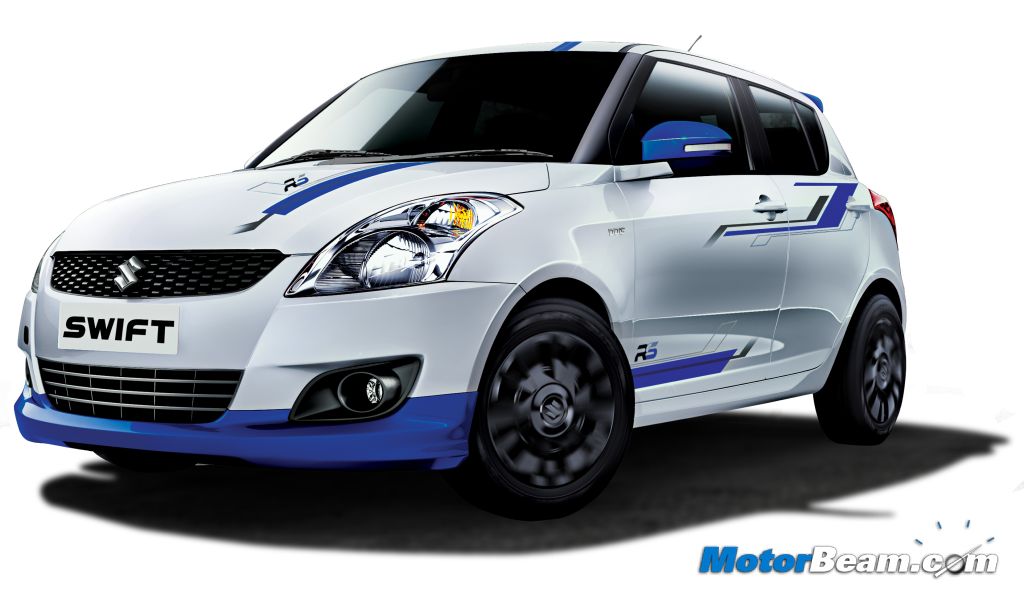 In continuing with its limited edition model onslaught, Maruti Suzuki has launched the limited edition Swift RS in the Indian market. The Maruti Swift is the highest selling car in its segment and the RS model will be available in limited numbers for a limited time, although the company doesn't really state how limited (i.e. till when it will be available and how many numbers will be produced)! Frankly, there is nothing RS about the Swift RS as the changes are purely cosmetic and don't improve the performance of the car at all.
The Maruti Swift RS gets a 3-piece body kit (front and rear bumper and side skirts), rear spoiler, black and blue motorsport inspired graphics, blue coloured outside rear view mirrors, illuminated door sill on all four doors with Swift name written on it, artificial leather black and blue coloured upholstery, RS themed floor mats, audio system with CD, AUX and USB compatibility. Maruti Suzuki states in the press release – "For the first time, black wheel covers are being introduced in the Swift RS.
Maruti Suzuki has launched the Swift RS to celebrate 1 million unit sales of the vehicle in India. The Swift RS is priced at a Rs. 24,500/- premium over the regular model. The Swift RS is available in VXi and VDi variants only and the vehicle is on sale right away. The Swift RS VXi is priced at Rs. 5.21 lakhs, while the Swift RS VDi is priced at Rs. 6.40 lakhs (ex-showroom, Delhi). Do you think the addition of these features makes the Swift worthy of the RS badge? RS stands for Rally Sport.