Maruti Suzuki Ranks Highest In Customer Satisfaction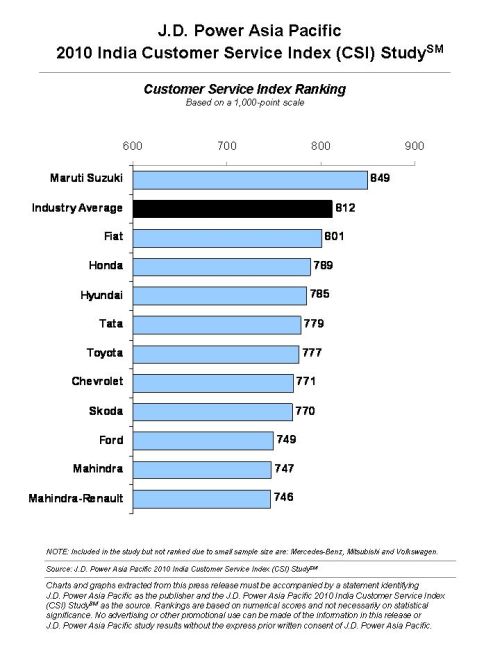 Customer satisfaction with authorized dealer service in India has increased considerably from 2009, according to the J.D. Power Asia Pacific 2010 India Customer Service Index (CSI) StudySM released today. The study, now in its 14th year, measures satisfaction among vehicle owners who visited their authorized dealership service center for maintenance or repair work during the first 12 to 24 months of ownership. The study measures overall satisfaction by examining five factors (listed in order of importance): service quality; vehicle pickup; service advisor; service facility; and service initiation. Overall customer satisfaction is measured on a 1,000-point scale, with a higher score indicating higher satisfaction.
Maruti Suzuki achieves an overall CSI score of 849 on a 1,000-point scale and performs particularly well in all five factors. While still performing below industry average, Fiat, Hyundai and Skoda each improve notably in 2010, gaining 40 points or more from 2009. Overall customer satisfaction with dealer service averages 812 in 2010, an improvement of 27 points from 2009. The 2010 India Customer Service Index (CSI) Study is based on responses from more than 5,800 owners of more than 60 different vehicle models. The study was fielded from May to August 2010 and includes customers who purchased their vehicles between May 2008 and August 2009.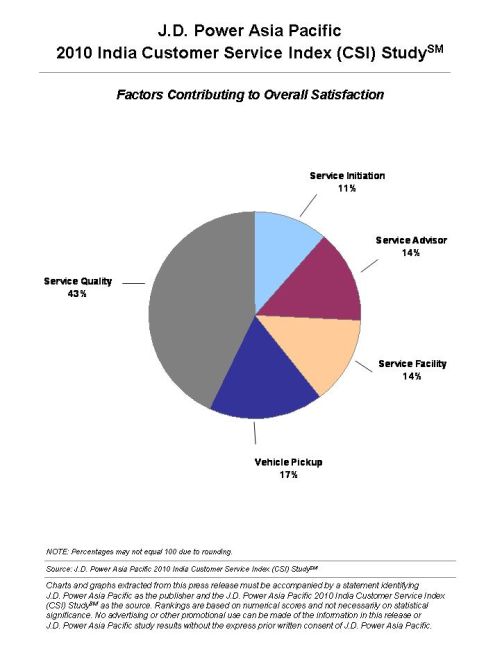 The study finds that providing service customers with explanations of the work to be performed on the vehicle prior to servicing has a strong positive impact on the overall satisfaction. Implementation of this service standard has improved significantly from 2009. The study examines the cost of operating new vehicles, both in terms of actual costs (including fuel; repair and maintenance; and tire expenses) and owner satisfaction with those costs. Due to higher fuel prices in 2010, the cost of new-vehicle operation has increased since from 2009 study–up 9 percent for petrol vehicles and 16 percent for diesel vehicles.
The study also finds that customers who are highly satisfied with the overall service performance of the dealer have higher levels of advocacy and loyalty to both dealerships and the brand. Among customers who are highly satisfied (service satisfaction scores averaging above 900), 86 percent state they "definitely will" revisit their service dealer for post-warranty service. In contrast, only 36 percent of highly dissatisfied customers (service satisfaction scores averaging below 748) say the same. Similarly, 86 percent of highly satisfied customers say they "definitely will" recommend the service dealer compared to 38 percent of highly dissatisfied customers.