Maserati Officially Re-Enters India With Launch Of 4 Models [Live]
After having a bad experience with the previous dealer Ashish Chordia, Maserati has re-entered the Indian market with three dealerships.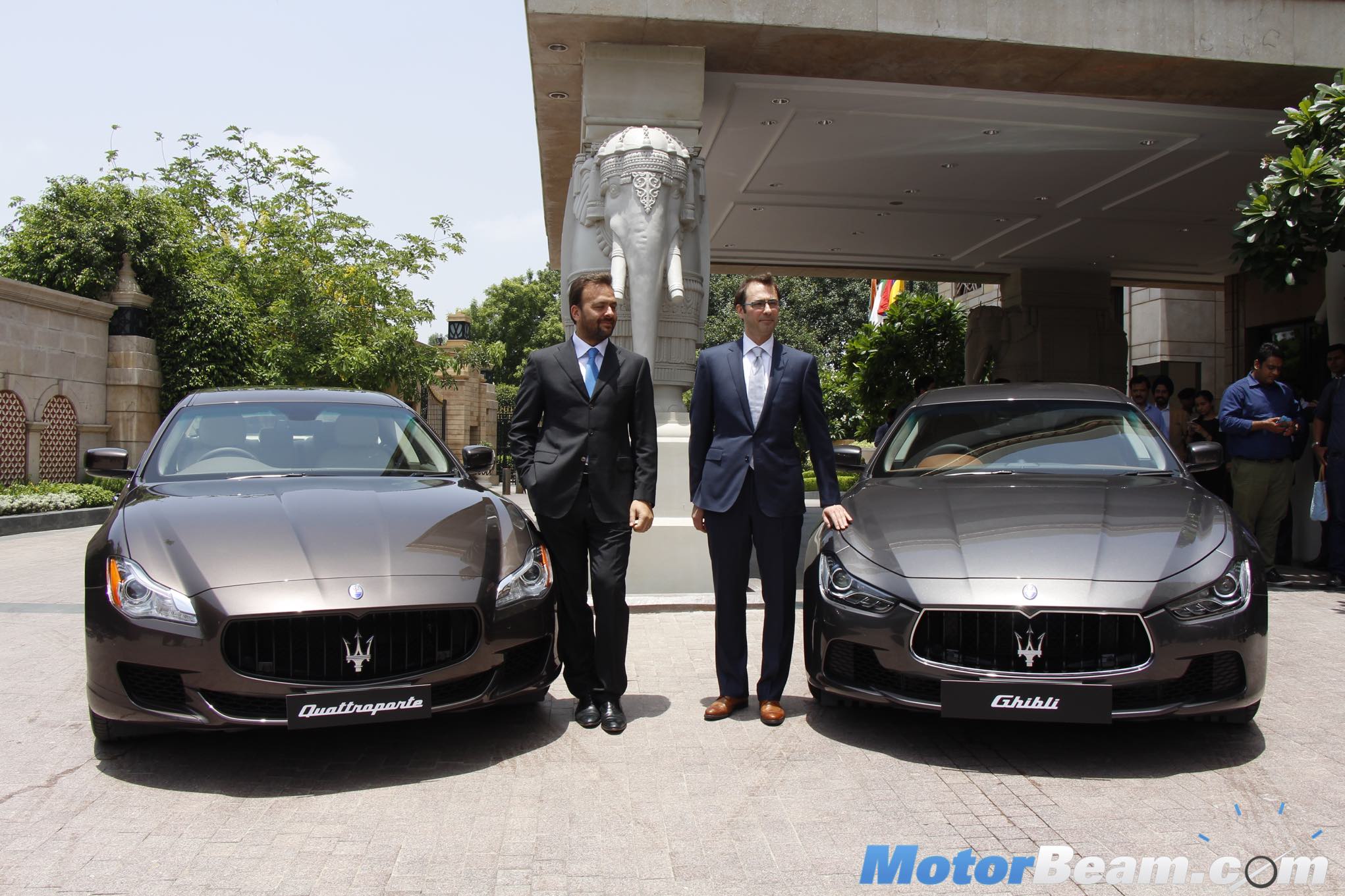 Italian sports car manufacturer Maserati has re-entered the Indian market with a bang. The company has a new growth strategy and feels that India is an important market for the them. The company will be offering the GranTurismo, GranCabrio, Quattroporte and Ghibli on sale and all of them will be brought down via the CBU route from Italy. The company has appointed three dealerships for now – AMP Supercars in New Delhi, Bagga Luxury Motorcars in Mumbai and Jubilant Autoworks in Bangalore. All three cities will also have a dedicated service station that matches global standards. The entire showroom and service staff will be trained by Maserati trainers.
The Maserati Ghibli will be offered only with a diesel engine. The oil-burner is a 3.0-litre unit producing 275 HP of power and 570 Nm of torque. The engine is mated to an 8-speed automatic gearbox and the vehicle competes with the Porsche Panamera. The Ghibli petrol V6 variant will be introduced in 2016. The flagship Quattroporte is offered with both V6 and V8 engines with power outputs ranging from 330 – 530 HP. The vehicle also gets a V6 diesel engine producing 275 HP of power. The Quattroporte gets four variants – S, S Q4, GTS and Diesel.
The GranCabrio offers top down motoring while the GranTurismo is a coupe. These sports cars come with naturally aspirated V8 engines with power outputs ranging between 405 – 460 HP. The GranTurismo is also offered in Sport, MC Stradale and MC Centennial Edition guises while the GranCabrio is also offered in Sport, MC and MC Centennial Edition variants. The GranTurismo competes with cars like the BMW M4, Aston Martin V8 Vantage and Porsche 911 Carrera. The company will launch its upcoming SUV in India in 2016.
Maserati sold 6200 units in 2012, 15,400 units in 2013 and 36,500 in 2014, meaning they are witnessing a very huge growth. The sports car market in India is fast growing. Just a few years back we had no companies selling their cars in our market and now almost every major manufacturer like Lamborghini, Porsche, Ferrari and now Maserati are eyeing the Indian market as a very significant one. Sales and service experience needs to be top-notch for buyers in this segment since there are a lot of options to choose from. The automaker is also considering cities like Chennai, Ahmedabad and Hyderabad for dealerships.
Maserati India Prices –
* Ghibli – Rs. 1.1 crores
* Quattroporte Diesel – Rs. 1.5 crores
* GranTurismo – Rs. 1.8 crores
* Quattroporte GTS – Rs. 2.2 crores