Mercedes AMG GT-S Test Drive Review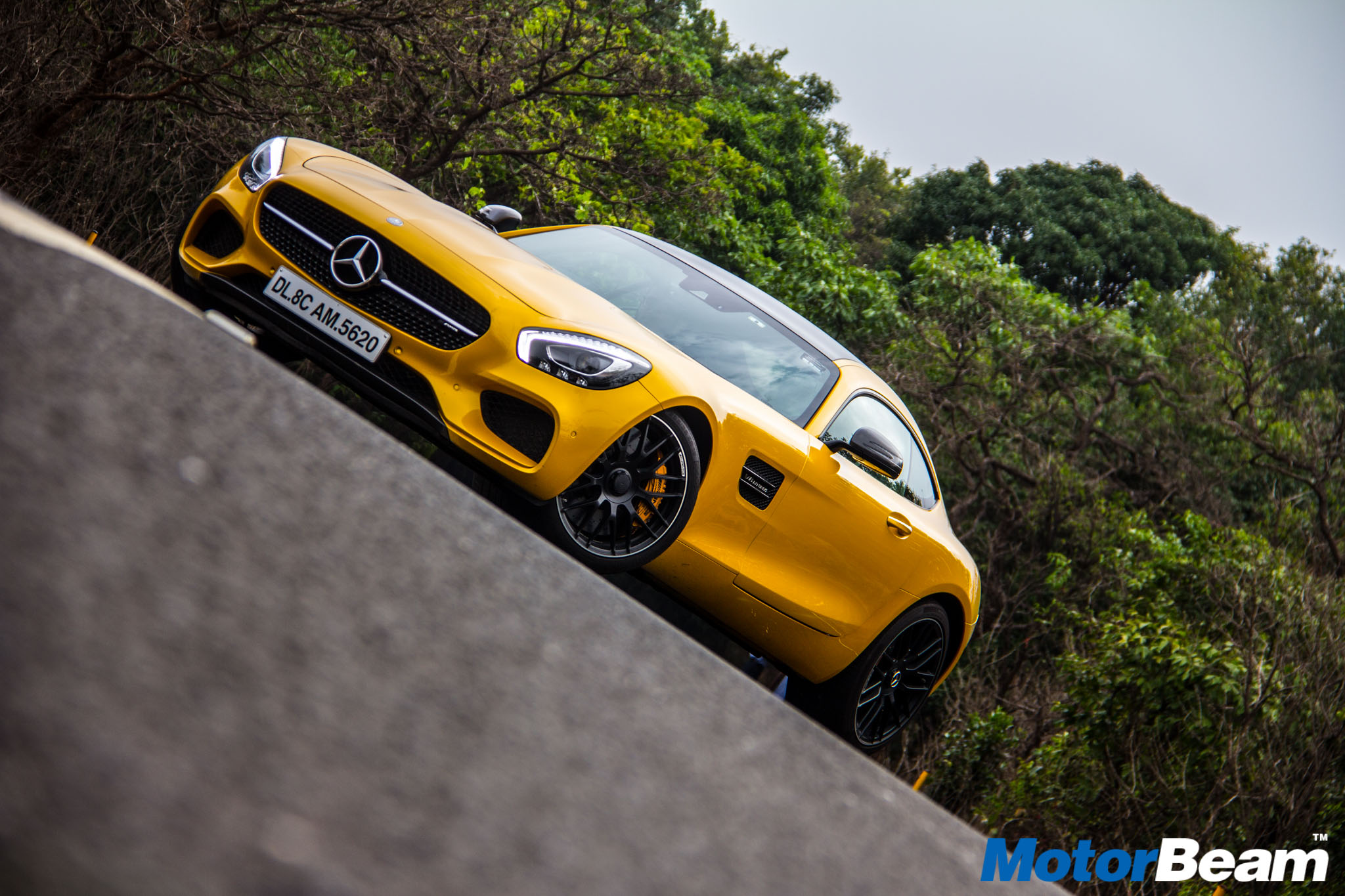 Mercedes AMG GT-S Review
Car Tested: Mercedes AMG GT-S; Road Test No. 733
Price OTR Mumbai: Rs. 2,63,62,596/-
The Mercedes AMG GT-S looks fast while standing still and is even faster when you drive it hard
Everyday is a good day at work, but then there are days which are extremely good. Today we'll be talking about one of those extremely good days when we were on the outskirts of the city, playing with the Mercedes AMG GT-S, the replacement for the mighty animal, the SLS AMG. Nope, you don't get scissor doors. You also don't get a naturally aspirated engine. Then what is the AMG GT-S all about? Time to find out.
Motor Quest: The Mercedes AMG GT-S is a hardcore roadster but it also means that you need to take it easy until you get used to it properly since there is a lot of power on tap and even a slightly wrong move could prove to be disastrous. The vehicle comes with a lot of customisation options and the Solar Beam paint job on our test car seems to be a pricey option!
Exteriors – Honestly, I don't have words to describe the looks of the Mercedes AMG GT-S in a few paragraphs. I could just go on and on talking about the muscular stance, the perfectly proportionate curves, the eye catching colour, the appealing alloy wheels and a lot more. The car looks as sexy as it could be. The derriere is curvy and looks classy while the side profile looks splendidly extravagant with the compact cabin followed by the swooping long bonnet. Our test car had black alloys with brake callipers in a contrasting colour. The AMG GT-S looks really nice and it draws a lot of inspiration from the SLS AMG on the outside and we think Mercedes couldn't have done a better job here!
Interiors – I'm still 23 and haven't been fortunate enough to sit inside a fighter jet or even the cockpit of a regular aeroplane. However, getting inside the Mercedes AMG GT-S was more or less similar, because the way the dashboard and centre console are laid out, it is no less than the cockpit of a plane. The steering wheel is similar to the one that we saw on the C63 AMG S. The instrument cluster is also similar to other AMGs and it is clear and easy to read.
Interiors have a driver-centric layout but there are very few storage spaces
The centre console is large and comes with an array of buttons. At the front, you get a thin strip of small buttons which are used for the AC and climate control system. Behind them, you get the knob for the COMAND infotainment system and at the very back is a small but chunky gear selector that is shared with the G63 AMG. You don't get Mercedes' traditional steering-mounted gear selector on the AMG GT-S. The centre console gets 4 buttons on either side and they are used to select driving modes, toggle the engine on and off, tweak the suspension settings, toggle the traction control, etc.
The seats are very snug and provide good support all around. Frontal visibility is excellent and you also get a good view of the long bonnet. The ORVMs offer a good field of view while the tiny rear windscreen is pretty much useless in tight situations. We didn't get a chance to check out the Burmester audio system of the car though, since we were quite immersed in getting a eargasm from the exhaust note. The AMG GT-S is definitely very long and it takes some time getting used to the sheer size. Cargo carrying capacity isn't much and the boot should be able to hold just a couple of bags with 280-litres of space.
Performance – The same engine that powers the C63 AMG S is also found under the hood the Mercedes AMG GT-S. The 4.0-litre, V8, Bi-Turbo engine puts out 510 horses and 650 Nm of torque. It comes with the 7-speed AMG SPEEDSHIFT transmission. The engine is far from tame and it can be best described as a wild animal. Power delivery is instantaneous right from stepping on the gas and what is turbo lag?! Baby the throttle and the AMG GT-S will potter around smoothly with a light burble from the exhaust. Go full out on the pedal and the car will simply take off and reach 100 km/hr in less than 4 seconds.
The 4.0-litre V8 engine is a beast and the exhaust growl is loud and addictive
Since all the power is sent out to the rear wheels, there is a lot of wheel spin and the car twitches a lot under hard acceleration too. The engine has so much punch that it just goes on and on right up to the 7000 RPM redline with a very loud growl. The powerplant never feels strained out and the speeds it can do in a matter of seconds is mind boggling! At extremely high speeds, the AMG GT-S feels raw and it transforms itself into a missile. The driver gets a lot of feedback from the car and the fun factor that you get feels very unadulterated. The supercar also comes with a rear wing which pops out at different speeds depending on the driving mode chosen, but you can always choose to pop it up manually too.
You get different modes to choose from – Individual, Comfort, Sport, Sport+ and Race. In the first 3 modes, the exhaust noise gets a little tamed down while performance remains good but not as ballistic as the latter 2 modes. In Sport+ and Race, the exhaust comes up at full volume and performance is also top notch, while the chassis feels much more tighter. The AMG SPEEDSHIFT gearbox is splendid and does its job very nicely. Fuel efficiency is something that should just not be discussed while talking about performance cars. But for those who are still curious, well, the Mercedes AMG GT-S will probably churn out 3-5 km/l if it's driven the way it's meant to be driven.
Driving Dynamics – The steering on the Mercedes AMG GT-S is light at low speeds but it weighs up very nicely once the speeds gather. The feedback that it offers is excellent but I still think I found the wheel on the C63 AMG S a tad bit better in terms of feel. Handling is precise and direct and the vehicle feels very engaging to drive around the twisties. The AMG GT-S has a very tail happy nature and the tail slides out very easily. The traction control does a good job if things seem to be getting a bit out of control, but if you're used to driving sports cars, then you'd know how to have proper fun with this one too.
The AMG RIDE CONTROL sports suspension is firmly set up and the ride is very stiff but that's typical of every sports car. The ground clearance is low too so you need to work around a bit while climbing over speed breakers or building/office entrances. Some more care needs to be taken for the front lip which is again set low. Our test car had a staggered wheel set-up with low profile tyres and grip levels were seriously astounding. The ventilated disc brakes also have awesome bite and stopping power is brilliant.
Safety and After Sales Service – On the safety front, the Mercedes AMG GT-S comes equipped with ATTENTION ASSIST, Adaptive Brake Lights, AMG high performance composite brake system, PRE-SAFE, ESP, TPMS, Automatic Child Seat Recognition and front, knee, side (thorax and pelvis) airbags for the driver and co-driver apart from windowbags. Mercedes also has one of the best after-sales service among the premium marquees.
Verdict – The Mercedes AMG GT-S is a true blue GT car and it has a muscle feel to it. Insane power, brilliant dynamics and gorgeous looks is what it offers. The AMG GT-S may not be too practical as an everyday car due to its size and low ground clearance but for those weekends when you really need that adrenaline rush, the GT will be happy to help. Also, the AMG GT-S is just not meant for someone who has no experience in driving powerful cars since it packs in a lot of punch that if handed over to someone who doesn't know how to handle it, it could be extremely lethal. The Mercedes AMG GT-S has, however, left a really lasting impression on me and I still cherish the day when we drove it back to back with the Mercedes C63 AMG S.
What's Cool
* Looks beautiful and attracts a lot of attention
* Engine is a beast, more than enough power on tap
* Properly fun to drive, this car!
What's Not So Cool
* I wish I had a petrol pump!
Alternatives: Porsche 911, Jaguar F-Type Coupe R, BMW M6, Audi R8
Mercedes AMG GT-S Specifications
* Engine: 3982cc, V8, DOHC
* Power: 510 HP @ 6250 RPM
* Torque: 650 Nm @ 1750 – 4750 RPM
* Transmission: 7-speed automatic
* 0-100 km/hr: 3.8 seconds
* Top Speed: 310 km/hr
* Fuel Consumption: 3-5 km/l
* Fuel Type: Petrol
* Suspension: AMG RIDE CONTROL Sports Suspension
* Tyres: 265/35/19 (Front), 295/30/21 (Rear)
* Brakes: Ventilated Discs, ABS
* Safety: 8 airbags, ABS, EBD, PRE-SAFE, ATTENTION ASSIST, ESP, ACSR, TCS, TPMS
Mercedes AMG GT-S Dimensions
* Overall length x width x height: 4546 mm X 1939 mm X 1288 mm
* Wheelbase: 2630 mm
* Ground clearance: 112 mm
* Turning radius: 5.75-metres
* Fuel Tank Capacity: 75-litres
* Kerb Weight: 1645 kgs
Testers' Note:
"The Mercedes AMG GT-S is a proper muscle car with that long hood, throaty exhaust note and exhilarating performance. It holds the road beautifully, just the way it looks. Getting inside the car is a bit of a task though but once inside, the cabin feels special although our test car was making quite a few noises. The AMG GT is a fitting replacement to the SLS AMG and is a supercar which goes as fast as it looks. The Gull-wing doors should have been retained and we do miss the 6.2-litre NA V8 motor!" – Faisal Khan, Chief Editor, MotorBeam.
"I had the privelege of attending the 'AMG Driver Training' program at the BIC a few years ago and had driven the SLS AMG flat out on the track. The experience cannot be explained in words with the 6.3-litre naturally aspirated V8 pushing the boudaries of performance to another level. I stepped into the AMG GT with similar expectations and this new babay from Merc surely did not diappoint. The AMG GT feels more agile, handles better and feels much better overall as compared to the SLS. Moreover this yellow colour is too hot to handle. Left me thinking, downsizing ain't that bad a thing for sure" – Dr. Javeid Khan, Deputy Editor, MotorBeam.
"I haven't driven the Mercedes SLS AMG and I don't know whether I'll be driving it any time in the near future or not. It took me some time to get used to the AMG GT-S but once I got a hang of its dynamics and size, there was no looking back, literally! The GT-S begs you to drive it aggressively and I'm glad we managed to get hold of traffic-free roads to let the car loose. Another interesting bit is that we also had the C63 AMG S for company that day and it was interesting driving both the cars back to back!" – Parth Gohil, Senior Road Tester, MotorBeam.