Renault Lodgy Sales Continue To Drop In July 2015 [MPV Sales]
Both the Renault Lodgy and Honda Mobilio managed triple digit figures last month in the MPV space where the Toyota Innova and Maruti Ertiga continue to be segment kings.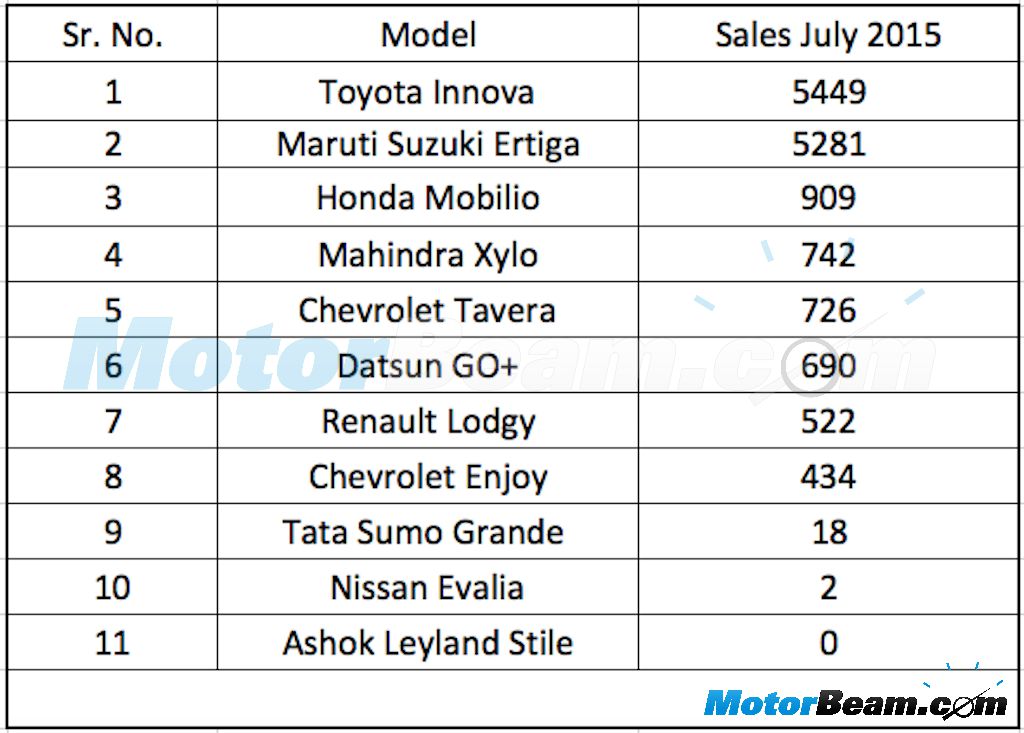 MPVs are a popular segment in India that has gained a lot of traction in recent times. As Toyota clearly made the segment profitable with its bread and butter Innova, the space saw a slew of MPVs enter the market recently in a bid to move the most preferred option from the number one position. However, the Innova continues to dominate and sales for July 2015 stood testimony to the same as the MPV clocked 5449 units, doing way better than most of its rivals. The model's trusted mechanicals and superior cabin comfort continues to impress cab and private buyers alike.
With the next generation model to make its debut early next year, the Toyota Innova is expected to maintain its market position, especially with rumours of the current generation model being retained for higher volumes. Moving down on the list, with a bare difference of just 168 units, the Maruti Suzuki Ertiga closed in on the Innova pushing 5281 units out of showrooms last month. The Ertiga continues to be a value for money multi-seater after the Innova and given the frugal engine options and the automaker's after sales support, there is little doubt that as to why the Ertiga is a strong seller in the segment.
Coming in third is the Honda Mobilio with just 909 units sold last month. Sharing its powertrain with the City sedan, the latter seems to be the more preferred Honda in the similar price bracket as the MPV has clearly not made any impact against its primary competition. Both the Innova and Ertiga have outsold the Mobilio by five times. Also not doing as per expectations has been the Renault Lodgy with 522 units beind sold last month. The model was attributed as the next big contender to the Japanese best seller. Despite a good start initially, sales have nosedived for the French MPV after pushing out 2032 units in April; 1947 units in May and 1708 units sold in June this year.
Since the Honda Mobilio, most MPVs managed to clock triple digit units in the previous month with the Mahindra Xylo selling 742 units, Chevrolet Tavera 726 units, Datsun GO+ 690 units and the Chevrolet Enjoy 434 units. In fact, the aged Tavera has done better than the Renault Lodgy. The biggest losers continued to be the long forgotten Tata Sumo Grande with just 18 units moving out of showrooms, whereas the Nissan Evalia has just not been able to break into the Indian market with a bare minimum of 2 units sold in July 2015. The Evalia's rebadged sibling the Ashok Leyland Stile stopped production recently given the utterly disappointing sales for the MPV.