Mumbai To Goa In The Mercedes E-Class [Travelogue]
A perfect car and a perfect destination always spells out a perfect journey.
It's 3.00 in the morning and my alarm goes off. I am up in a jiffy and feel fresh as a daisy, sleep has vanished rather quickly today. It's not a routine day for sure. My alarm clock has won the battle without me putting up a fight, rarely does that happen. Half an hour later, my colleague and I are all set to commence our journey and as we unlock our car, we are greeted by one of the most dazzling display of LED lights on any luxury car today.
The new Mercedes-Benz design language has really changed the way people perceive the brand. Young and sporty, the new Mercedes E-Class is one such car which appeals to both the heart and the head. We head to Goa in this swanky German machine for three days of absolute fun. The perfect road trip comprises of two things. The vehicle and the destination, and when both are perfect, it spells out an epic journey. Goa is one of the most famous tourist destinations in India. Not only with Indians but it's a preferred location for most foreign tourists. The Portuguese architecture reflects its history with pride. Goa has something for everyone, be it peace and solitude or the bustling night life. You can actually customise it the way you like it.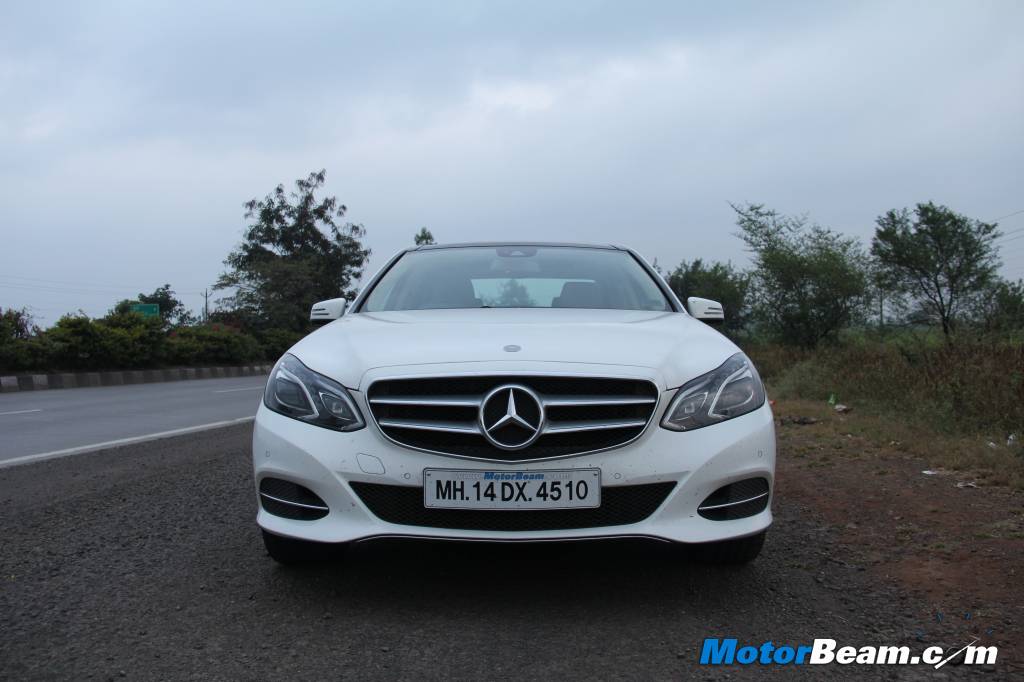 Goa is around 600 kms from Mumbai, though distance can vary depending on where you are put up. South Goa is 50 odd kms further down the road. The main tourist season is between November – March and this is the peak time for the crowds. Off season is between April – October and spells out hard to believe deals on hotels and resorts. South Goa is for those who want to break away from fast paced city life. North Goa is ideal for those who love to party. Goa offers various types of accommodation. You can stay at a beach shack for less than Rs. 1000/- a night or go all the way to a 5-star hotel and everything in between. There are two ways to get to Goa from Mumbai. NH-17 is more scenic of the two but is a single lane highway without a divider. Therefore it takes more time via this route in spite of it being shorter by distance. NH-17 is frequently in the news for the wrong reasons and is cited to be a dangerous highway since lots of accidents are reported due to numerous blind corners and lousy overtaking.
The second route is via NH-4 and is the one we used and will recommend. It's longer than NH-17 but due to the double lane nature of the highway, one can cover distance quickly. This route also forms a part of the Golden Quadrilateral and roads are well surfaced and smooth with few patchy areas. We hit the road at 3.30 AM sharp and made good progress on the highway. Little traffic meant that the E-Class was gobbling up distance quickly. Our first stop for breakfast was at McDonald's Kolhapur at 8.30 AM. After a hearty breakfast, we set out for our final destination. The 5 hour journey to Kohlapur seemed quite short with the audio system playing some soul soothing music.
We turned off towards Goa from Nipani onto the Ajra-Amboli road which connects NH-17 at Swanatwadi. This time however, the road condition was quite bad. Most of this 120 kms were ridden with potholes of numerous sizes and forms. Our progress was slow and the deeper of the voids were seeping through the suspension but ride quality was still fantastic, no wonder the E-Class is the bestseller in its segment. At exactly 11.30 AM we parked at our hotel in North Goa and checked in. It had taken us exactly 8 hours to reach the hotel including the break for breakfast, which is pretty good. They key was to leave early so that you are ahead of the traffic rather than making your way through it.
After settling in, we decided to step out for lunch. On our radar were two internationally acclaimed restaurants known for their cuisine. We decided to stop at Thalassa first. Perched on what many would call a cliff, Thalassa is is based at Vagator with the best view in Goa. If you want a table with a view, it's advisable to make a reservation well in advance. In its 7th year now, Thalasa is run by Mariketty who is Greek and also serves authentic Greek cuisine. She likes to call it a 'Greek Taverna' where quantities are sufficient to actually fill ones stomach. Prices are justifiable keeping the quantity of food in consideration. This 'Taverna' is a must visit if you are in Goa. We filled in and then returned to out hotel for a good nights sleep.
The next day after breakfast we headed out for South Goa. The E-Class was going very easy on fuel and in spite of us having done more than 200 kms in Goa itself, the fuel gauge still showed more than 1/4th tank of fuel (we had fuelled the car before leaving from Mumbai). Fuel in Goa is not as cheap as most of us think it is, well, not anymore. One litre of diesel costs approximately Rs 56.50.- while in Mumbai it's priced at Rs 60.85. We filled her up and were astonished with the fuel efficiency. The Mercedes E-Class (our car was the E 250 CDI) had returned 14.48 km/l (tank to tank method). Definitely, nobody really cares much about fuel efficiency in this segment, but the E-Class is certainly the most fuel efficient sedan in its category.
The afternoon sun was blazing and humidity levels were high. Even in the month of November, Goa can be quite hot during the day. The E-Class kept us cool without breaking into a sweat. The AC works beautifully and cools the car in no time even if it's standing in the sun for hours. The roads, especially the interior ones are quite narrow and one literally has to go off the road to allow oncoming traffic to pass. Hunger was setting in and it was time to visit the most famous restaurant in South Goa.
Martin's Corner is almost synonymous with Goa. Martin's started about 24 years ago and has come a log way since then. It's famous for its authentic Goan and seafood menu. Besides Goan, Martins's also serves Chinese, Indian and continental menu and ensures there is something for everyone. Besides the great taste, the prices are very compelling too. A sumptuous meal will cost far less than what a restaurant of the same level would charge. Time flies and it did. It was evening and the sun was going down quickly. We headed out to our hotel for our last night in Goa. The next day we were to depart back to Mumbai and decided to start early again.
At 5.30 AM the next day, we started our drive back to Mumbai. Traffic was minimal but progress was slow due to the single lane nature of the highway. The route back was the same we had taken to get here. The E-Class' headlamps deserve a special mention. They light up the road beautifully, offering great visibility to the driver at night. The route was the same and we turned off towards Nipani from Sawantwadi. Breakfast was again at Kolhapur McDonald's and the return journey was uneventful like it usually is and we made it to Mumbai by 3.00 PM.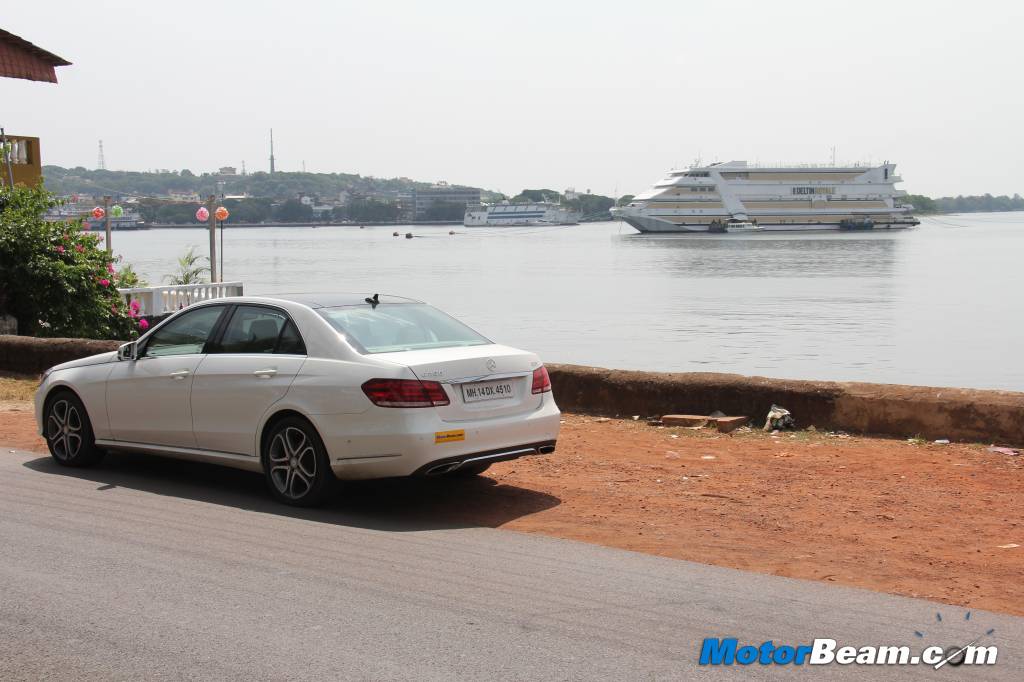 The Mercedes E-Class was the perfect companion for our trip. The boot swallowed our luggage without a problem and the drive was amazingly comfortable. Even after 8 hours of driving, there was hardly a hint of fatigue. NVH levels are fantastic and driving it was a breeze, be it on the highway or the crowded Goa streets. The 2.2-litre oilburner produces 204 BHP of power and an amazing 500 NM of torque. The high torque makes it extremely easy to lug around at slow speeds in the city and one can just floor the throttle to gather momentum quickly when need be. The steering is light and makes manoeuvrability easy in the city but weighs up well at high speeds. Handling is sharp with the new DIRECT CONTROL suspension and pushing this car around the twisties in Goa put a wide smile on our face.
The ride quality was excellent, in spite of the low profile tyres, and that's the primary reason one buys an E-Class. However, honestly speaking this low profile rubber is not really suited to Indian road conditions. It's not a matter of concern as the regular E-Class (we were driving the one with the AMG alloys) comes with regular profile tyres. We had done nearly 1500 kms with an overall fuel economy of 13.51 km/l. In all it was a perfect break, the perfect car and the perfect destination made it a perfect three days for us.