New Honda CBF Stunner Review By Pranav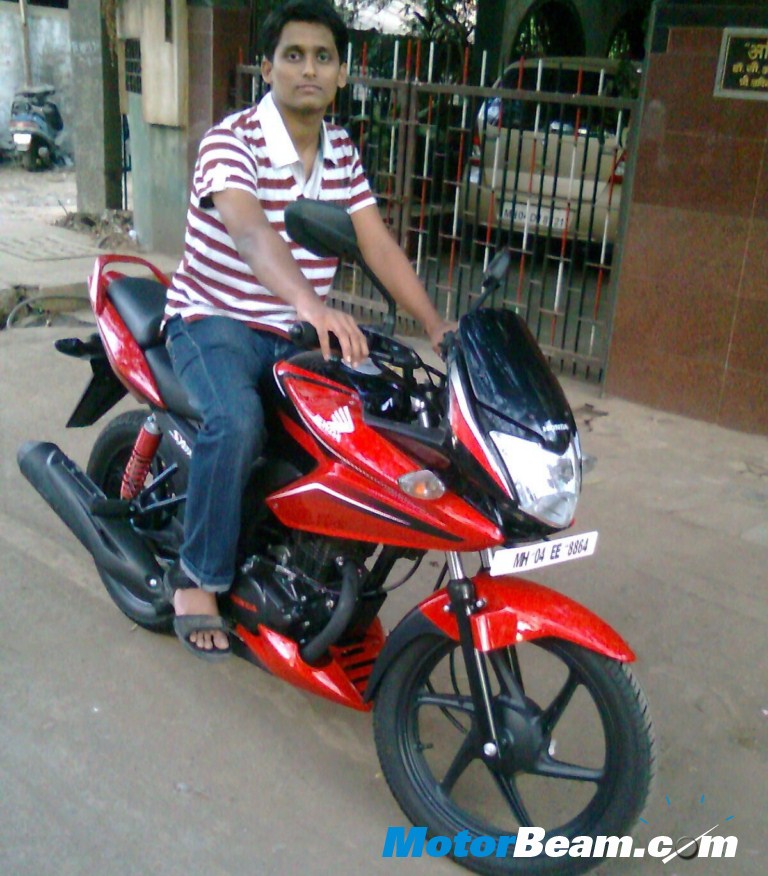 My dad finally agreed to buy a new bike the day our trusty Kawasaki KB100 stopped working like it always used to! And most importantly, I was going to enter the biking world with that new bike! I was a beginner in biking about 4 months ago or so. I tried Pulsar 150, I wasn't comfortable with it at first hand. Then my Dad came up with a rule which almost broke my heart – "NO bikes with engine capacity of 150cc and above." I was like  shattered and this tried my best to convince him at times, but, after many failed and futile attempts I gave in and agreed on that term, looking at economical side of the stipulation. You must look at Fuel Efficiency if you have someone 'Dear' to seat as your pillion! Being a youngistani, I hesitated on sporty looks, and performance.. Finally we decided 125cc segment. So as to get fuel economy near to 100cc bikes, but now my tough task was finding a bike which comes near to 150cc bikes in terms of performance and sporty looks.
The 6 options I had were : –
Yamaha Gladiator
Honda Shine
Bajaj XCD125Suzuki Zeus
Hero Honda Glamour
TVS Flame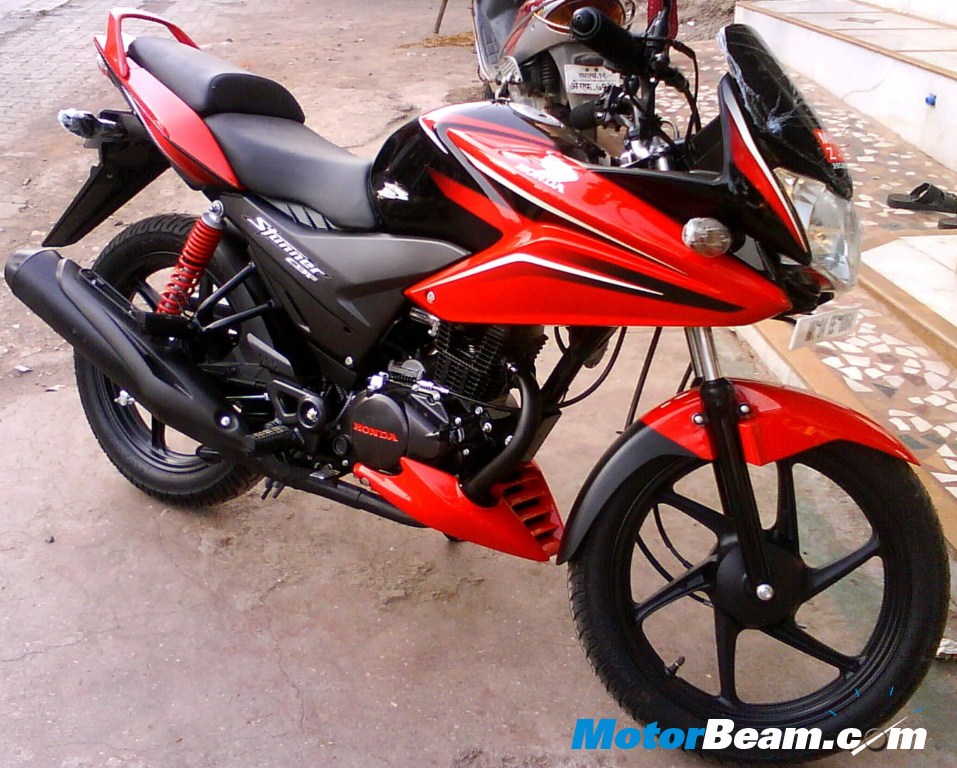 After Long research, I found Gladiator, Shine, Stunner worth buying, considering me and my Dad's requirement. I personally prefer Honda and Yamaha over other companies simply for the Brand, Quality of parts, and close to zero maintenance. When I personally visited Honda and Yamaha showrooms, I was in love with the beauty 'Honda CBF Stunner'.  Why would i choose Shine if i have similar 125cc engine, with awesome looks and add-ons? My dad took a test drive of Stunner, and was comfortable with it. (it was an old model, still loved it).
Finally it was CBF Stunner vs Gladiator
We chose CBF Stunner for may plus points over Gladiator which are discussed in this review. After all I had to choose a 125cc which comes close to 150cc in performance, and looks sexier than the regular day-to-day bikes! I booked CBF Stunner, and paid Rs. 2000/- more on the price what I had booked it for. But it wasn't a wrong decision for sure! I got the new Honda CBF Stunner, first delivery in the state of Maharashtra. What else could I want!!
New Features in the 2010 Stunner : –
Tachometer: Finally A Premium Bike!
New Engine cowl: Pure element of Attraction!
New Graphics: Made me Drool over the bike!
Half Chain cover: Sporty Trend amongst the Young Gen.
Sporty RVMs: Haven t seen such amazing RVMs till date..
Black Engine theme: That is what i was looking for in old Stunner.
Bar End weights: less Vibrations YaY!
No Kick- Lever: Latest Trend
Maintenance Free Battery: No more topping up / leakages in the battery.
Viscous Air Filter: Less maintenance
I was very much satisfied with the features I got at the price of Rs. 59,000/- OTR, alas! I chose best 125cc in almost every aspect!! I have completed 2300 kms so far and just got the 2nd servicing done.  Here is what I feel about my machine till date.
Styling

*The best looking bike in its segment. Prolly best looking bike in Indian market. Though everyone has their own views. R15, Karizma and few high budget bikes are better though, but what more you want in 60k! Almost all new Features make this bike inside out sporty.
While riding it out.. I get FAQed about my bike frequently ;P
"Is this a new 200cc?"
"From where did you modify your Stunner?"
"What's the cost? 80k? " ;P
The bike is a pure reason for a head turn! I have seen very few new stunners on road, It feels so unique to have a machine which most of the crowd doesn't. Overall black theme attracted me the most.. New engine cowl is a cool addition. Half chain cover gives bike a sturdy look. Split seat is also a unique feature in its category. Sharp tail-end is quite attractive, and unique in its category. Styling is the key feature of CBF Stunner. A must_have for every college hunk!
Handling
*Only bike having separate Handle-bar from dashboard in its segment.
I was very much in a need of a easy to handle bike! And as Honda's CBF Stunner 125 has proven it ability by winning the 'Best Machine For New Riders' award (14th Motor Cycle News (MCN) Awards.) Its truly a easy handling machine! Me and my Dad both find it very much comfortable. Separate handle makes it easy to ride.You can turn the bike with the slightest force because there is no dead weight of the dash board and headlamps in clinging to the handle bar. Seating posture is sporty with those rear set footpegs but even after continuous long runs the bike feels relatively comfortable.. I have done a 150kms ride with pillion, it was a comfortable and joyful ride. Bike is very good at cornering.. Both shocks are fit for their work. Fuel tank is well architectured for knees' placement. Long rides are much more comfortable. Being 125cc, bike isn't much powerful, but is best in its class.
Performance

*Highest BHP amongst bikes available in market, in its segment
CBF Stunner roars 11BHP @ 8000rpm, with acceleration of 0-60kmph in 5.2 seconds (According to Honda, based on actual driving conditions). Gears shift smoothly. It gives exactly the same roar i was looking for! Engine is Not that smoother on high speeds, but for 125cc, its best one can get. I have managed to touch 105kmph..But I am not raising the throttle much as its not recommended until you complete few services and few thousand kms. Bike weighs 128kgs and is firm on highways while heavy containers pass by. Braking is excellent. Tubeless tyres made my Dad nod yes to this beauty! Rear tyre is thick enough to assure you better grip. Fuel tank capacity is 10litres having 2litres of reserve. CBF Stunner has 5 speed-gears, which is rare in 125cc segment.. if you are at high speed, you surely think about having a 6th gear, but its better than having just 4 gears machine!
As bike has tough maintenance free battery, absence of kick lever shouldn't make you worry. I start my bike without choke at morning, and it responds to my push at first try! Newly Added Tachometer helps in maintaining proper handling and getting utmost performance out of the engine. Tachometer is most wanted feature in old stunner, and Honda just got it at right time. Stunner is basically categorized as a commuter bike, but i see nothing wrong categorizing it as a performance bike in its category. The bike comes close to gladiator in performance.. But 5 gears, tubeless tyres, maintenance free battery surely makes Stunner worth buying.
Mileage
Stunner has served me with about 60kmpl in city rides. And very much satisfying 65kmpl on highways.. I always try to maintain 45kmph when low on Fuel, as it saves 20% of your fuel. Mileage ,though not best in its category, but is worth if you consider Stunner's power and performance.
Few More Things
CBF Stunner has got a Analogue dashboard, so if you are a digital-speedo fan, its a disappointment. I am quite ok with the conventional display, Dashboard is all new due to new addition tachometer and lights enough at night.
Beneath the split seat, a small compartment is secured by a lock, which opens with the all-in-one key which is of bike's and the fuel-tank's compartment has a small space to accommodate , say a wallet plus a mobile (I have tried it). Compartment also has separate space for tool-kit and first aid kit provided by Honda.
Beneath the split seat, there is a helmet holder. One doesn't need to pay extra for a helmet lock. Split seat also provides a separate space to hold Bike-Documents safely.
Choke lever has a separate position near dashboard.
Passlight switch is a very useful feature.
Tripmeter helps you calculating mileage. I was impressed with this utility.
Split seat is just 1 cm higher than Unicorn's. So Stunner is too high for pillion is just a myth.
Rider's seat just looks high, due to higher rear seat, but is actually lower than Unicorn, and it ensures sporty position, which is not at all stressful.
No LEDs , No digital display. Yes, no goodies.
Honda CBF Stunner Specifications : –
Displacement: 124.7cc
Engine: 4 Stroke, Air Cooled, OHC Single Cylinder
Maximum Power: 11Bhp@8000rpm
Maximum Torque: 11Nm@6500rpm
Gears: 5 Speed (1 Down-4 Up)
Weight: 128kg
Ground Clearance: 173.00 mm
Fuel Tank: 10.00 liters
Suspension(Front): Telescopic front fork suspension
Suspension(Rear): 3 step spring loaded hydraulic shock absorber with boxtype rectangular swing arm.
Brakes (Front): 240mm Disc
Brakes(Rear): 130mm Drum
Verdict
CBF Stunner is a perfect blend of style, performance and fuel efficiency. Though its costliest in its category by few thousands, but is worth a buy because of its key features such as tubeless tyres, tachometer, 5-speed gears, maintenance free battery, looks, and quality parts. Honda has done a brilliant job by introducing this international model in India. Finally If you are looking for a bike that has awesome looks and great F.E. (in awesome looking bikes) and great power (in 125cc category) then this is the one for you, but be aware that this is not powerful enough for die hard power cravers. If you are on a budget like Rs.60k, and want a truly great looking high performance bike in 125cc category. New Honda CBF Stunner is a must buy. I enjoy the quality!
Pranav Kelkar