Nissan Offers Special Accessory Packages For Datsun GO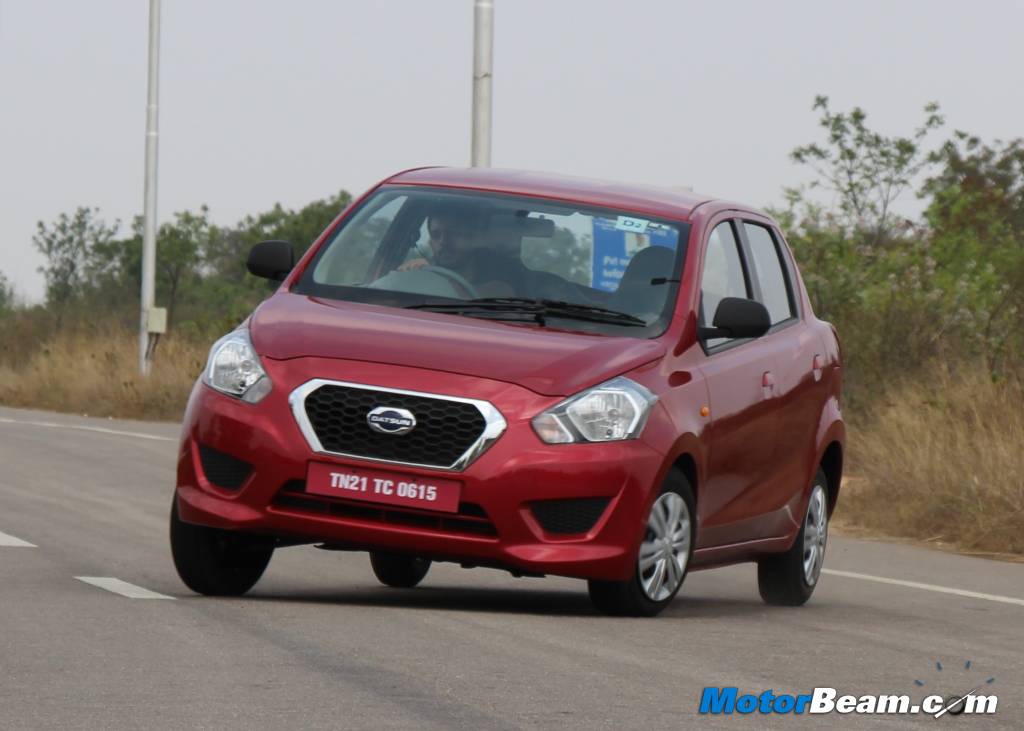 Datsun India launched its maiden product the GO hatchback yesterday in the entry-level hatchback space. The GO is targeted at the first time car buyers, young aspirational individuals that the folks at Datsun call 'risers'. The company understands that young drivers or car owners are looking for individuality with their vehicles and with car customisation catching up in India very well, Datsun has provided a host of special packages that buyers can choose from to make their GO aesthetically and ergonomically more appealing.
Datsun has introduced special packages that will go on sale soon. What the company has essentially done is taken certain accessories and clubbed them together to offer additional features for different target customers, which can be added to any variant of the car. Let's take a look at all the packages on offer.
1) Go Women Edition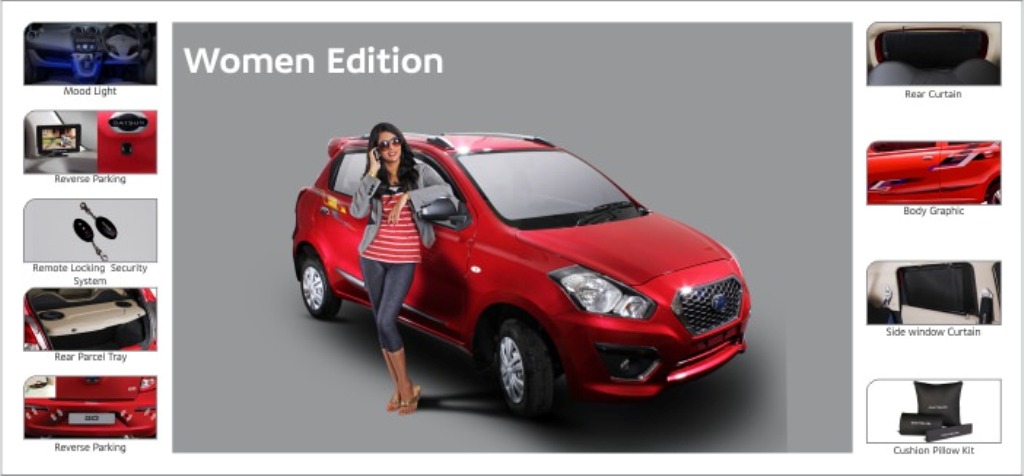 The Women Edition has been packaged to target the young Indian women. You get a reverse parking sensor, reverse parking camera, security system, parcel tray, rear and side curtain, cushion kit, mood light and body graphics.
2) Sport Package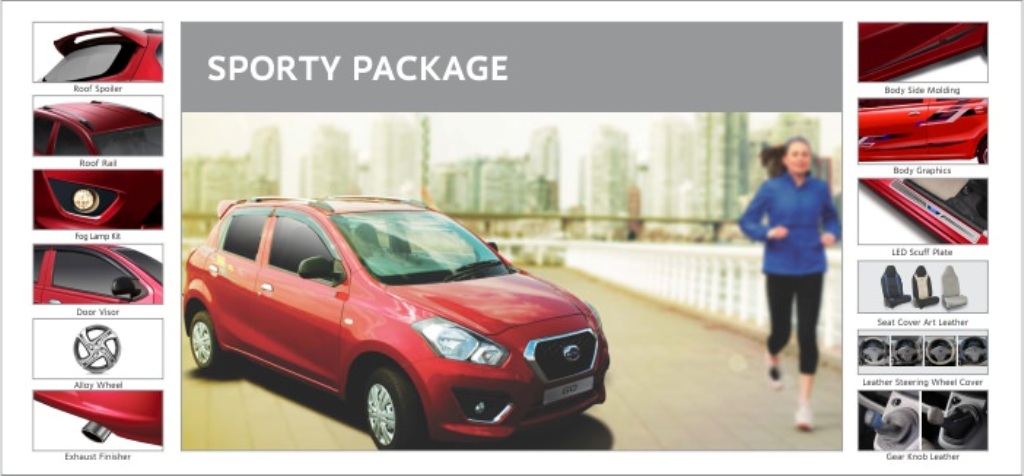 The young bachelors will relate to the Sporty Package on offer. The package comprises of a rear spoiler, roof rails, fog lamp kit, door visor, alloy wheels, scuff plate with LEDs, exhaust finisher, body side moulding, body graphics, art leather seat cover, steering wheel cover and leather gear knob.
3) Trendy Package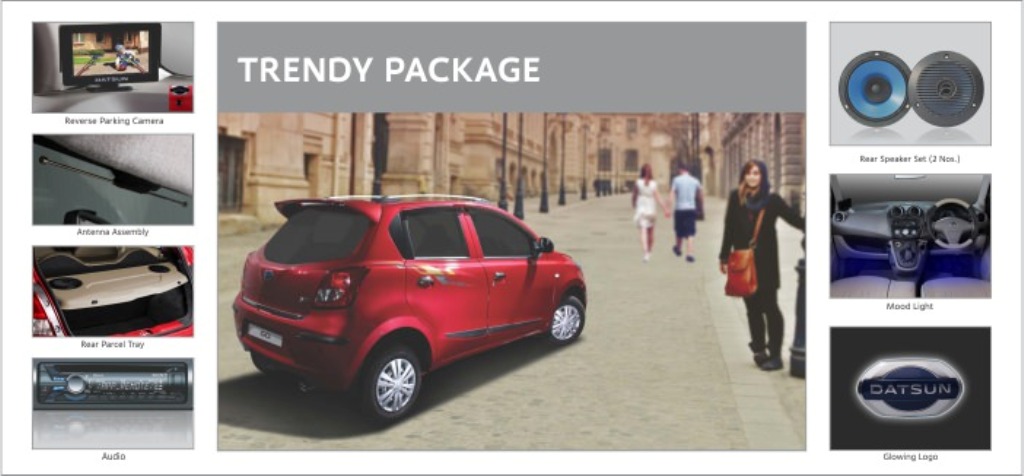 Targeting the risers, the trendy package gets reverse parking camera, antenna, parcel tray, audio with smart phone connectivity, rear speaker, glowing logo and mood light.
4) Family Package 1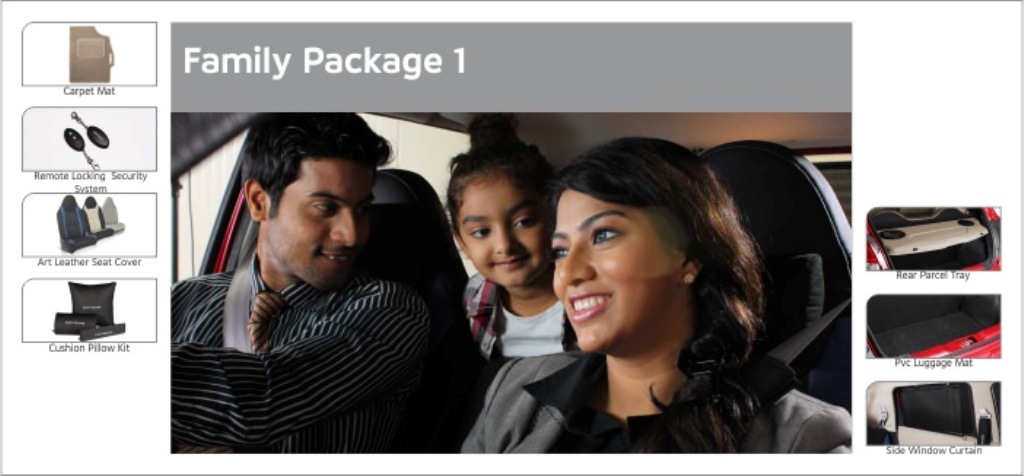 The Family package 1 comprises of carpet mat, PVC luggage mat, art leather seat cover, cushion kit, parcel tray, side curtain and security system, targeted at young families.
5) Family package 2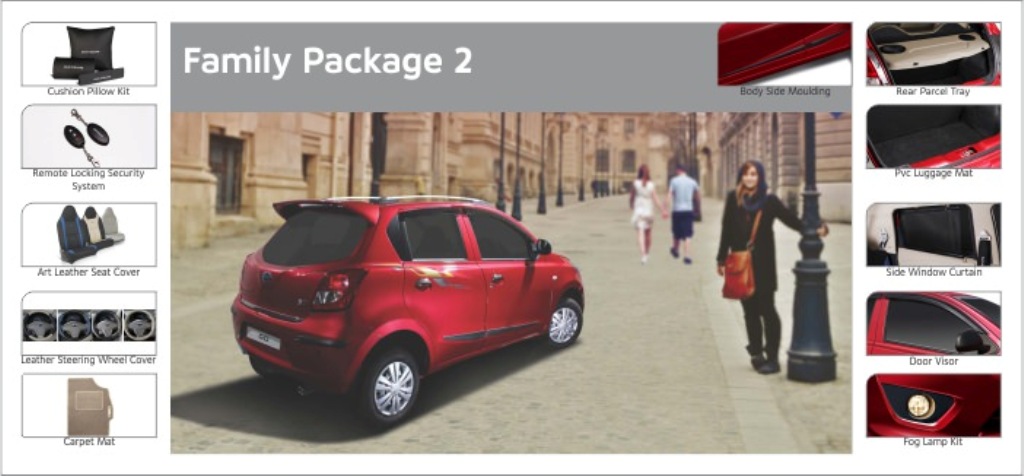 The Family package 2 features a rather extensive list with fog lamp kit, door visor, body side moulding, steering wheel cover, carpet mat, PVC luggage mat, art leather seat cover, cushion kit, parcel tray, side curtain and security system available for purchase.
6) Essentials Package
The Essential package 1 carries the basic accessories that you would otherwise purchase with your new car comprising of body cover, splash guard, luggage mat, PVC black mat, fabric seat cover and steering wheel cover. Whereas, the Essential package 2 gets rear parcel tray, carpet mat, remote locking kit, fabric seat cover and steering wheel cover.
The accessory packages are still not on sale with the dealers, nor have the prices for the same been announced. Datsun is leaving no stone unturned to make the GO an appealing car for the young buyers. Prices for the base 'D' variant on the GO starts at Rs. 3.12 lakhs (ex-showroom, Delhi) and we expect the special accessories packages to start at a price of Rs. 10,000/- onwards.