Porsche Launches Second Generation Cayenne In India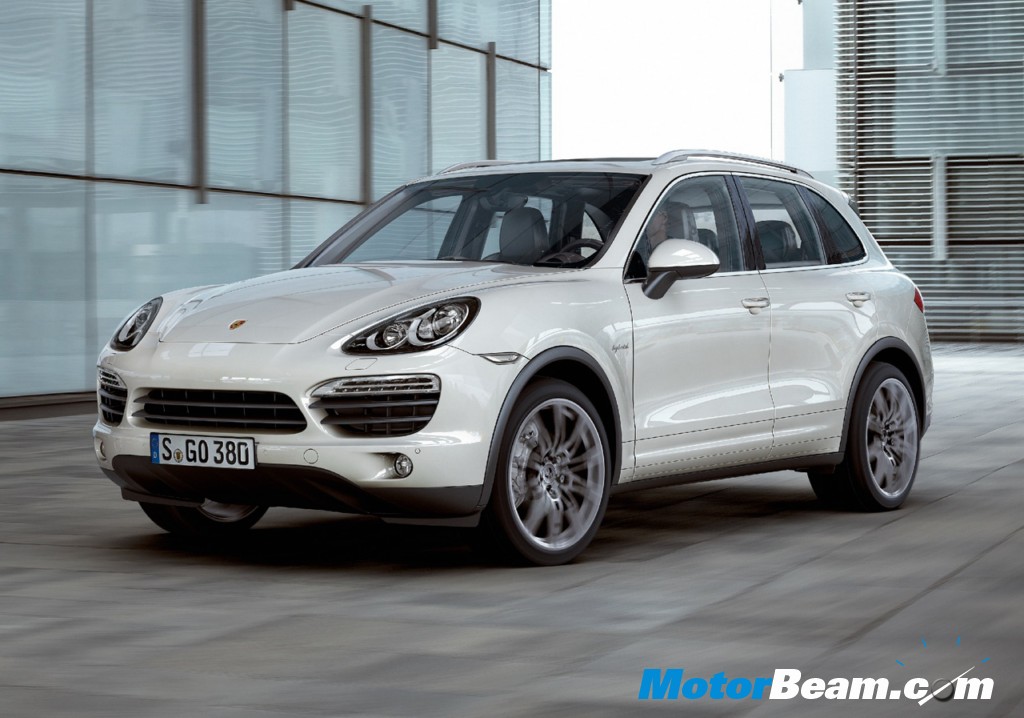 German car maker Porsche launched the second generation Cayenne at Mumbai today. Luxury car market is picking up with global majors doing good sale figures. Porsche has already secured about 70 bookings for the new Cayenne. This new SUV is priced between Rs 65.82 lakh to Rs 1.27 crore (ex-showroom) and will be available in 5 models namely Cayenne, Cayenne S, Cayenne Turbo, Cayenne Diesel and Cayenne S Hybrid.
"We have already received bookings of at least 70 units. This model represents the perfect balance between elegant design and powerful driving dynamics. Efficiency has significantly improved making this model an outstanding trendsetter in its segment" – Ashish Chordia, Director, Porsche India.
The range starts with the 3.6-litre V6 Cayenne with an increased engine power to 300 bhp. With its eight-speed Tiptronic S transmission fuel consumption is down from the former model by no less than 20 per cent to 9.9 ltr/100 km
The Cayenne Diesel with its 240 bhp three-litre V6 likewise reduces fuel consumption by 20 per cent, down from 9.3 to 7.4 ltr/100 km.
Fuel efficiency is also up significantly on the high-torque Cayenne S with its 4.8-litre V8 power unit, in this case by 23 per cent to 10.5 litres/100 kilometres. At the same time the new engine delivers 400 bhp maximum output instead of the former 385 bhp.
The most powerful Cayenne Turbo, with its 500 bhp 4.8-litre V8 biturbo consumes now just 11.5 ltr/100 km representing also a reduction in fuel consumption of 23 per cent.
At 193 g/km, the Cayenne S Hybrid is the cleanest version of the Cayenne with the lowest level of emissions. In the intelligent interaction of the three-litre supercharged V6 and the electric motor, the Cayenne S Hybrid focuses on maximum efficiency from the overall system. Depending on driving conditions, the vehicle operates with one drive unit by itself or with both drive units working together. In this context the 47 hp electric motor is of course the ideal partner for the 333 hp compressor engine with its high torque at low speeds. Together, the two drive units deliver maximum system output of 380 bhp and peak torque of 580 Nm at just 1,000 rpm, with the same kind of performance as the Cayenne S with its V8 power unit
'Going Green' is the key these day and in wake of this the Cayenne S Hybrid offers a highly sophisticated parallel full hybrid drive ensures fuel consumption of just 8.2 litres/100 kilometres with CO2 emissions of just 193 g/km. The Cayenne S Hybrid combines the performance of an eight-cylinder with the economy of a six-cylinder running on much less fuel.
Extra space inside and greater variability is ensured by the wheelbase now 40 mm longer. In all, the new Cayenne is 48 mm longer than its predecessor. The eye-catching cockpit-like interior clearly derived from the Porsche Panamera, can now be also found in the new Cayenne with a centre console between the two front seats. For maximum comfort also in the back, the rear seat bench now moves fore-and-aft by 160 millimetres, with the backrest angle adjusting to three different settings.
The company is presently operating only 2 dealerships and plans to expand to Chandigarh, Chennai, Kochi, Hyderabad and Ahmedabad soon.