Pulsar 200 NS Modified To Look Like Kawasaki Z1000
This Bajaj Pulsar 200 NS has been modified into an aggressive monster, draws inspiration from a Kawasaki Z1000!
Bajaj Pulsar is one bike which has stood the test of time and remained on the pinnacle of the Indian bike scene. One of the major reasons for its success has been the muscular design of the bike which demands attention from the public. In 2012 Bajaj took this design theme to a next level with the Pulsar 200 NS. Many considered the Pulsar 200 NS as the best design Pulsar till date and no sort of modification could be done to make it even better! If only it was true! An owner from Vietnam has modified his Pulsar 200 NS to resemble the legendary Kawasaki Ninja Z1000.
This modified bike carries considerable resemblance to the Z1000, having the signature twin LED headlights and a very sharp rear-end carrying the same menacing arrow pointed tail light. It also includes a massive 180 section rear tyre for providing the same grip levels. The bike also carries an after-market Austin Racing exhaust. The modification also includes a smaller wind deflector and a new digital instrument cluster. Carbon fibre finished handle bars (sans clip-ons) and a trident logo between the twin headlights complete the design modifications on the bike.
The owner perhaps not only wanted his bike to look like the Ninja, but also perform like it! For increasing the performance, the owner has also rebored the engine to 350cc (Don't ask how!). The owner hasn't revealed the torque and power figures though.
The Pulsar 200 NS is exported to many countries and enjoys a good fan following abroad. It is speculated that Bajaj might relaunch the Pulsar 200 NS in India equipped with Fuel Injection and additional features. If it is styled somewhere even close to this modified model, we foresee Indian bikers declaring the Pulsar 200 NS as its latest heartthrob!
Pulsar 200 NS Modified
– A Vietnamese owner of Pulsar 200 NS modified looks of the bike to match Kawasaki Z1000
– The modified bike features twin headlamps, 180 section rear tyre, a trident logo between the headlamps
– The engine has been rebored to 350cc, power figures not revealed yet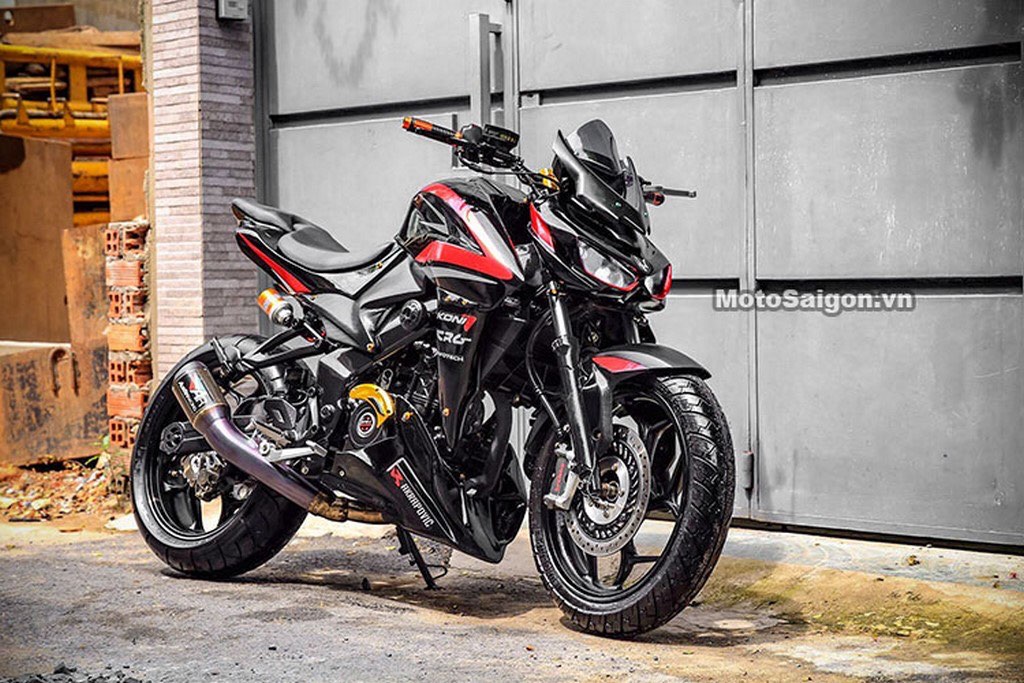 Images Source – MotoSaigon.vn