Pulsar 220 Superhero Caught In Argentina
A story comes in from Buenos Aires, Argentina that, a "superhero" named Menganno has been identified as ex-police officer named Oscar Lefosse and he is held for investigation for carrying an illegal firearm. He is being charged for shooting at three criminals with his Glock pistol (standard police force weapon) although his gun license expired more than a year ago. Although ex-cop claims he was fired upon and acted in self-defense, posting pictures of his own bullet damaged car on facebook.
However the police has a different story and said that all the shots were fired from INSIDE the car. The 43-year old was a policeman from 1986 to 1996, and appeared in superhero form in 2010, patrolling the streets on a motorcycle. Now what excites us in this story is that the superhero, ex-cop, used a Bajaj Pulsar 220F for patrolling! We guess the fastest tag which the bike had, definitely helped him vouch the Pulsar as his choice of chariot.
Armed only with pepper spray and handcuffs while wearing a blue part superhero outfit, part riding gear which resembles to Robocop (a cartoon/movie based icon) definitely made us stand notice this incident, after all Pulsar a is homegrown product. Some owners might feel proud while others will think it's finicky. However Menganno thought that with 21 PS of power, comes great responsibility and his superhero antics were the gift to Argentina.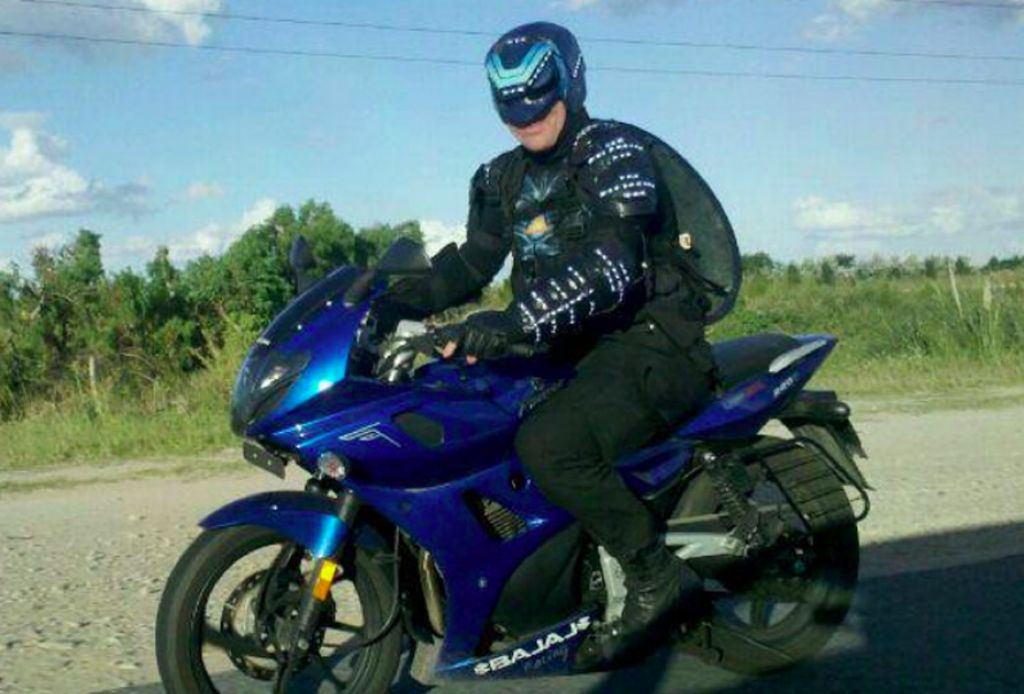 Source – VisorDown