RC 390 Gives Future Design Direction For KTM
The RC 390 has some design cues which make a debut for KTM. These new design elements will be seen on future KTM full faired bikes, just like how the bigger Duke gives design direction to smaller ones.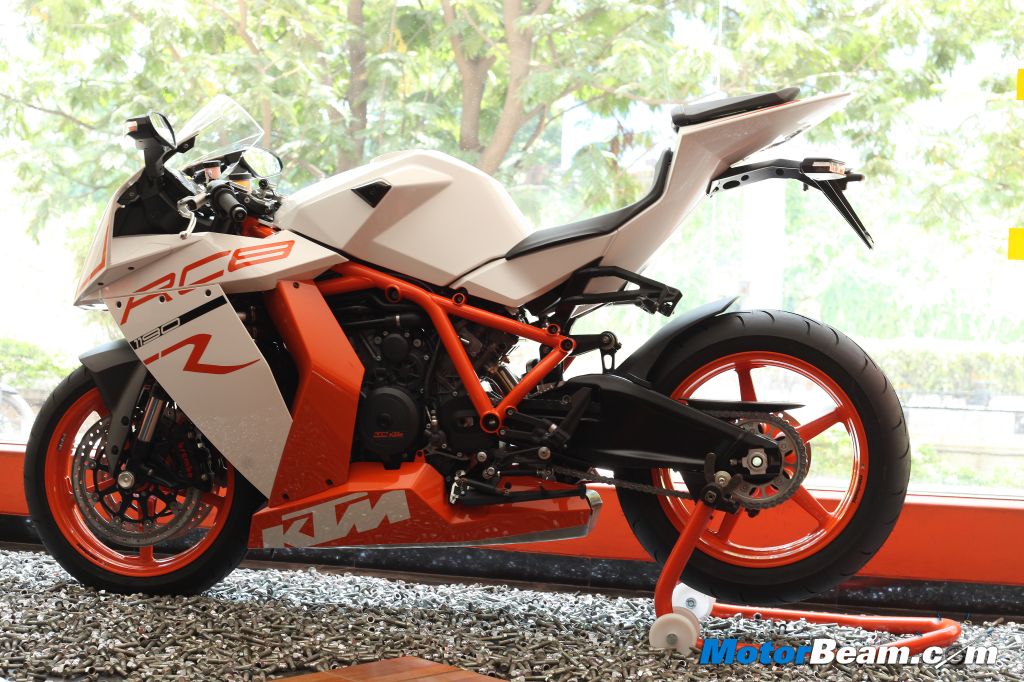 Endless amount of stories will tell you that KTM throughout the world is on a roll after the start of its partnership with Bajaj. After successfully launching the Duke series with the 125, 200 and 390, KTM has won the hearts of the enthusiast everywhere. The major factor being extreme value for your money and uninterrupted fun which the motorcycle offers. The design has played a critical role. The Duke series got inspired by the bigger Dukes but now the RC8 R is due for update since the baby RC series has finally shown its face.
At the KTM launch in Italy where every top journalist was called from the world, it was hinted that the new RC8 R is to receive a comprehensive change in most aspects. Needless to say the work is in progress as we speak but what the real hint here is that the new RC 390/200/125 are lending design to the elder sibling this time. The RC series has been applauded in good and bad ways for the radical design it carries. The panels stuck over the Duke chassis certainly looks like a job well done but the front design is something people are not loving. It has grown over us because we have been looking at it since the Milan show last year almost everyday (part of it is because it's our wallpaper everywhere).
Now the hint also says that the KTM RC8 R will receive the brand new super torquey 1301cc engine from the SuperDukeR and will get the usual host of electronic aids to help achieve a safer riding experience on the track (if you wish to keep it on) and on the streets where ABS plays a crucial role. If the hint turns out to be 100% accurate, imagine a radical looking litre class motorcycle from KTM which will keep its flag hoisted in the category because it is the only motorcycle which has been purely neglected in this segment when it comes to comparing it with the competition. The RC8 R stands in the showroom throughout the nation but isn't for sale in India as Bajaj-KTM are not very keen on CBU units in India. Obviously they have a lot of plans for bringing bigger bikes but let's see if we here the magic word called manufactured locally.