Sajal Shares His Pulsar 200 NS Riding Experience Across Ladakh
The true value of your bike is known only when it is tested in the most difficult and harsh conditions, where there is limited supply of oxygen, steep inclination with rocks and slush all the way and where the height is 14000 feet to 19000 feet above sea level. All these are found only at the most off beat places of India, at the mystical land of Ladakh, which has most treacherous roads.
I decided start my self-discovery along with the Bajaj Pulsar 200 NS. It was my adventurous journey to every biker's dream destination – Ladakh. My last solo long ride was from Cuttack, Odisha to Manipal, Karnataka for 3865 kms which you can ready about here.
My age is 48 years and I belong to Cuttack, Odisha. My Bajaj Pulsar 200 NS was purchased in Diwali 2013 and it had run for 10,000 kms. A model itinerary was prepared for my solo ride for Ladakh and Zanskar, which are considered as Mecca of riders. The Pulsar 200 NS was modified at the pillion rider's footrest to carry two jerry cans of petrol. I used 96 liters of petrol for riding 3987 kms total. So the mileage came to 41.5 km/l. Considering mountains and plains I rode, this was pretty good average mileage which the Pulsar gave.
I carried my bike from Bhubaneswar to New Delhi on train as luggage. I started my ride from New Delhi on 8th June 2014.
My Ride Route –
Day 1 – New Delhi Railway Station to Ambala
Day 2 – Ambala to Udhampur
Day 3 – Udhampur to Srinagar
Day 4 – Srinagar to Kargil
Day 5 – Kargil to Rangdum
Day 6 – Rangdum to Padum (Zanskar)
Day 7 – Padum/Zanskar
Day 8 – Padum to Kargil
Day 9 – Kargil to Leh
Day 10 – Leh
Day 11 – Leh to Hundar/Diskit via Khardung La and back
Day 12 – Leh to Pangong Tso via Chang La
Day 13 – Pangong tso – Marsimik La and to Chushul via shore of Pangong Tso Lake
Day 14 – Chushul to Chumathang
Day 15 – Chumathang to Tso Moriri (Karzok)
Day 16 – Tso Moriri (Karzok) to Sarchu
Day 17 – Sarchu to Kullu/Manali
Day 18 – Kullu/Manali to Ambala
Day 19 – Ambala to New Delhi Railway Station
The temperature of New Delhi was 47 degrees on the day one of my journey. Next day started towards Udhampur.
Mark the happiness on my face on day two on start of ride.
I stopped at different places on the way to Udhampur (fourth picture above is at Parkachik Glacier).
I crossed Mansar Lake and I reached Srinagar.
The next day I crossed Dal Lake. Ride after Sonamarg was a different game. I had to cross Zojila Pass with rain and landslides. The ascend of Zojila Pass was full of serpentine dirt path.
Had to ride the bike between snow cut roads of Zojila Pass.
I reached Kargil at the end of day four. The Pulsar 200 NS performed well on the ascends of Zojila Pass.
I passed through Suru Valley the next day and reached Rangdum. I crossed second high pass of Penzil La.
The road was between snow walls.
Reached Zanskar valley.
The beauty was the bad road with beautiful surroundings.
It was like riding in heaven. Difficult roads often lead to beautiful destinations.
These pictures are of other lakes I visited.
The Pulsar 200 NS posing at famous Drang-Drung Glaciers.
On day seven, I visited Thongde Monastery near Padum in Zankskar Valley. The Pulsar 200 NS posing there on top.
I filled up petrol at Rs. 90 per litre at Padum's lonely official petrol pump. It was the costliest in India at that time and is a scenic petrol pump.
I reached Kargil on day eight. Started for Leh the next day.
Me and Pulsar en route to Leh. It is said that unless you have been to Ladakh, you are no rider!
Sometimes journey is more beautiful than the destination. Ladakh has some nice roads as well.
At the famous Magnetic Hill of Ladakh.
That blue spot is myself with my Pulsar on ascend of the hill.
Spending one day at Leh is important as the stay in Leh will help get acclimatisation to 10000 feet + height. I am riding on the road near Shey Palace of Leh.
This is the Lord Buddha Statue inside Thiksey Monastery near Leh. Perfect features and colours of Lord's statue.
On Day eleven at Diskit / Hundar / Nubra valley.
Bajaj Pulsar 200 NS on world's highest motorable road – Khardung La. It was a ride with dirt, mud, stones, water and ice.
On Leh – Manali road there are few petrol pumps. From Manali side Tandi is the last petrol pump and next one is at Karu before Leh. The sign board at Tandi says it.
On day twelve, filled up petrol at Karu petrol pump.
I crossed mighty Chang la en route to Pangong Tso. Chang La is the third highest pass of the world.
On day thirteen, the Pulsar 200 NS reached Marsimik La Top. This pass is the highest motorable pass of the world. I had to take Inner Line Permit at Leh to visit this. It was like a solo ride to the top of the world. Here oxygen level is 50% less than normal as it is 18,953 feet above sea level. Many riders suffer acute mountain sickness here. I had to get down and push my bike in first gear at one ascend to reach here. There was not a soul around for kilometres and kilometres. Great things are done when men and mountains meet!
Marsimik La is actually the highest place of Ladakh where a bike can ride. It is the toughest journey on the highest desert of the world. It is one of the coldest and remotest deserts of the world. The harder you work for something, the greater you will feel when you finally make it. Reaching Marsimik La gives you a great feeling.
The beautiful pristine Pangong Tso Lake. Ladakh is the land of infinite peace and incredible beauty.
I rode the Pulsar from west end to east end of Pangong Tso Lake for around 35-40 kms up to Merak Village. Rest part of this lake is in China/Tibet. On day 14, I rode for 280 kms on mountain roads from Chushul to Chumathang via Karu.
Three troubles I faced with the Bajaj Pulsar 200 NS in Ladakh –
After crossing Durbuk village, there is an ascend for Chang La Pass. Here my bike suddenly stopped on ascends. At first I was trying to start it continuously. I developed little fear but then I realized that it might be due to less oxygen. I waited for 2-3 minutes after switching off ignition. The bike got its required oxygen. Then it started at first go. This was the last trouble I got from my bike's side.
First trouble was while entering Kashmir Valley, suddenly a knocking sound started coming out of my bike's chain leaving me worried. After few kms I reached Qazigund. I saw a bike repair shop with a young mechanic. I called to my expert Pulsar Mechanic "Sabbas Bhai" at Cuttack and told him about the problem. He said nothing to worry; it was due to dryness in the bike's chain sprocket. So they both discussed it over my phone and the Qazigund mechanic "Ali Bhai" put 20-80 ml of gear oil on the chain and sprocket. After that I faced no problems from the chain sprocket's side.
On day 13, 20th June I was riding a 35-40 degree climb on my way to Marsimik La. At one ascend I was in first gear and the Pulsar 200 NS wasn't pulling it. So I got down from the motorcycle and then slowly it climbed. There was soft sand and mud road with steep ascent. The Pulsar was not getting enough grip on that off-road. This was my second trouble. I did not remove my air filter, nor did I do any engine and carburettor modification. Only petrol carrier was added. The Pulsar 200 NS is a good bike for Ladakh tour. I am very happy with the performance of my Bajaj Pulsar 200 NS in the Ladakh region. RE Bullets is the best one for Ladakh region but are costly and also have a long waiting period to buy a new one. For a less costly bike, in my opinion, the Pulsar 200 NS is second best option for Ladakh ride.
There were many water stream crossings (also full of pebbles) in Kargil – Zanskar road, Pangong Tso – Chushul off-road, Sarchu – Manali Road and other places of Ladakh. But the Bajaj Pulsar 200 NS has a ground clearance of 169 mm, wheelbase of 1363 mm and it was easy to ride on water streams with pebbles.
With 23.2 BHP of power with me, all this went smoothly. The Bajaj Pulsar NS tucks its silencer box neatly away below its engine, to keep centre of gravity as low as possible on the bike. The Pulsar 200 NS has a capacity to move even in knee deep water. The only important thing is that the air filter should not be inside water. Tubeless tyres gave me more confidence to ride on stony and rocky "bum massage" dirt roads of Ladakh without having the fear of flat tyres. This tubeless tyre confidence is not there on Royal Enfield Bullet bikes.
On day 15, I reached Tso Moriri (Karzok). Pictures of some lakes and passes.
The Pulsar 200 NS at Tso Moriri lake.
On day 16 I passed by Tso Kar lake.
Some more passes I crossed.
Some lake I visited.
Ladakh meaning is Land of the Passes. I crossed 14 high passes of Ladakh on Bajaj Pulsar 200 NS with ease. The Power of Pulsar did not let me down anywhere.
You can checkout the detailed travelogue HERE.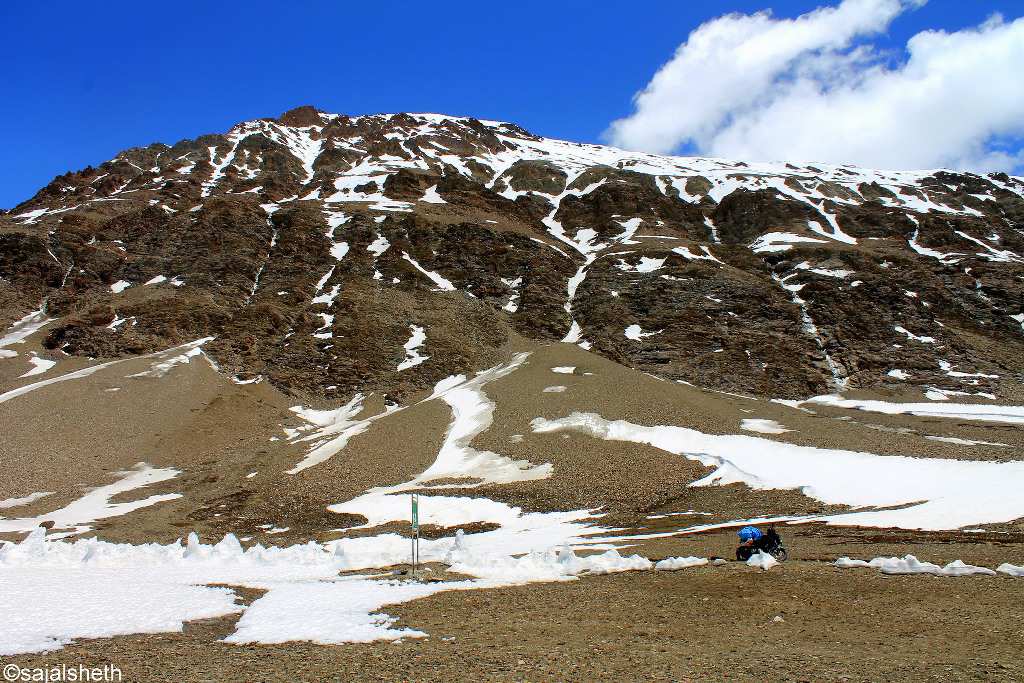 – Sajal Sheth
sajalsheth@gmail.com