Speculation – First TVS Bike With BMW To Be A 300cc Single-Cylinder
It is no secret anymore that TVS has signed a deal with BMW to make motorcycles for them. Although there are still secrets to the many unanswered questions from the media and the enthusiasts when asked to both parties. TVS signed an agreement saying that they will use technology to take the same bikes and put their badge on it too. Motorcycles will be from the sub-500cc segment, which is an extremely booming segment as we speak.
Like in today's automotive world, platforms are key to success and profitability so we can expect a lot of bikes of the same category having to play different roles. A 300cc bike can be a naked street bike, a track focused machine, an adventure bike for people who want to tour the world and there is always dirt bikes to conquer off-road courses and your nearest jungle.
However, before all of this, TVS has come up with something. News or let us say 'speculation' suggests that TVS has planned a naked street-fighter 300cc single-cylinder motorcycle. The engine is being made in collaboration with BMW and could be a chopped off version of the twin-cylinder engine, which BMW is likely to make. Of course, this bike is the one which will have a TVS badge on it. There is another probability that a quarter-litre TVS motorcycle (on the lines of the Draken Concept) will come before BMW-TVS bikes start to roll out.
Let us not forget the fact that this segment is super hot with the spectacular twin-cylinder Kawasaki Ninja 300, upcoming Honda CBR300R, overly powerful Hero HX250R and Mahindra Mojo 300. Bajaj will have to compete with the Pulsar 200 NS/SS and KTM Duke 200/RC 200.
Given the fact that 99% motorcycle manufacturers go with the bottom-up approach, expect this motorcycle to come first. BMW will follow the same by making sub-500cc motorcycles in all forms and then decide to come up with quarter-litre or 300cc twin-cylinder motorcycles of it own. News comes in at a time when everybody is about to pounce with their quarter-litre or 300cc motorcycles in the market. Will TVS be late as usual and disappoint fans? Or its charm is strong enough to keep the enthusiasts waiting? TVS are known for making brilliant quality motorcycles. Till that time, let's wait and watch because it is much more fun than anything else right now.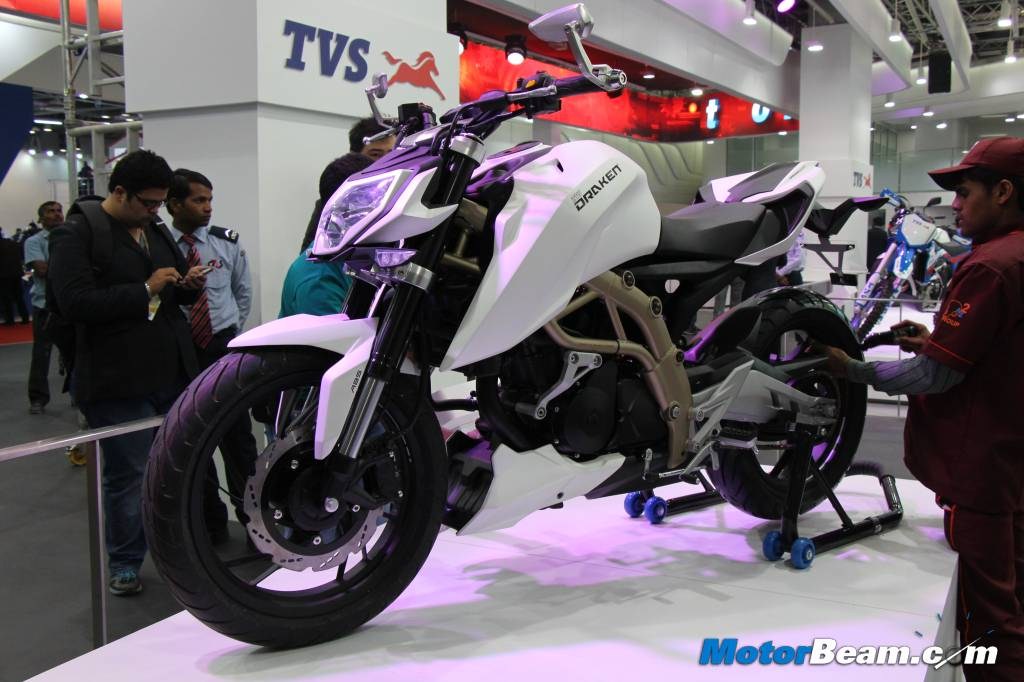 Source – Autocar India