SUV Car Sales For July 2015, Hyundai Creta Starts On Top
We take a look at the SUV sales for the month of July 2015. It is the most in demand segment of cars in India and sales are very volatile.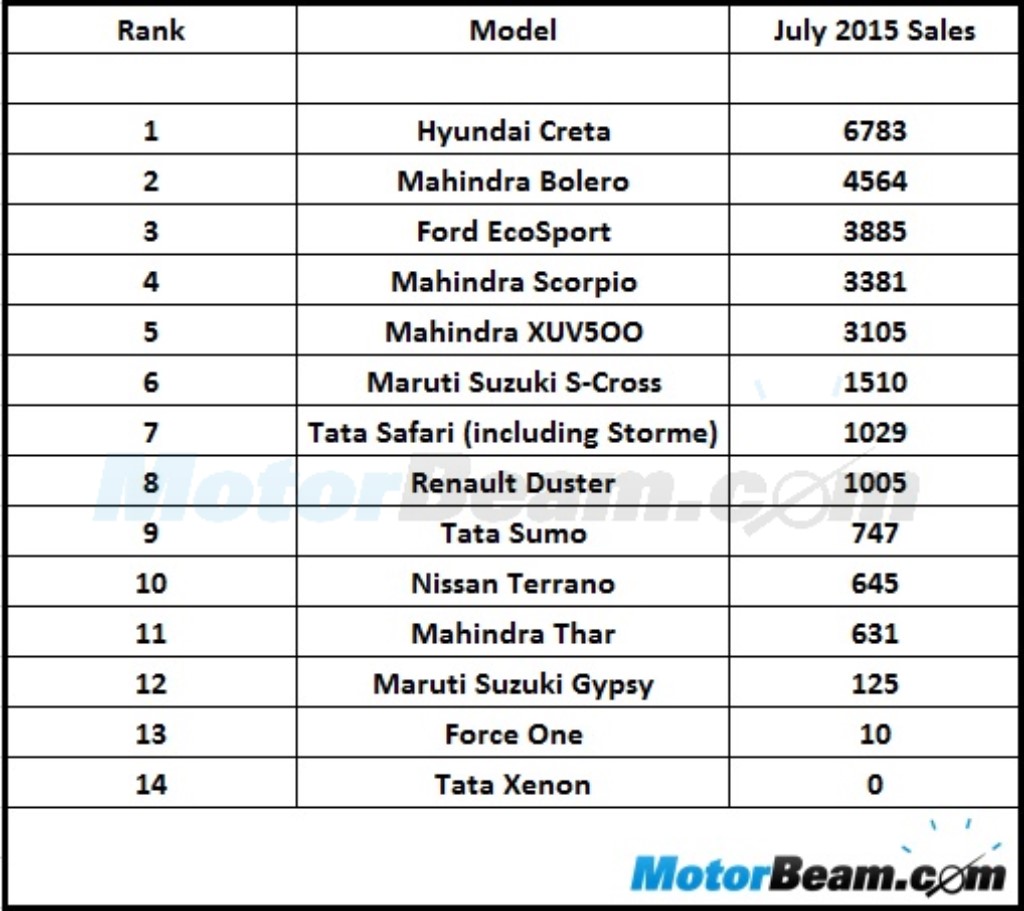 If there's one type of car every Indian wishes to own, it has to be a SUV. The butch looks and the go anywhere capability attracts everyone. However, we do have a lot of poser SUVs in the market now which come at a more affordable price point and do not have the off-roading prowess but they do have the road presence and enough ground clearance for city driving. This has led to the sales of this segment rising to no bounds and they are expected to surge further as customers shift from sedans to SUVs. This month, it is the newly launched Hyundai Creta which leads the pack due to it being a fresh product which also comes with the option of an automatic transmission with the diesel engine.
Hyundai is one of the new entrants in the compact SUV segment and its offering has been very well accepted by customers. Being at the top of the charts in the very first month says a lot. The next few positions are occupied by the usual suspects which includes three Mahindra offerings and the Ford EcoSport which seems to have gained a bit this month. Following the top five is the newly launched Maruti Suzuki S-Cross which hasn't been off to a great start. Its figures will have to be looked at in the coming months. There's a bit of shuffling in the next few places since the Nissan Terrano and Renault Duster have lost huge volumes whereas the Tata Safari has gained decent numbers. The grumpy old Tata Sumo sells more than the Nissan Terrano due to its popularity in rural markets.
Aspirational SUVs including the Mahindra Thar, Maruti Suzuki Gypsy and Tata Xenon come towards the end of the chart and only the Thar manages to sell well. The Force One sold only 10 units last month. Coming to premium SUVs, the Toyota Fortuner is the undisputed leader selling several times more than all other cars in the segment combined. The Honda CR-V has given a pleasant surprise and it comes in right after the Fortuner. The Isuzu MU-7 isn't selling much due to its ancient looks and spartan interiors coupled with the optimistic pricing and low sales reach. Capable vehicles like the Hyundai Santa Fe and the Skoda Yeti aren't getting their fair share which is somewhat down to their high price. The third generation Ford Endeavour scheduled to be launched by the end of the year should make things more interesting.