Tata Motors' Falcons Not Flying, Bolt Hits 433 Units In July
All of Tata's new range of products save for the updated Nano and Safari Storme, have been loosing their form in the market. The old range of products contribute the most on the sales front.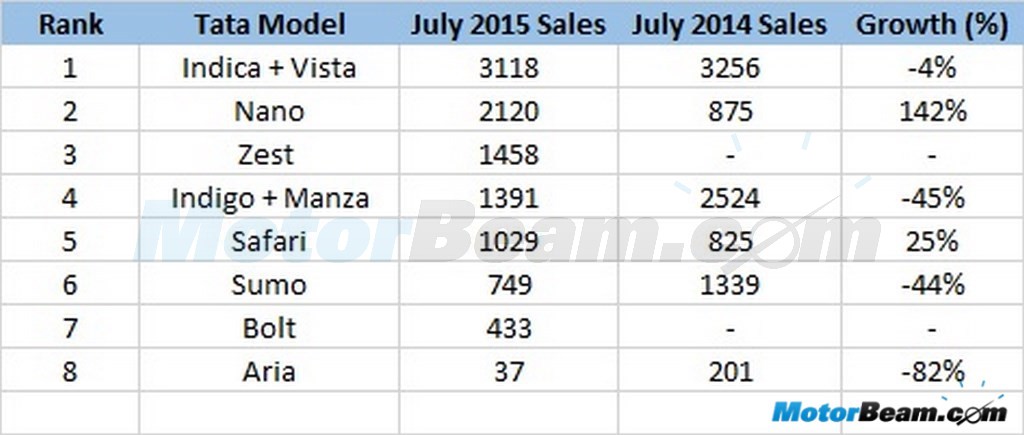 Tata Motors has not really been able to read the mind of an average Indian car buyer right. The company was hoping that its fortunes and image will get better after it introduced the Zest compact sedan and Bolt hatchback in India. But this hasn't really been the case because the Bolt was priced too high for everyone's liking and the visual similarity it shares with the Vista also played down its chances by quite an extent. Anyhow, the Indica and Indica Vista models brought the highest volumes for Tata at 3118 units last month.
Second position was taken by the GenX Nano whose re-positioning in the Indian car market as a smart city car has worked in its favour. It managed to garner 2120 units last month, experiencing a growth of 142 percent from the same period last year. The Zest compact sedan hasn't been doing consistently well in the segment selling 1458 units last month, dropped from June 2015 where it found 1864 buyers. Members of the old Tata portfolio, the Indigo and Manza sedans sold 1391 units in total with their dated design finally coming to haunt them as their growth dropped by 45 percent from July 2014.
The Safari Storme recently got a facelift featuring much needed updates to the interiors. It found 1029 new homes (for both the Safari versions) in July 2015 as compared to selling 825 units in July 2014 (growth of 25 percent). The age old Sumo took sixth position from eight total models, selling 749 units in July 2015 with its performance dropping similarly to that of the Indigo and Manza sedans from the same month last year. One of the most disappointing update was that of the Bolt having garnered just 433 units in sales, which has dropped a bit from the 458 units sold in June 2015. Last in the sales chart for Tata was the Aria, much to everyone's expectation. The model which is soon going to get updated sold just 27 units in July 2015, experiencing a massive fall in sales of 82 percent as compared to July 2014.