Tata Tigor EV Production Commences, First Batch Rolled Out
The first batch of the Tata Tigor-based EV has rolled out of Tata Motors' Sanand Plant in Gujarat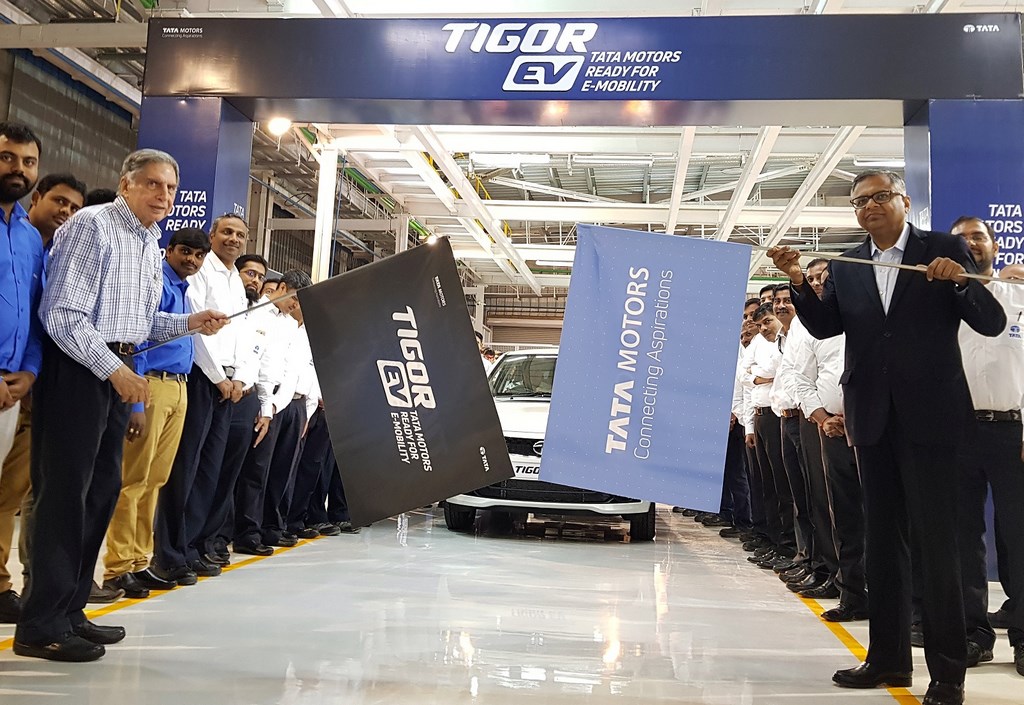 After Tata Motors bagged the contract of supplying EVs to the Indian government in October 2017, the first lot of Tata Tigor EV has now finally rolled out of the company's plant in Sanand, Gujarat. The company Chairman N Chandrasekaran flagged off the first batch of the Tigor EV in the presence of other top officials of Tata Motors.
Anticipating a positive response from car buyers and mentioning the importance of this day, N Chandrasekaran said, "This occasion is a significant milestone for Tata Motors and a proud moment for the entire team. As we work together to build the future of e-mobility in India, I am confident that our customers will respond very favourably to this electric model."
The contract bagged by Tata Motors includes a total of 10,000 units of the vehicle to be supplied to Energy Efficiency Services Ltd (EESL) within next 12 months. The first phase of the supply will include 250 units of the Tigor-based EV. Once the company receives the letter of approval from EESL, another batch of 100 vehicles will be supplied. The electric motors which do the duty on these cars are being manufactured by Electra EV.
An ARAI document had surfaced a while back which consisted of the vehicle's dimensions, which were same as the standard car, and engine specifications. The motor supplied by Electra EV churns out a power of 40 BHP at 55 km/hr and the rest of the details are still unknown.  For accomplishing the government's vision of making cars electric by 2030, this effort of Tata Motors play a vital role and gives a significant boost to the initiative.
Tata Tigor EV Production
– Tata Motors rolled out the first batch of Tigor EV from its Sanand plant
– Initially, the company will supply 250 units in the first lot followed by 100 units later
– Tata Motors will make 10,000 units of Tigor-based EVs for EESL in 12 months