Tata To Launch Nano CNG In 2012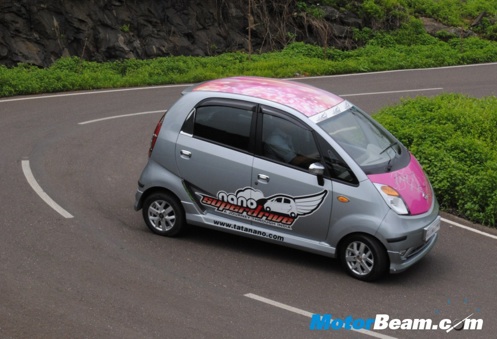 The petrol fuel price has become more like the Indian stock market, highly unpredictable. It goes up and down abruptly. Just recently petrol prices were hiked by Rs. 7.50 and now reports of a Rs. 2 reduction is doing the rounds. Either way, such instability of petrol prices is not good news for petrol car owners. But with very little alternatives, we all are helpless. The cheapest diesel car costs close to Rs. 4.5 lakhs in India so those looking to buy an entry level car have absolutely no option.
Tata Motors had showcased the CNG-powered Nano at the 2012 Auto Expo. The Indian automaker was scheduled to launch the CNG Nano in 2013 but with petrol prices reaching the sky, the company has decided to pre-pone the launch to 2012. Tata Motors has confirmed the CNG Nano will be launched in this fiscal year, while sources inform us that the Nano CNG would be launched in the last quarter of 2012. The CNG Nano could be the apt reply to rising petrol prices, as CNG costs a whole lot lesser.
The Tata Nano CNG will be powered by the same 624cc, twin-cylinder engine which will run on both petrol and CNG fuels. The sequential injection will ensure no loss in power and hence we can expect the Nano to be no slouch in its CNG avtaar. It will be priced at Rs. 15,000/- premium over the petrol only version and will carry 15-liters of petrol along with 10-kgs (estimated) of CNG in its tanks. In order to ensure the safety of the CNG system, Tata will equip the Nano with a leak detection system, which cuts fuel supply in case of a leakage. Tata Motors will launch the diesel powered Nano only next year.