Top 10 Selling Bikes In FY16; Hero Splendor Rules Again
Honda Activa is inching closer to displacing the Hero Splendor motorcycle and grabbing the top position by next year. TVS Jupiter shows the biggest growth rate among all two-wheelers in the list.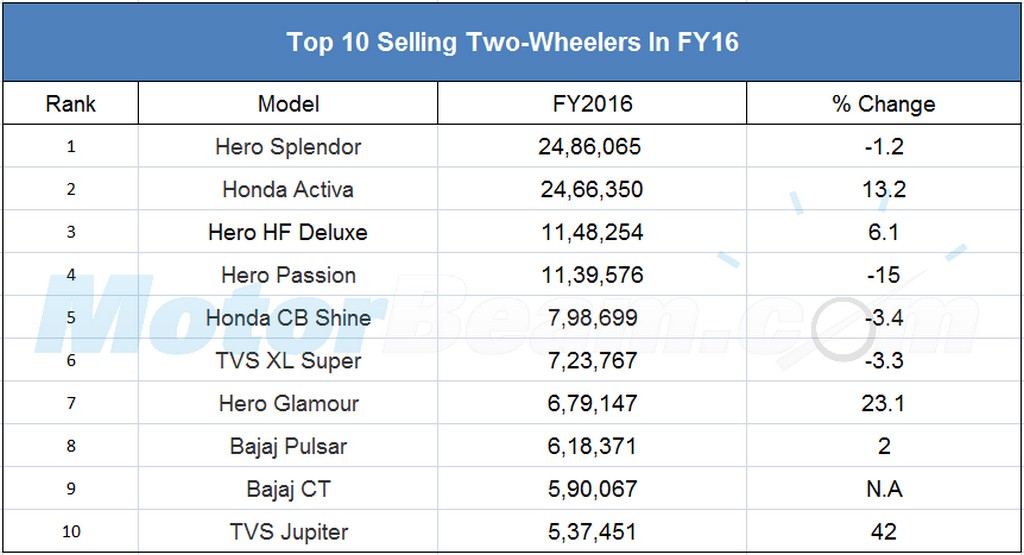 India is one of the largest two-wheeler markets in the world which is poised to grow even further due to the rising economy of the region. Thus it is a very important market for two-wheeler makers who want to achieve high volumes in sales and establish themselves as the majority players in the world. But the market is currently dominated by basic commuter motorcycles and gearless scooters only, as shown by the list of the top 10 selling bikes in FY2015-16.
Starting off with the leader of the list, it is the Hero Splendor which has topped the list again this year with the sale of 24,86,065 units, which is 1.2 percent lower than FY15. Close to the heels of the Splendor is the Honda Activa scooter which has risen steadily and continues to be the default choice of scooter for many Indians. In the last financial year, Honda Activa sales grew over 13 percent to 24,66,350 units. If this trend continues, we will have a new leader of the sales chart by the end of FY17.
Coming further down the list, Hero MotoCorp again makes an appearance in the form of the 100cc Passion and HF Deluxe. Hero Passion sales fell 15 percent to 11,39,576 units and Hero HF Deluxe saw growth in sales by 6 percent to 11,48,254 motorcycles. The CB Shine is the best selling motorcycle from Honda's stable which held on to its fifth position, despite a 3 percent fall in sales to end at 7,98,699 units. The rugged moped from TVS, the XL Super, continues to be a strong seller and bags the sixth place even though sales have declined by over 3 percent in FY16 to 7,23,767 units.
The seventh position is captured by the 125cc Hero Glamour, with a sales growth of 23 percent and 6,79,147 units in FY16. Bajaj is represented in the list by the ever favourite Pulsar and CT motorcycles. The Bajaj Pulsar saw just two percent jump in sales and sold 6,18,371 units in FY16 whereas the CT sold 5,90,067 units last year. The final position is captured by the only other scooter in the list, the TVS Jupiter, which grew a massive 42 percent and sold 5,37,451 units.
Top 10 Selling Bikes In FY16
– Hero Splendor which has topped the list again this year is followed closely by the Honda Activa
– The CB Shine is the best selling motorcycle from Honda's stable with sales of 7,98,699 units
– The Bajaj Pulsar and CT 100 motorcycles achieved eighth and ninth positions respectively
– The final position is captured by the only other scooter in the list, the TVS Jupiter