Top 25 Cars Exported From India In FY20
Most of the cars exported have seen a fall in numbers in FY20.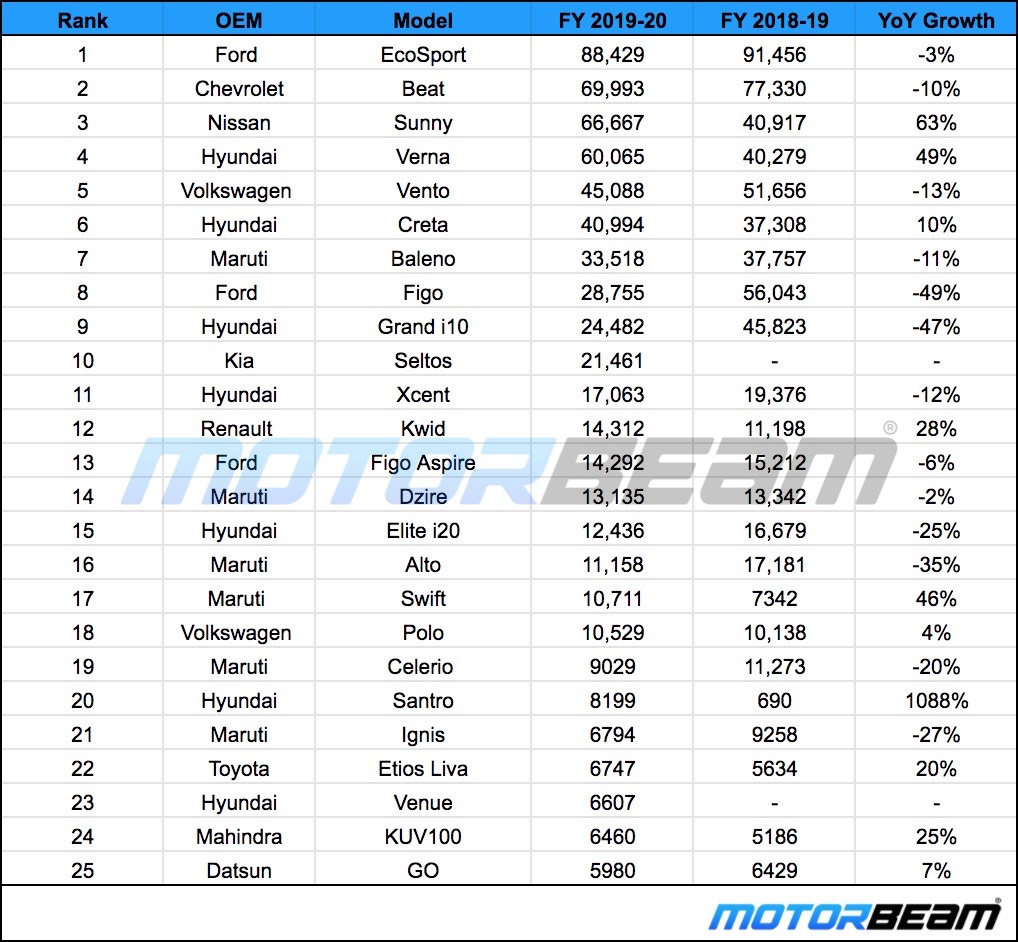 Just like the domestic sales, the export sales have also seen negative figures in FY20. There is fall in numbers of exports but not as huge as the domestic sales though.
Topping the list is the Ford EcoSport at 88,429 with 3 percent decline in exports. It is followed by the Chevrolet Beat with 69,993 units exported witnessing 10 percent fall. Yes, the Beat is still in production but only for the export markets.
The third position is held by the Nissan Sunny, it doesn't sell in the domestic market but has clocked 66,667 units with an impressive growth of 63 percent YoY.
The Hyundai Verna has also seen a growth of 49 percent in exports with 60,065 units exported. The Volkswagen Vento holds the fifth position with 45,088 units exported but with 13 percent fall in numbers.
The two new entrants in this list of exports last financial year are the Kia Seltos and Hyundai Venue. The Seltos has managed 21,461 units while the Venue has done 6607 units.
The biggest gainer in the list is the Hyundai Santro with 1088% growth, shipping out 8199 units. The Ford Figo and Hyundai Grand i10 have seen the biggest decline with 49 percent and 47 percent respectively.
With the ongoing Coronavirus pandemic across the world, the supply chain and manufacturing has got disrupted. We expect worse numbers for the current financial year due to the crisis.
Top 25 Car Exports
– The most exported car is the Ford EcoSport
– Followed closely by Chevrolet Beat
– Nissan Sunny holds the third position