Top-Selling SUVs In February 2020 – Seltos Rules The Roost
During the BS6 transition period SUVs have suffered a lot.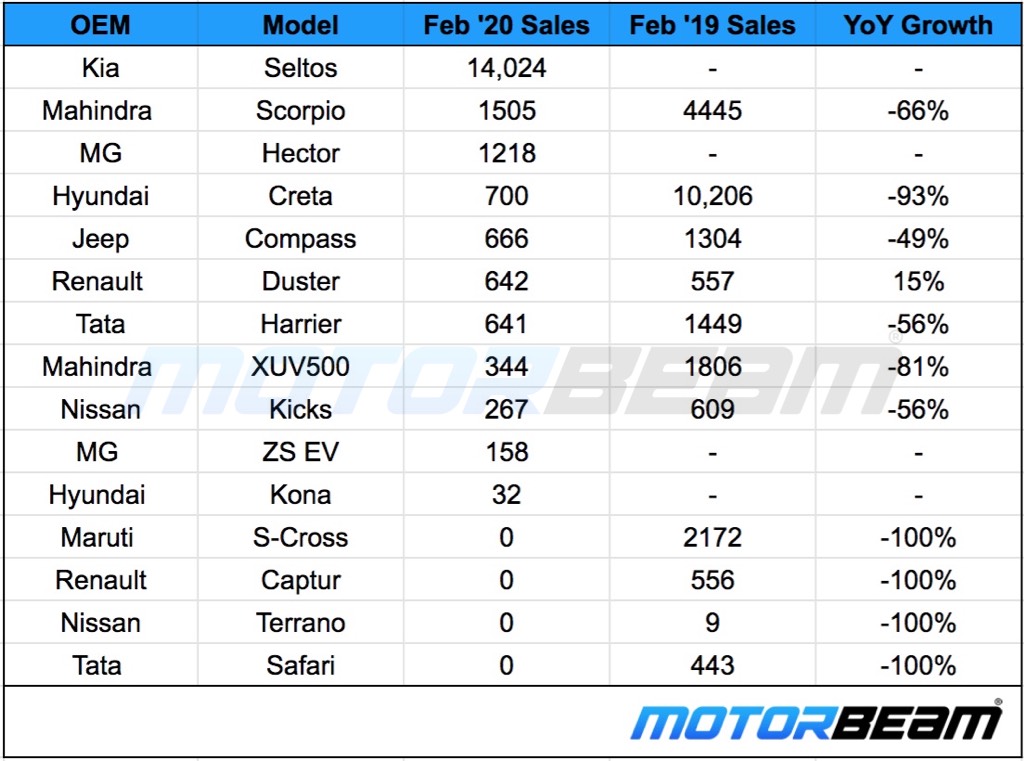 The automotive industry is going through a challenging time. It was already dwindling since the past few months in the BS6 transition. In February, the international impact of COVID-19 started showing its affect.
The supply chain of parts from China affected the production in January-February. With the current nationwide lockdown, we fear the sales figures in March will be dreadful, one of the worst figures in the automotive history of India.
For now let's check out the SUV sales of February. Since most of the SUVs are diesel powered and some of the diesel engines have been discontinued as they couldn't make it to BS6, the February sales of SUVs is quite depressing.
The Kia Seltos has again managed to maintain a good lead in Feb with 14,024 units sold, which is down from 15,000 units in Jan but still going strong in the segment.
The MG Hector has seen a big hit with 1218 units sold in Feb compared to 3130 in Jan. No units of Maruti S-Cross were sold in Feb as the car got discontinued. It will be re-launched with a petrol engine.
It's only the Renault Duster which has seen positive growth YoY with 642 unit sales. It is likely because of heavy discounts and diesel variants on the verge of extinction.
Now let's check out the premium SUV sales. The undisputed champion Toyota Fortuner tops the list as always with 1510 units. Although it has seen negative figures YoY but MoM it has increased due to its BS6 transition hiccup.
The only premium SUV that saw positive YoY growth in Feb is the Skoda Kodiaq with 11 percent increase in sales. Hyundai dispatched no Tucson in February as they discontinued it before introducing the facelifted model.
February 2020 SUV Sales
– SUV sales have taken a big hit in the BS6 transition
– Most of the diesel engines are not getting BS6 update
– COVID-19 situation has worsened the sales