Toyota Etios Test Drive Review
Car tested: 2011 Toyota Etios VX
Price OTR Mumbai: 7,94,136/-
The Etios was one of the most awaited launches of 2010, it is the first time Toyota has entered a  new segment which is flooded with loads of options. Etios is a "Made For India" car if Toyota is to be believed and they could be exporting the car to different countries at a later stage considering its popularity in India. Since its launch, the car has been a huge hit with waiting period of almost 6-8 months and Toyota hasn't even launched the Etios hatchback (Etios Liva) yet. It is again proved that in India, utility works more over looks. So does the Toyota Etios live up to the waiting period hype? Its time we find out.
[singlepic id=6041 w=540 h=375 float=center]
Exteriors – The Etios looks more like a smoothened out version of our very own Mahindra Logan (now rechristened as Verito by Mahindra) , the front end has a strong resemblance to the Innova. Toyota has kept the styling very simple, a few subtle crease lines brings some character to the slab-sided Etios but the worst part about the styling is the rear, with the tail-lights looking grossly outdated. Chrome has been added in abundance on few areas like on the front grille, door handles and especially the thick rear chrome strip on the boot lid just above the number plate since we Indians equate chrome with premium. The overall styling is neutral, dated and lacks con temporariness like other cars in this segment, it doesn't mean that other cars in this segment are head turners. Seen from the side the Toyota Etios looks well proportioned unlike Maruti Dzire which looks like a Swift with a boot pasted on and that too in a very weird way. The flap type of door handles are already out of fashion and feel flimsy as well, the top end variant gets chrome strip on the door handles. Keeping in mind that the Etios is build to a price, Toyota seems to have done a decent job keeping it within the price range but most are not very impressed with its looks.
[singlepic id=6044 w=540 h=375 float=center]
Interiors – Interiors of the car are basic with usual tell-tail lights on the centrally located instrument cluster, not that easy to read in day time though takes some getting used to, plastic quality is average  for this segment but I think Maruti's Dzire is much better in terms of overall interior quality. The door trims of the Toyota Etios have a very flimsy built and hollow feeling, you can actually feel it by tapping on them.
[singlepic id=6038 w=540 h=375 float=center]
Wonder why bonnet opening lid was not marked, looks like it was borrowed from a truck. Headlamp beam adjuster knob is big but very hard to rotate, even the fan speed adjuster button has a typical sound like that of a mixer button. Large plastic panels are used to cut costs and panel gaps are most uniform barring a few here and there. The steering is superb, funky and easy to grip, the gear lever knob is coated in red to give that sporty feeling but the color's not scratch proof, it chips off easily with fingernails. Too much of a cost cutting.
[singlepic id=6052 w=540 h=375 float=center]
Good things about the interior are the A/C vents which are very functional, even the glow box design and opening is superb and 13ltrs deep, it also acts as a chiller box and you can place 3-5 half litre bottles easily. The dash is very slightly oriented towards the driver and centre vents on the passenger side look odd. The dashboard texture is nice and helps in reducing windshield glare to some extent. The cabin space inside is amazing, can carry 3 three adults quite comfortably at the rear even the front seats are suprisingly supportive despite of being thin.
[singlepic id=6048 w=540 h=375 float=center]
This is the only other car which has a feeling of spaciousness after the Manza. Even with a six footer driving the rear is pretty roomy with decent back support, thigh support average. The biggest plus point of the Etios has to be its space, truly like no other. Red colored upholstery not to everyone's taste either.
[singlepic id=6061 w=540 h=375 float=center]
Ride and Handling – The car comes shod with 185/60 15 inch Bridgestone Turanza with alloy wheels (for the top end variant) which offers good grip and does handle decently well at low speeds and responds to sudden direction changes. However as the speed increases there is no such thing as steering feedback. At low speeds the Etios is zippy with the ultralight steering and maneuverability in the city is good. The ride quality is little stiff at low speeds but not uncomfortable. The long wheelbase does aid in the ride and handling of the car and we were surprised. The dynamics are fairly good overall.
[singlepic id=6036 w=540 h=375 float=center]
Even the light weight of the car tipping at 930kgs and that too for the top end variant helps in better driving dynamics overall, not to mention that over our 400 km test on the expressway, crosswinds did get the car to sway and the light steering did not help. ABS with EBD performs as expected and keeping in mind that the car is build for someone who will travel with family, mostly in the city the handling of the car on most of the surfaces will suit most of the customers in this segment. The electric power steering is effortless in the city and also at parking speeds, easily one of the best steering to hold on as mentioned earlier but I noticed one major glitch, that is, the horn pad is not stretched more considering the car was designed for India.
[singlepic id=6040 w=540 h=375 float=center]
Performance – This car also has front wheel drive layout like most other cars, with the 1.5L 16 valve fuel injected engine delivering 90Ps of power at 5600rpm, max torque of 132Nm is delivered at 3000rpm, the car pulls cleanly with A/C on and 5 passengers on board. Toyota has tuned this Engine for drive ability and fuel economy, it is smooth and vibe free but does tend to buzz when revved hard during acceleration. Even the idling noise is a bit more outside the car considering it is a petrol, the gearshift is smooth and silky, typical Toyota. Drive ability in city is awesome, the gear ratios are short and placed well for city driveability. The Etios is poorly insulated from external noises, the engine humming sound can be heard easily even at high speeds. The clutch is silky smooth like the engine and light to operate.
[singlepic id=6045 w=540 h=375 float=center]
Fuel Economy – The car returns a good mileage of about 13-15kmpl in city conditions which can extend upto 17kmpl on highways since the gearbox doesn't have to work too much. The ARAI claimed mileage is 17 kmpl in city, real world mileage is almost close to that, definitely the fuel economy also depends on the type of driving condition. Toyota had done well to get brilliant mileage of out this car.
[singlepic id=6051 w=540 h=375 float=center]
Features – This car is short on some necessary/important features and some of the features are really good/practical : –
1.) Center roof lamp is missing.
2.) Lack of height-adjustable seatbelt and front seats.
3.) Lack of Electric adjusting ORVM's even on the top end variant.
4.) Single reversing light( part of cost cutting exercise).
5.) Generous back space could shame some of the more expensive cars.
6.) Cavernous 595L boot can swallow huge amount of luggage.
7.) Rotary air-con vents are functional and very practical also Can be entirely shut off.
8.) Lots of storage spaces and cubby holes(infact 7 of them).
9.) Steering-mounted audio control buttons are large and easy to use.
10.) Unique center twin air-vent works well.
Quick Comparision With The Competition
Maruti Suzuki Swift DZire – This is a good value for money offering from Maruti's stable. Most of the people liked the level of standard equipment being offered. This car comes with two Engine options, 1200cc 16V MPFI Petrol and 1300cc 16V Multijet (DDIS in Maruti Terminology) Diesel. The petrol offers 85 PS of power at 6000 RPM and a torque of 113 Nm at 4500 RPM while the diesel churns out 75Ps at 4000 RPM and a torque of 190 Nm at 2000 RPM. Of the pack, the Diesel is the preferred choice by many because of the punchy nature of the Engine and excellent mileage offered. The car is cramped in comparison to the Etios in terms of overall space, but its backed by Maruti Suzuki's After Sales Service, the best in this country. Design of this car is dated and hasn't been changed since the time of launch apart from few cosmetic upgrades but Maruti is going to launch the new Dzire very soon with a chopped boot to bring the car under 4 meter to benefit from the excise duty cut, currently the car's overall length is 4160 mm. New Dzire is based on the next generation Swift hatchback which is already launched in Europe.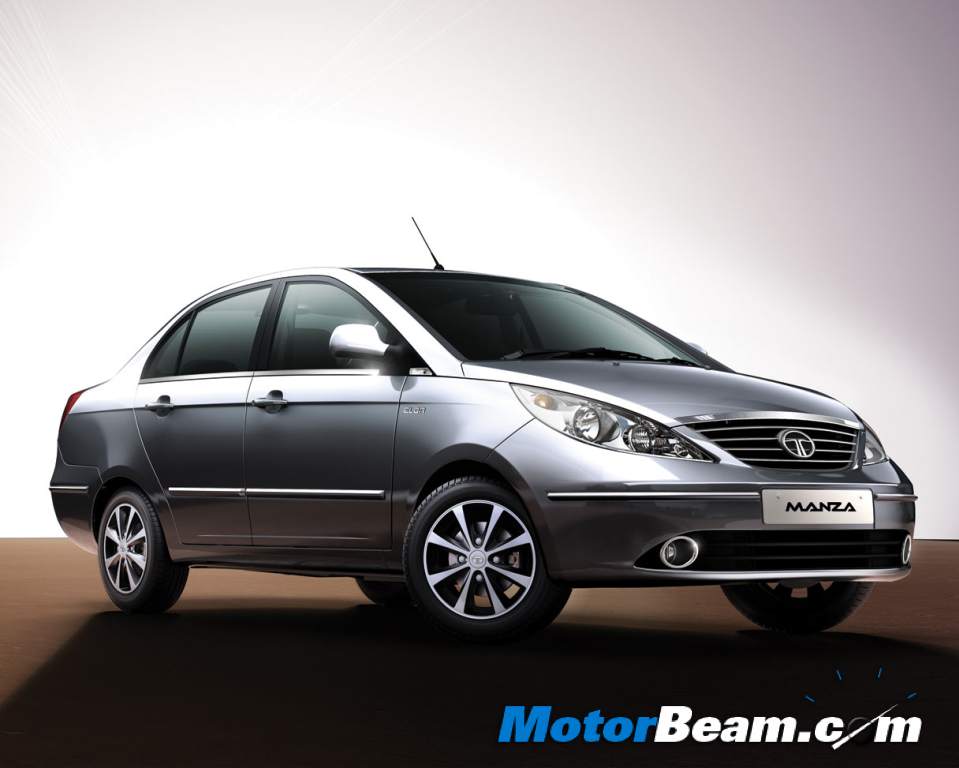 Tata Manza – Another good car in this segment is Tata's much improved and refined Manza, Tata has done a good job of updating the vehicle from time to time. This car also comes with two Engine options, a 1400CC 16V MPFI Petrol and 1300cc 16V CRDI Diesel, both the Engines are sourced from Fiat's stable. The petrol offers 89BHP at 6000 RPM with max torque of 116 Nm at 4750 RPM while the diesel offers 89BHP at 4000 RPM and a max torque of 200 Nm between 1750-3000 RPM. The best thing about this car is the amount of space it offers and backseat comfort, simply amazing. The overall quality has improved as compared to the old generation Indigo. Tata does need to look into its inconsistent after sales service seriously and improve the fit and finish quality a bit more which is still below par in some areas. The standard list of equipment and safety kit offered on this vehicle is adequate, overall it is a well rounded off Rs. 6 lakh rupee sedan.
[singlepic id=6063 w=540 h=375 float=center]
Conclusion – This is one of the fastest growing segment in India currently with most of the OEM's thinking of launching a product. Nissan's Micra based sedan Sunny is expected to debut in coming months as well, with both Petrol and Diesel Engine options. Most of the target customers in this segment want a practical sedan with decent overall quality also which is easy to maintain and offers good fuel efficiency, undoubtedly the Etios does fulfill most of the expectations but still lacks in few areas. Lack of quality is evident in most of the areas, the Engine is not that refined, what works in Toyota's favour is the brand name it has in India and the amount of space and safety features offered at a reasonable cost. You cannot get best of both worlds and Toyota Etois delivers a good performance and fuel efficiency with abundant space, the only place it lacks is the quality of the interiors and overall looks. Considering the market situation, Toyota needs to launch the diesel variant soon enough in the wake of the rising petrol prices to gain the desired market share.
[singlepic id=6030 w=540 h=375 float=center]
Whats Cool
* Space
* Fuel Efficiency
* Toyota Brand
Whats Not So Cool
* Quality
* Looks
[singlepic id=6034 w=540 h=375 float=center]
Toyota Etios Specifications : –
* Engine: 1496cc, 2NR-FE, 4 Cylinder 16V, DOHC
* Power: 90PS @ 5600 RPM
* Torque: 132Nm @ 3000 RPM
* Transmission: 5 speed manual
* Top Speed: 160kmph
* 0-100kmph: 13.50 seconds
* Fuel Consumption: 14-15 kmpl (City), 18-19 kmpl (highway)
* Fuel Type: Petrol
* Suspension: MacPherson Strut (Front), Torsion Beam (Rear)
* Tires: 185/60/15 Tubeless Radials
* Brakes: Ventilated Disc (Front), Drums ( Rear), ABS, EBD
* Safety: ABS, EBD, Dual SRS Front Airbags, Immobilizer, Driver Seatbelt Warning
Toyota Etios Dimensions : –
* Overall length x width x height: 4265 mm X 1695 mm X 1510 mm
* Wheelbase: 2550 mm
* Ground clearance: 170
* Turning Radius: 4.9 m
* Boot Volume: 595 liters
* Fuel Tank Capacity: 45 litres
* Kerb Weight: 930 kgs