Triumph Releases New Daytona 675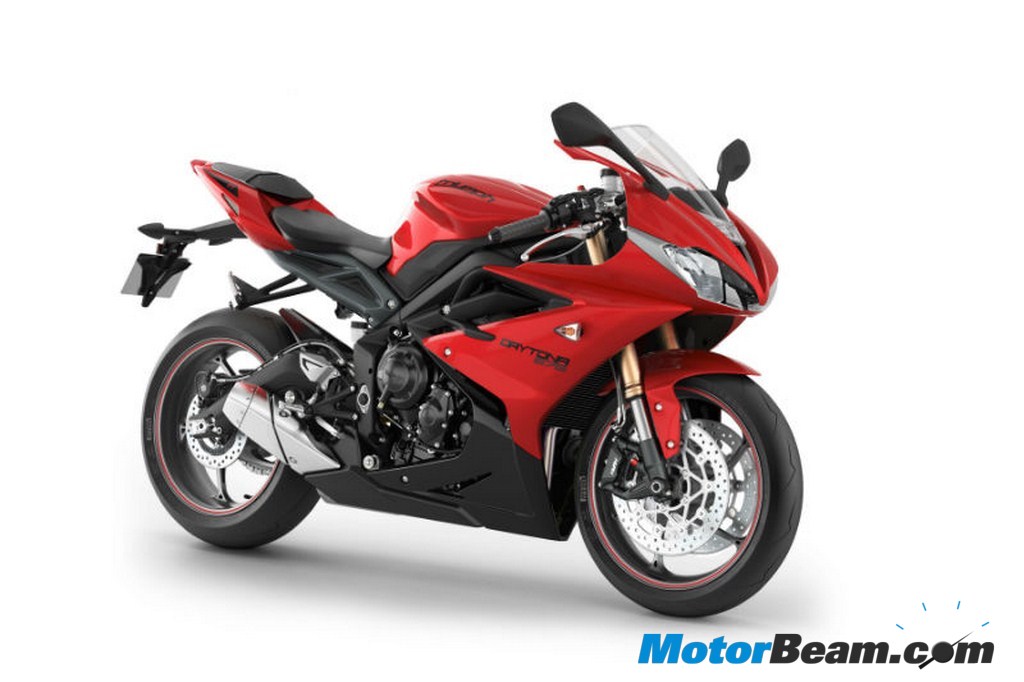 The 2013 Triumph Daytona 675 is an all-new bike with a new engine, new chassis and lots of other improvements. This is its first major upgrade after it was launched in 2006. The Daytona 675 has got a new engine block built separately from the upper crankcase and it has ceramic coated aluminum bores to manage higher revs more efficiently. In order to centralize the mass of the bike, the exhaust moves from underseat, to underslung. The new frame boasts a through-headstock air-duct and fewer sections that results in clean design, less welds, short wheelbase and revised weight distribution. As seen on the Triumph's Street Triple, the rear sub-frame has a lightweight die-cast aluminum design that replaces the previous incarnation's steel version.
The front and rear suspension has been changed too with the latest KYB fixed cartridge forks and a new rear shock fully adjustable for pre-load, rebound and high and low speed compression. Not even a single body panel has remained unchanged. There's a new version of the Triumph Daytona 675R too featuring some changes like Ohlins suspension, including a TTX rear shock and NIX30 inverted forks with a wider range of adjustability, improved response and a firmer base set up, lighter Brembo Monobloc calipers, switchable ABS is standard, quickshifter with new software for 2013, carbon fibre cockpit infill panels and red sub-frame with red pin-striping on the wheels.
The Triumph Daytona 675 will be available for £8899 on the road before the end of the year, with ABS being an optional extra costing £350. The Triumph Daytona 675R will be available in UK in early 2013, priced at £10,599 on road. Triumph has already announced its India plan and will commence sales next year. The company announced pricing at the 2012 Auto Expo, where the Daytona 675 was priced at Rs. 7 lakhs (ex-showroom, Delhi). The British automaker will assemble bikes at Narasapur in Karnataka, bringing it via the CKD route. The 2013 Daytona will be sold in India but prices might be hiked from the one announced earlier this year.