In Conversation With Director Of UM Motorcycles India
UM Motorcycles recently launched two models namely Renegade Commando and Renegade Sport S with a price tag of Rs. 2 lakh and 1.9 lakhs respectively (on-road, Bangalore).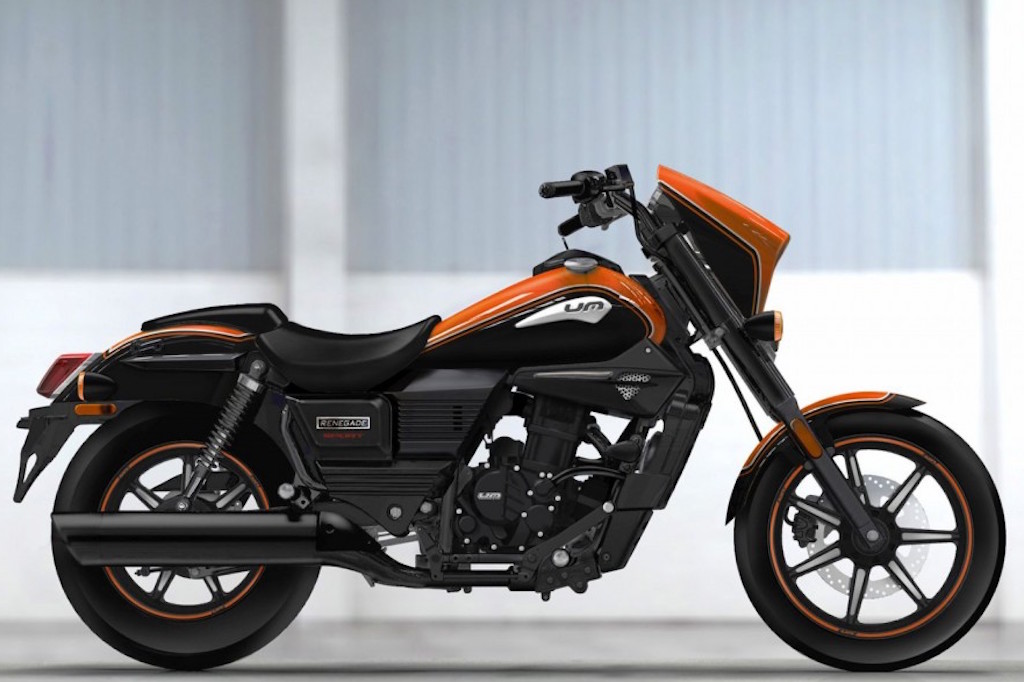 We interacted with Chief of United Motors India and AMEA (Asia, Middle East and Africa) who was in Bangalore for inaugurating their first dealership in Karnataka. Mr. Rajeev Mishra shared his views on the company's approach to the Sub-continent market along with information on the upcoming products.
Q: What made United Motors enter the Indian Market?
A: India contributes to almost 67% of global market share in two wheeler segment. It is almost impossible for any manufacturer to ignore such a big market.
Q: What is the approach of United Motors to India?
A: Though we have presence in 37 countries our offerings here are tailor-made for India. These products have been designed by Indian R&D team with the assistance of our core R&D that sits in USA. The manufacturing is also done in India. We want to offer first in segment features.
Q: Which market are you targeting with this brand?
A: We have a different strategy when compared to other manufacturers. The lower engine capacity sector is overcrowded where as the higher capacity market is occupied by premium players. We have identified that there is a huge gap between these two segments and that's exactly where we want to place United Motors.
Q: You mean your portfolio will be based in this niche segment?
A: The 300-500cc segment in India is growing at 55% with a current market of 6 lakh units per year. We estimate it to touch 1 million by 2020. Yes, we will be focusing on this segment.
Q: What is the market share you are looking at?
A: As of now we don't want to look at the numbers. We are in the process of introducing and stabilizing our brand. To be optimistic we are looking at a market share of 2-5% in the segment in 2017, but again that's just a number. By the end of two years we will be offering bikes ranging from 200cc to 500cc.
Q: What is the response you have received from the market?
A: We have got a positive response for our products. As of date we have received about 4300 bookings which will keep our production lines completely occupied for the next three months. Currently we are producing 1200 per month but the production capacity is 50,000 units per year.
Q: What are the future products you want to put on line?
A: We have decided to launch one product every 6 months for the next couple of years. We have scheduled the launch of Renegade Classic in April 2017, while another 400cc bike would be launched by next year October. We have planned an Adventure bike which could be launched either in October 2017 or early 2018.
Q: Why was there a delay in launch and deliveries?
A: Earlier this year we gave about 100 motorcycles to journalists and public for their response. Later in June we collected the feedback and started working on the same, for example fit and finish. It took two-three months for us to improve our design before we started dispatching the bikes to public. For me it is important to deliver a better quality product rather than offering something in haste.
Q: Don't you think that having a drum brake in the rear is a big concern for your product?
A: As of now we have offered everything that is must and should for the customer. However we have already planned for a premium version of the same which is the Renegade Classic. The Classis will be having disc brakes on both the wheels. We will also offer Anti-lock Braking System (ABS) and Electronic Brake Distribution (EBD) on this bike but as optional. The price however would also be premium with the ABS and EBD version costing close to 2 lakh (ex-showroom).
Q: What is the percentage of localisation of the products?
A: Currently 65% of the parts have been localised. Engine and fuel tank are sourced from few Asian countries. By the end of this year the localisation will be at 80-85%; by October 2017 the products will be completely indigenised.
Q: How many dealerships have you planned as of now?
A: Earlier we were looking at 25 dealerships pan India but we have decided to go with 50. While most of them have already started operating, we just have to do an official launch. By the end of this year all 50 will be operating with full swing.
Q: What is your long term strategy for India?
A: As told before, for sure we are not going to enter the mass market. However the boost from 'Make In India' campaign helped us accelerating in our export plans. The exports will start to South East Asian countries like Nepal, Bangladesh, Malaysia, Thailand, Myanmar and Sri Lanka etc from June 2017.