Venkat Shares His Honda CBR250R Ownership Experience
"MUSING ON TWO WHEELS" – Four rides that changed my perspective on living
This is my attempt to share my experience with respect to long tours on motorbikes. I thought it is highly imperative that I share it with people who appreciate the spirit of riding. This article will be lengthy as I have tried to briefly describe four long rides that were done in four months. I have avoided getting into the details of the bike as the bike I ride has been reviewed an umpteen number of times. However, I've briefly mentioned about how my machine performed during these long rides.
On 21st Feb 2014, I was literally numb. I had just reached Chennai couple of days before from Mumbai, taking a fortnight vacation from my corporate life. That vacation was very special for me because I had gifted myself something that I had been craving for more than three years, since I started working in Mumbai. It was my Honda CBR250R that was waiting for me in Pondicherry. (Tax saving – Thanks to Pondicherry). My friend, Karthi had agreed to accompany me to Pondy and trust me that 150 minutes ride was the longest period I've ever faced in my whole life. I just lost my patience once and for all before I faced the best moment of my life. Of course, there was a huge grin on my face, when I just sat on the saddle. My friend told me that I just looked like a retard then.
Thanks to Faisal of MotorBeam, for his guidance and the long conversations over e-mail, that had helped me take a decision. Actually, the gift that I wanted to give myself was a machine that can help me ride long distances. Honda CBR250R was the solution well thought out. Whilst I had to wait for seven months to save money and a couple of months for delivery, I had been doing only one thing – dreaming!! Dreaming about SaddleSore 1600, Leh Ladakh, reading reviews and talking to people. I was just getting ready for the day to get my own machine.
The Four Rides –
It's been slightly over four months since I have my bike and what makes me happy is that the odometre ticking at 13000+ kms. As I've mentioned earlier, my dream is to ride everywhere on a motorbike and I laid the first stone for the same when I decided to ride the machine from Chennai to Mumbai. My friends, family, colleagues etc., thought I went crazy. Few fought with me. But my intuitions kept telling me that "It's going to be awesome". The four rides that I've done so far are –
1) Chennai – Mumbai – 1330 kms.
2) Mumbai – Nasirabad – Godhra – 1610 kms (SaddleSore)
3) Mumbai – Goa – Mumbai – 1290 kms
4) Mumbai – Rishikesh – Mumbai – 3460 kms
Chennai to Mumbai Ride –
That was the first time I had ever ridden long distance alone. The distance I had ridden alone on my Yamaha Libero was Chennai to Bangalore. The bike was brand new and despite of reading and talking to people, I still found it dicey to ride it long. But again I was convinced with Faisal and his guidance. I just changed the oil and had decided to go on. Still, I was nervous. I left home around 5:30 AM in the morning towards Chennai-Bangalore highway, for Mumbai. I had a GPS phone. I was confident that I will do just fine.
I took the Chennai – Bangalore – Hubli – Kohlapur – Pune – Mumbai route. I was doing fine and took my first break near Krishnagiri and had a light breakfast of Idli. After halting for half an hour, I started riding again. To be frank, I didn't notice how the road even was. I was nervous even after four hours of riding. I stopped in between to fill the tank. I started feeling normal after my second break near Tumkur, after which I faced my first hurdle.
That blow almost made me stumble and broke my confidence. The petrol station assistant noticed and told me there was an oil leak near the lower fairing and the oil had sprayed all over the muffler. Then I took the bike to a Honda service station in Chitradurga, just to understand that they had no clue as to what had happened. They just changed the oil, cleaned the area and told me to ride till Mumbai and get it checked. I didn't have any other option but to just ride. Anyhow, I realized that I had wasted three hours in the hunt for a service station. I just rode till Hubli and halted there for that night.
The very next day, I started riding around 6 AM and reached Navi Mumbai around 12 PM but then it took three hours for me to reach Mumbai from there, thanks to the traffic. Despite of some stretching that I practiced since a month, it didn't work well on me. The ride took a toll on my backside. The saddle was comfortable for the first 350 – 400 kms, after which I had to literally slide from one side to another and tolerate the pain. Man, it was painful. However, during this trip, I reached a max of 125 km/hr and maintained it for some time, thanks to empty and wide roads.
The first thing I did after reaching was to inform my folks that I reached safe and went to the Honda showroom in Powai. I did some research earlier and found it to be good. It was the biggest mistake of my life. They had my bike for more than 20 days and couldn't find any solution. Then they changed the clutch cover and gave it back to me to find that the problem wasn't resolved. The bike was there with them for another 25 days and finally they found out that the oil-seal had broken. They changed it in an hour's time and gave back the bike.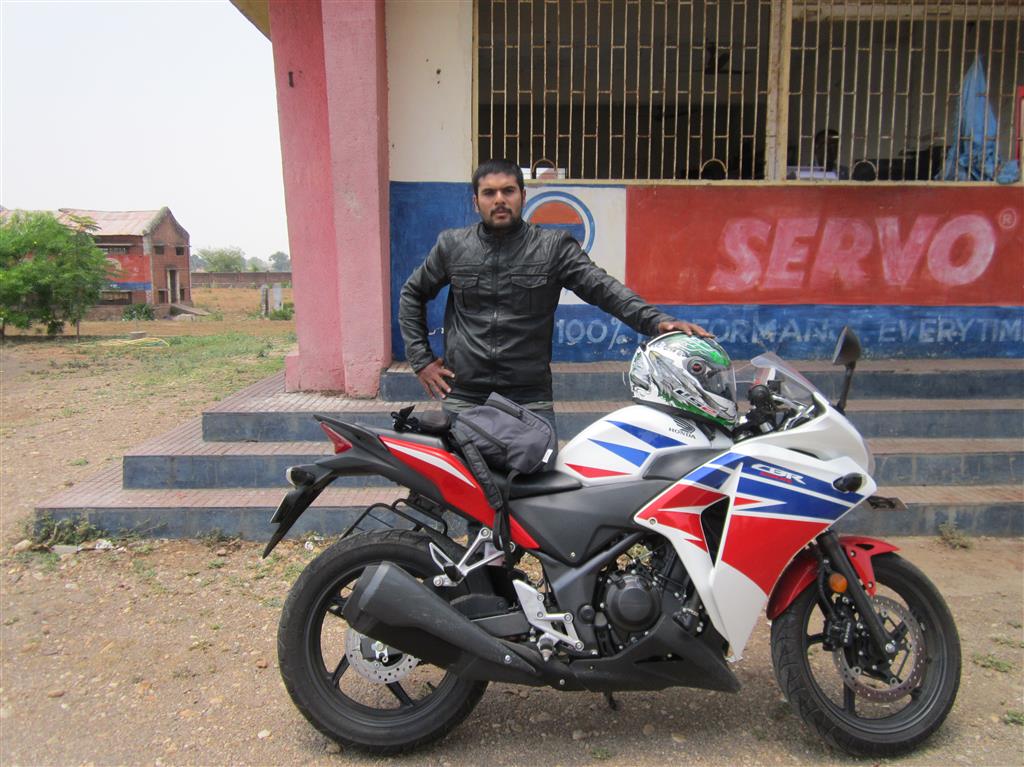 Saddle Sore – 1600 Kms
On a Saturday evening, I was telling one my close friends that I bought a bike, inspired by many great riders who have ridden saddle sore and I've not prepared myself mentally for the ride yet. Few motivational words and a push from my friend gave me confidence again that I can do it and I just decided to do it the next day. So, I went for some shopping to get the necessary supplies, a leather jacket and a pair of boots. On the next day, 11 May 2014, a Sunday, I started the ride aiming for 2500 kms in 36 hours, which ended as 1600 kms in 24 hours. The plan was to ride till Kotputli, Rajasthan, from Mumbai and come back in 36 hours. As I had been reading about IBA and its rides, getting the requisites ready wasn't a big deal.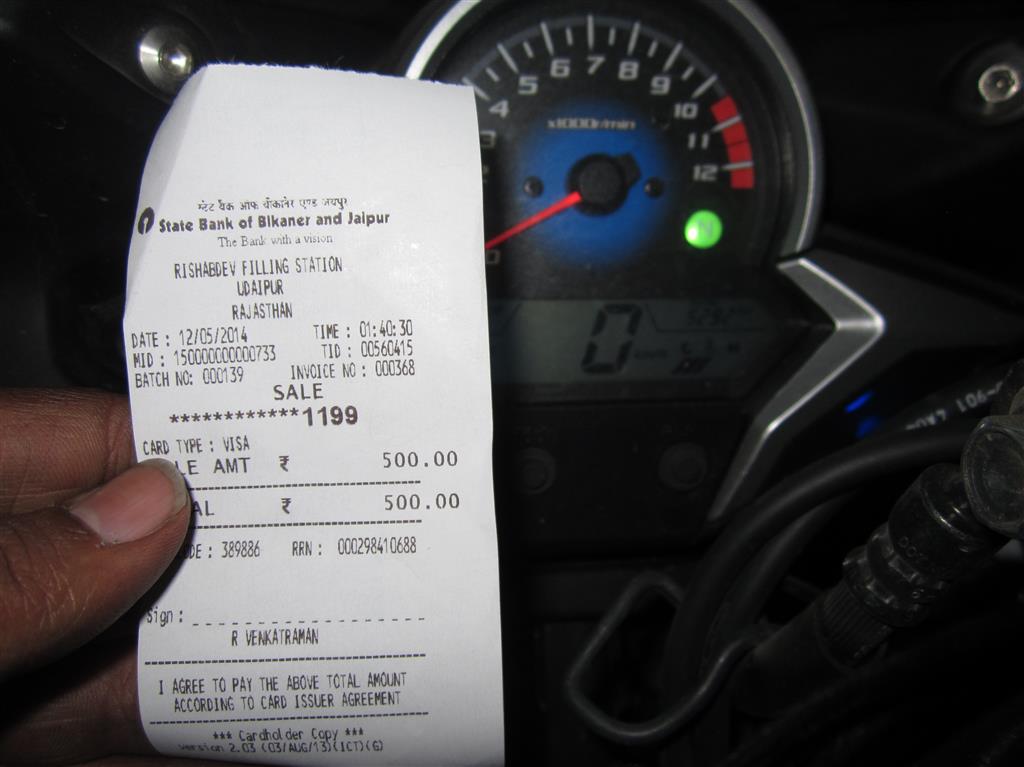 I started from a petrol station in Jogeshwari East, Mumbai at 5 AM, getting the documents signed by a petrol station assistant and a friend. My ride was fine until I missed the route in Gujarat, wasting couple of hours at the rate of 40 kmph. Having wasted couple of hours, I was little worried. I rode down to Udaipur, Rajasthan, and when I was close to Chittorgarh, Rajasthan, there was a typhoon that was coming from Gurgaon towards Rajasthan and I was in deep trouble. ('Trouble' may necessarily need not be the word). The rain was so heavy and the wind blast pushed me across lanes. There was a point where I just got pushed by the wind in front of a truck and thanks to the truck's brakes, I wasn't hit. I just parked aside to catch my breath. It was around 8 PM, near Shrinagar, Rajasthan, that I realized I couldn't go any further and I was exhausted physically due to the heavy rain. By then I had completed 1000 kms and was left with 9 hours to complete 600 kms.
I took a U-turn after getting the ATM slip for documentation. It was raining heavily for another hour after which there wasn't any trace of rain at all. I was happy and rode till 1 AM, after which I couldn't resist my sleep. I had weird some stuff happening in my brain which I assumed to be hallucinations. I saw trees, trucks asking me to sleep on their lap. I hunted for a petrol station, stopped there and slept for half an hour. Then I started riding again and completed the ride at a place called Godhra in Gujarat. Finding a petrol station which was functional was quite a task.
I took some rest in a small hotel nearby and started back to Mumbai around 11 AM. Despite of having completed 1600 kms ride in 24 hours, I wasn't happy for not completing 2500 kms in 36 hours. I just convinced myself for weeks saying, "Some other Day!"
I am yet to receive my certificates. I have been following up with them through e-mail.
Mumbai – Goa Trip – 1290 kms
This was a leisure trip to southern Goa, to a place called Palolem. "Immaculate work of nature", that is how I describe this whole trip. The route which I took to reach Goa was through Chiplun and it was a ghat road. It was a distance of 630 kms approximately and took 18 hours inclusive of 6 hours of rest. This route is a delight to your eyes till you have sunlight, post which in the night it becomes risky as the ghat roads are narrow, without any dividers, reflectors and loaded with trucks. So, I decided to halt until I got the first light.
In Goa, I took some surfing classes, explored some virgin beaches like Cola beach, and its fresh lagoon etc. It was real fun when cashew fenny and port wine were added to fuel the human engine. I must admit that south Goa is highly avoided by many Indians due to distance or accessibility, but true adventurers will love it. It's serene beauty and rarely explored beaches attract many foreigners.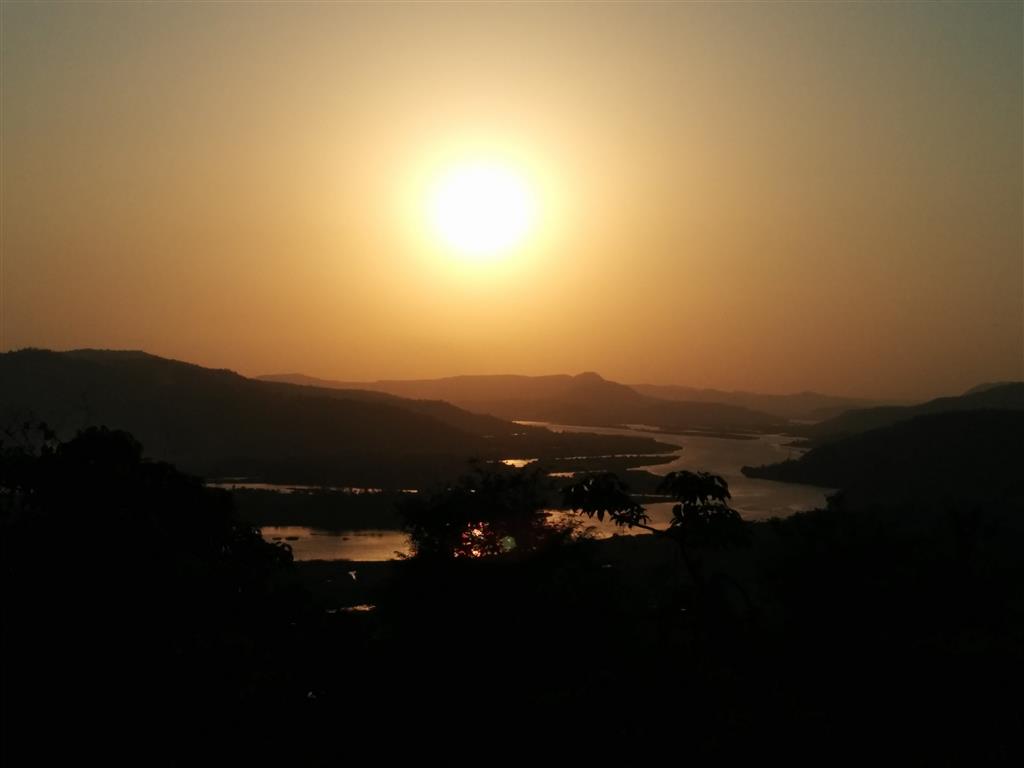 After four days of stay, I left for Mumbai, and the route taken was through Belgaum, Kohlapur and Pune. What you get here is a ghat Road till Belgaum, post which it is a wide road of NH4/AH47, where I got to maintain a constant speed of 125 – 130 kmph for a longer period and reached a maximum speed of 143 kmph.
Mumbai to Rishikesh Trip – 3460 kms
One of my close friends had been to Rishikesh for learning yoga and I knew that I wouldn't get any better opportunity to visit Rishikesh sooner or later. I travelled to Rishikesh, spent a couple of days there and came back. Though my stay in Rishikesh was for a very short span, the ride and the short stay became the most memorable trip in my life so far. The trip commenced on Friday, 27th June 2014.
Just a day before commencing this trip, I had bought a Rynox saddle ba that looked very nice on the bike and I was happy until the stitches came off and my things fell on the road. Rynox Nomad saddle bags have mixed reviews. My take on this was obviously bad for the poor quality. I was scared as it could have caused serious damages on a highway in such high speeds. I somehow managed with one bag, which was tied behind.
During this trip, the bike had serious problems like the chain sprocket got damaged and the front disk pad was due for change. Before the ride, I just changed the oil and started riding. It took nearly 22 hours for me to reach Panipat, a distance of approximately 1500 kms but the next 200 kms became hell due to the bad roads, rain and traffic as it was the peak season.
Rishikesh is a treat to one's eyes and mind. The place was surrounded by mountains with the majestic Ganges flowing as if it could take on an ocean. I got to visit a waterfall, which was 20 minutes away from Rishikesh and did river rafting. The velocity of the river was high. The place has two huge hanging bridges called 'Ram Jhula' and 'Laxman Jhula' and one can ride a motorbike on them to cross the river and reach the other side called 'Swargashram'. The days I stayed there in Rishikesh had some significance in terms of the temples and hence had roughly around 4 lakh visitors only from India. (Police officers from Laxman Jhula told me this).
Foreigners mostly visit Rishikesh to learn Hatha Yoga and some meditation techniques. My friend introduced me to a couple of Israelis who had come to learn yoga. For them, India is a cheap destination for learning yoga. But, the frequency in which they travel around the world was fascinating. Imagining leading such a life being an Indian is scary, but it is very much possible. Also, one of the yoga trainers was an IITian who had been working abroad in the IT industry, who had finally decided to give up everything and start teaching yoga in such a peaceful location.
It was in Rishikesh that I decided to start collecting souvenirs from the places I visited. I bought a Rudhraksha bracelet, as it is well known for in Rishikesh.
The day I left was blessed with heavy rain that I was riding at a pace of 30-40 km/hr till Meerut. Again crossing Delhi, to reach Delhi-Ajmer highway was a pain, but once I crossed Gurgaon, the highway was awesome. Rajasthan heat was making a tandoori out of me and I had to stop very often to hydrate myself. The road was scarcely loaded with trucks during the noon, but one can see many auto rickshaws that travel within villages.
Throughout the route, I found many tea stalls open 24×7, where they offered me a cot and allowed me to take a nap for some time. The moment I reached Vadodara, I knew that nothing could stop me, thanks to the wide highway NH8. I reached Mumbai border with utmost ease after which I had to slow down, to get along the traffic flow of Western Express Highway.
Getting drenched in rains took a toll on my body but it was worth it. I slept for 13 hours in a row and I was all set for my office, the next day morning.
The Machine's performance during these trips –
Styling & Comfort – The 'Pearl Sunbeam White' color that I own is definitely an eye-catcher, especially when it is loaded with the touring luggage. The overall styling is very conservative, just qualifying for what are called the styling aesthetics. The side stand and the stock horn are just below average. The instrument cluster might leave you disappointed. The headlight high beam is good, but not sufficient for rough highways with sudden turns like the one I struggled in between Rajasthan and Gujarat. The saddle feels comfortable for the first few hundred kms post which the pain is merely unbearable that you shift from one side to another every 5-10 mins. (Few riders use the Gel inners that are used by cyclists from Decathalon. I am planning to buy one for sure). If there is a pillion rider, they tend to slide on you and the seat is even harder for them. The build quality has a lot of scope for improvement as you will feel the wobble after 1000 kms in a stretch.
Handling & Fuel Economy – I get around 28 km/l on Mumbai roads and 30 km/l on the highway. However, I've found that the economy has gone down to 28 km/l in highway too after my third service. I request readers to advise me on this front to get the economy better. I cruise for a longer duration in the range 105 – 120 km/hr. When it comes to handling, it does a decent job. The stock tires are good enough to confidently corner on twisty roads, especially from Ahmedabad to Udaipur. But, on a wet road, the confidence just vanishes. The brakes are good for sudden stops on normal roads. I had been reading reviews that suggest better tires for better grip. Dunlop looks fine for me. I am yet to research into it. What I feel is the handling cannot be generalized as it differs from person to person. Overall, it works for me who is 5 feet 8 inches tall.
Heart of my machine – The engine is the only reason, I feel, that has made Honda thrive in this competitive quarter liter segment. The engine is smooth, refined and enjoys its space especially between 105 –120 km/hr. I reached a top speed of 147 km/hr @ 8500RPM. I understand that it is set to stay at 8500 rpm at 6th gear. I love my pace of 110 – 120 kmph on highways and I have never pushed the engine harder. But, the engine is definitely capable of cruising at 130 km/hr all day long without heating up, as I've tried it on a few occasions.
Having shared these trips with you all, I would also like to tell you that my next dream plan is for Bhutan in the month of February, 2015. I will be touring within India till then. There are so many people who travel vividly. Few people like me travel solo and few travel in group. But what brings us together is the thirst for travelling, especially on a motorbike.
I urge each and every one in this brotherhood, who has had dreams of travelling on a motorbike to start the trip and see the fear vanish away. The way one ruminates while touring on motorbike is unexplainable.
Please do write back to me on what you liked, what you didn't like, feedback, comments etc., about this article at venkat.guezz@gmail.com. I would love to hear from you and thanks for reading this lengthy article.
– Venkat Raman Radhakrishnan