2011-2014 Fiat Car Sales Analysis [13/14]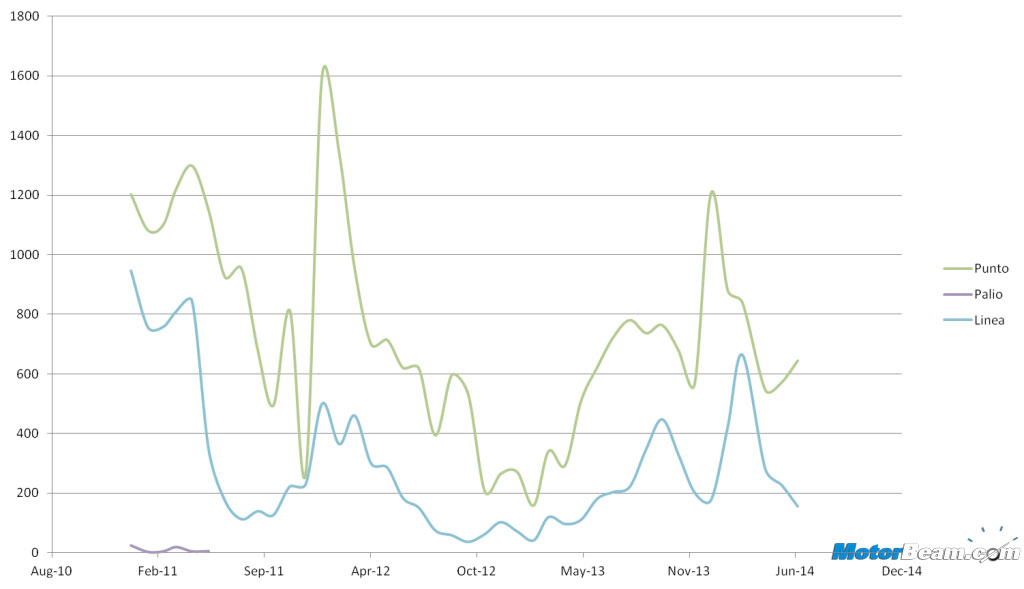 It is claimed that build of Fiat cars are much alike those of military tanks; that's what owners say. Well for sure Fiat did earn that trust for its tough vehicles but that didn't help the company to build an empire. The company performed badly for the last three years with sales dropping drastically; the company recorded a 34 percent drop in sales in 2012 and 21 percent in 2013 on the YoY basis. In the last year, Fiat couldn't even sell 10,000 units of its sedan and hatchback. The reasons were clearly evident and it's not because of the brand value but poor service outlets and unavailability of spare parts. Fiat has been striving hard to improve the number of service outlets, prior to the launch of the new Punto Evo. During these three and half years, the Italians bid adieu to its age old Palio; on an international point of view it merged with American automaker Chrysler. Though post merger there hasn't been any strategic shift but there could be, once things settle down in the merged group.
Punto – The Italian teddy hatch always had the upper hand in the sales chart to the Linea. The company has been pushing hard to maintain the 1000 units mark but the fluctuating market let Fiat down. On an average 735 cars are rolled out per month which is not impressive at all, especially when its contenders are dealings in volumes 15 to 20 folds. We agree that the Punto is a mini tank but we think Fiat took it seriously and the numbers are also like those of tanks. We hope things change at least now else even the evolved teddy will face the wrath.
Linea – The solid sedan is performing very badly in the market with sales lingering around 400 units a month. Haunted by the same problems that the Punto has been facing, service stations and spare parts led to poor customer feedback; thus affecting sales. 'A good car with not so great performance, perhaps a possible contender for the pole position; but obviously not with such a background' is what we can say. Fiat please choose the right tyres for the race else your race ends before it starts.