2013 Honda CBR500R Unveiled, US Price Rs. 3.33 Lakhs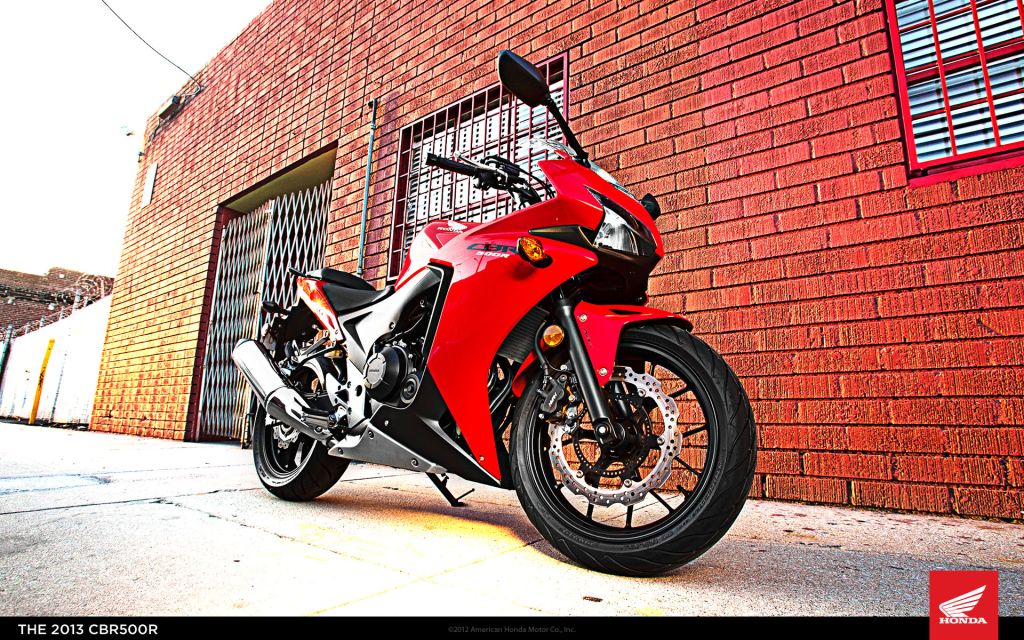 The much awaited and highly anticipated Honda CBR500R has been unveiled by Honda officially. The Japanese automaker has also released a bunch of images of the latest Honda motorcycle. The CBR500R takes heavy styling cues from both its elder and younger siblings. The styling is very similar to the bigger Fireblade and the smaller CBR250R. The company has priced the Honda CBR500R at a starting price of $5999 in the USA, which translates to Rs. 3.33 lakhs (around Rs. 1.3 lakh more than the Indian CBR250R).
The Honda CBR500R sports a brand new chassis and engine. There are two variants on offer just like the Indian CBR250R. A standard variant sans ABS and an ABS variant priced at a $500 premium (Rs. 27,500/-). Power comes in from a 500cc, liquid-cooled parallel-twin engine which produces 47 BHP of peak power output and 43 Nm of peak torque output. The CBR500R features 41 mm front forks and pro-link monoshock at the rear. This half-litre motorcycle gets twin-piston 320 mm petal discs at the front and single-caliper 240 mm petal disc at the rear. The front tyre is 120/70/17, while the rear tyre is 160/60/17. The Honda CBR500R weighs 194 kgs. The instrument cluster is completely digital.
[youtube:http://www.youtube.com/watch?v=WHq6xek15uc 540 375]
Honda claims the CBR500R is leading the way through innovation. The Japanese automaker states that the Honda CBR500R has a sporty seating position, lower handlebars and minimal bodywork given it a sports bike feel with more versatility. The CBR500R has a 15.5 fuel tank capacity and Honda is offering the CBR500R in three colors – red, black and white/blue/red tri-color. Honda is likely to bring the CBR500R to India next year, pricing it around Rs. 3 lakhs for the standard variant and Rs. 3.30 lakhs for the ABS variant (ex-showroom, Delhi).
[flickr size="center" float="medium"]http://www.flickr.com/photos/motorbeam/8178299372/[/flickr]
[flickr size="center" float="medium"]http://www.flickr.com/photos/motorbeam/8178299782/[/flickr]
[flickr size="center" float="medium"]http://www.flickr.com/photos/motorbeam/8178269819/[/flickr]
[flickr size="center" float="medium"]http://www.flickr.com/photos/motorbeam/8178300058/[/flickr]
[flickr size="center" float="medium"]http://www.flickr.com/photos/motorbeam/8178299928/[/flickr]
[flickr size="center" float="medium"]http://www.flickr.com/photos/motorbeam/8178269657/[/flickr]
[flickr size="center" float="medium"]http://www.flickr.com/photos/motorbeam/8178341982/[/flickr]
[flickr size="center" float="medium"]http://www.flickr.com/photos/motorbeam/8178341912/[/flickr]
[flickr size="center" float="medium"]http://www.flickr.com/photos/motorbeam/8178311171/[/flickr]
[flickr size="center" float="medium"]http://www.flickr.com/photos/motorbeam/8178311023/[/flickr]
[flickr size="center" float="medium"]http://www.flickr.com/photos/motorbeam/8178341616/[/flickr]
[flickr size="center" float="medium"]http://www.flickr.com/photos/motorbeam/8178310877/[/flickr]
[flickr size="center" float="medium"]http://www.flickr.com/photos/motorbeam/8178342036/[/flickr]
[flickr size="center" float="medium"]http://www.flickr.com/photos/motorbeam/8178311463/[/flickr]
[flickr size="center" float="medium"]http://www.flickr.com/photos/motorbeam/8178341444/[/flickr]