KTM RC8 1190 R Is Really Drool Worthy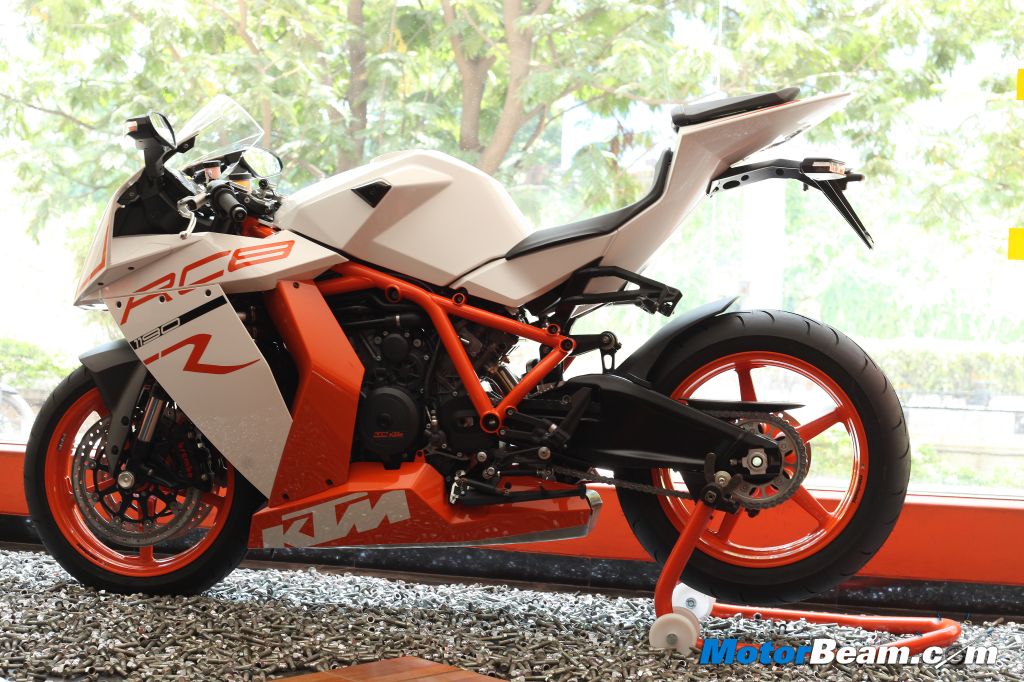 KTM has started an aggressive marketing push in the Indian market, after the brand realised the potential is has in our country. After having sold 8500 units of the Duke 200 in the local market in a year, KTM is betting big on offering more products, which are suited to a wider range of buyers. While the Duke 390 is just around the corner, faired and adventure versions of the lower capacity Duke bikes are being planned, along with the introduction of a Husqvarna dual purpose bike.
KTM has been running Orange Days across cities to get the orange culture to more people. The company recently unveiled the 350 SX-F dirt motorcycle at the Mumbai Orange day, which is being showcased at select KTM showrooms. The Austrian brand has also brought down its flagship KTM 1190 RC8 R to pro-biking showrooms. This motorcycle looks stunning and has been parked near the door of pro-biking showrooms, so that passers by can see the superbike through the transparent glass.
The KTM RC8 1190 R looks stunning in person. The full faired machine has all the right muscle and the white and orange paint job looks fabulous. The rear view mirrors have turn indicators and the 1190 R possesses huge disc brakes for better stopping power. The console is very tech laden and so is the switchgear, which feels excellent to touch and use. The raised rear seat, wide rear tyre and LED brake light further accentuate the overall persona of this mean motorcycle.
Powering the KTM RC8 1190 R is a 1.2-litre, V2 engine which belts out 173 HP of power and 120 Nm of torque. A weight of 184 kgs ensures the power to weight ratio is very high. Performance is breathe taking but you really need a race track to exploit the true potential of this motorcycle. Trust us, a visit to the pro-biking showroom near you is well worth it, as the KTM RC8 R is really drool worthy from every angle.
Pictures – Anannd Sampat.