2014 Audi A8L First Drive Review
2014 Audi A8L Review
Car Tested: 2014 Audi A8L Facelift (3.0L TDI quattro)
Price OTR Mumbai: Rs. 1,44,53,350/-
The Audi A8L gets a facelift which injects freshness into this tech laden automobile.
The intense battle in the ultra luxury car segment is swelling at an amazing pace, so much so that this year has seen launches happening left, right and centre; all the biggies of the luxury car space doing their very best to win the hearts of the rich. This year has seen the Indian car market get the all new sixth generation Mercedes S-Class while Jaguar's brave and appreciative move of locally assembling the XJ sedan has also found much flavour with prospective buyers and media alike. Amidst this, Audi has dropped in the A8L facelift, an update which isn't drastic but important none the less. A quick spin helps us identify what's what of Ingolstadt's top drawer limo.
On the styling front not much has changed, a minor nip and tuck (the facelifted model is 13 cms longer) here and there (read as more appealing hood, bumpers, head and tail lights along with new exhaust pipes with a trapezoidal finishing) keeps the A8L all trim and muscle but the real highlight on the exteriors is the introduction of the new Matrix LED headlights. Audi's hefty focus on light technology has made the four ringed brand become the centre of attraction on the aesthetics front but its competitors have caught up by offering equally attractive LED lights. Taking a step in an entirely different direction, Audi has opted to go one up with what they like to call Matrix LED headlights.
Basically what Matrix LED lights does is, it frees you from the headache and turmoil of operating the headlight's intensity as everything is done automatically, dimming individually each one of the 25 LEDs as per the need when an obstacle is sensed, using the on-board cameras. It activates at speeds of over 30 km/hr and group of 5 LEDs shine through one reflector. In other words, these lights are superman cool as you never have to worry about blinding oncoming traffic while getting the best possible visibility in dark situations. Think of it as automation of the intelligent kind, only one which gives equal importance to function as much as it does to form, a big thumbs up. However, this is part of optional kit, still cool though.
On the inside too, the changes are quite minimal yet the sense of freshness and appeal isn't lacking, the big Audi's cabin having space aplenty with the interior oozing a sense of quality and luxury. There is a good blend of aluminium, wood and leather throughout the confines of the cabin and that works very well to make occupants in the A8 feel special. We also love the interior lightning theme and the way the dashboard has a retro touch with that analogue Audi watch adorning the top of the centre console.
The A8L gets the option of a rear seat executive package, which went no ends to bowl us over on our test car. You get two individual rear seats, split by a large console in between which houses a fridge, plenty of buttons and pop out tables. The seats themselves recline and are multiple way adjustable, offered with an electrically operated foot rest. There is a massage function too and individual LCD screens for the rear occupants. You can adjust your own seat in multiple ways while the left rear seat occupant can also adjust the front co-passenger seat with a touch of a button.
You can also control the sun blinds, panoramic roof, MMI and almost every possible feature from the comfort of the rear seat. There are plenty of small and neat storage bins, including on the doors. Plenty of features makes it a very loaded car but quite a lot of equipment is part of the option list, including the Bang & Olfsen sound system, panoramic/solar sunroof, Matrix lights, automatic parking, Dynamic steering, front and rear cameras, Night Vision, massage seats and heads-up display. There is also an overdose of buttons throughout the cabin.
The Audi A8L facelift continues to draw power from the same 3.0-litre V6 diesel, a motor which has found our admiration each and every time we have experienced it any other Audi car (A6, Q5 or even the Volkswagen Touareg for that matter). The 2014 Model Year A8 gets a minor bump in power, 8 extra horses and 30 more Nm of twisting force, taking the total output tally from this refined oil burner to 258 HP and 580 Nm. As you would expect, mid-range is very strong, this large and luxurious saloon having ample grunt to pull cleanly to high speeds sans any fuss from the torquey powertrain, which does nudge you as you floor the big pedal and relish in what is quite a soothing exhaust note for a diesel mill.
The 8-speed ZF gearbox has already proved its mettle and without any question, it continues to harbour around its duty by swapping cogs with the same levels of secrecy yet urgency on the big brute Audi. Should you like to take matters in your own hands, which is unlikely considering this car makes you cocoon in comfort, there are steering mounted paddle shifts but the gear lever is a tad big and not so easy for quick use. The 3.0-litre diesel engine powered Audi A8 is very efficient too, returning good mileage numbers for a car with so much size and tech wrapped in it.
But it's not all aesthetic and features that the mid-life update brings to the Audi A8L, the suspension has been revised, albeit minutely, for a more cosseting ride and it shows at low speeds. Still the tuning is more on the sportier side and thus this large German saloon isn't the most pliant on bad roads (mostly when driven fast over undulations of our roads), this despite a practical tyre size of 235/55/18 on our test car. At least one doesn't need to worry about the rims with that rather high tyre profile (by segment standards). That said, while the overall refinement inside the cabin is good, there is some bit of road and tyre noise filtering into the cabin from the underbody.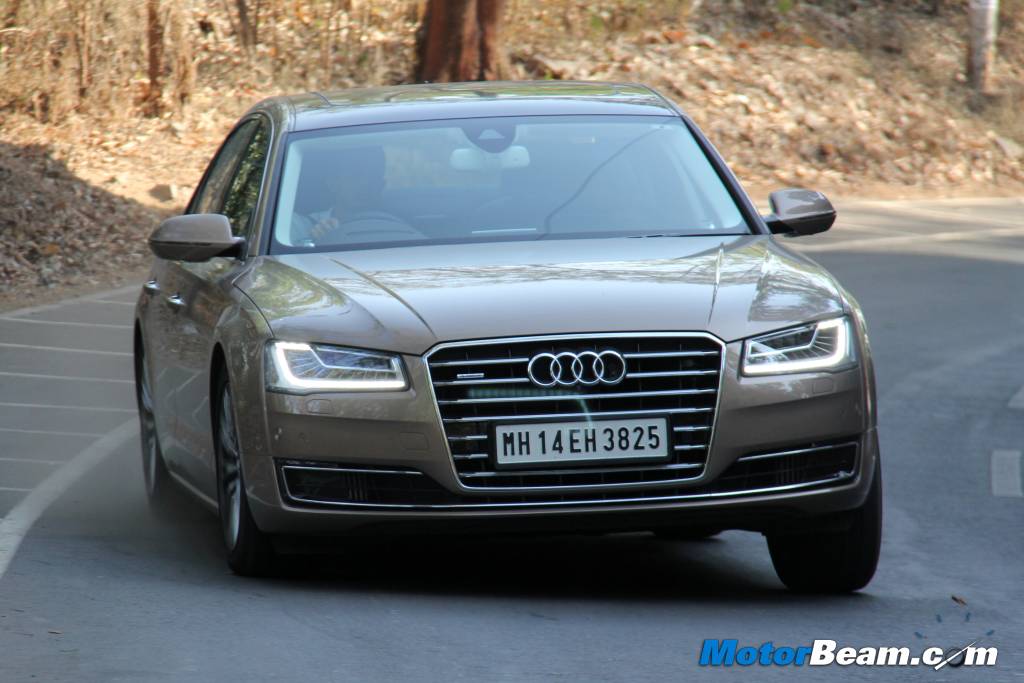 The A8, like any other Audi comes equipped with the company's Drive Select Program, giving four modes to choose from. Set in Dynamic, you will quite appreciate the way this rather large saloon goes around corners, holding its line well around the sharpest of bends with good body control to boot. The 3-spoke steering is sporty to hold but like most Audis, it feels a bit artificial although feedback isn't a problem here with more than apt feel to induce confidence when driven hard and fast. Stability at speed too, is more than ample to keep this barge munching miles on Indian highways. Stopping power is more than adequate with enough brake bite to halt this almost 5.3 metre of aluminium bodied machine right in its tracks.
The Audi A8 is clamouring along in a segment where there are vivid options, both in terms of engineering marvel (Mercedes S-Class), driving fun (BMW 7-Series) and attractive pricing (Jaguar XJ). The 2014 Audi A8L fits in somewhere between, at Rs. 1.12 crore, it's not the cheapest car in the segment, it can't be as it is the only CBU offering in its class (attracting much higher RTO charges), whose pricing equation is further nuked by the fact that most of the mouth watering equipment isn't part of standard kit and when optioned with, could swell the asking price considerably. Still, the 2014 A8L makes a strong proposition and what really puts it into consideration is the fact that Audi has chosen to propel it using diesel power as well (a 4.2 TDI and 4.0 TFSI version is also offered), making this big brute Audi quite the choice if you want an efficient yet luxurious super luxury saloon.
The 2014 Audi A8L takes the fight to Mercedes' best, the all new S-Class, which currently is only offered with a V8 engine. The availability of the A8L with diesel power has made it the car to look out for in the segment, at least till the big Benz gets an oil burner.
What's Cool
* Performance and efficiency
* Luxury and comfort
What's Not So Cool
* Lot of equipment is optional