2014 Hero HF Deluxe & HF Deluxe Eco Unveiled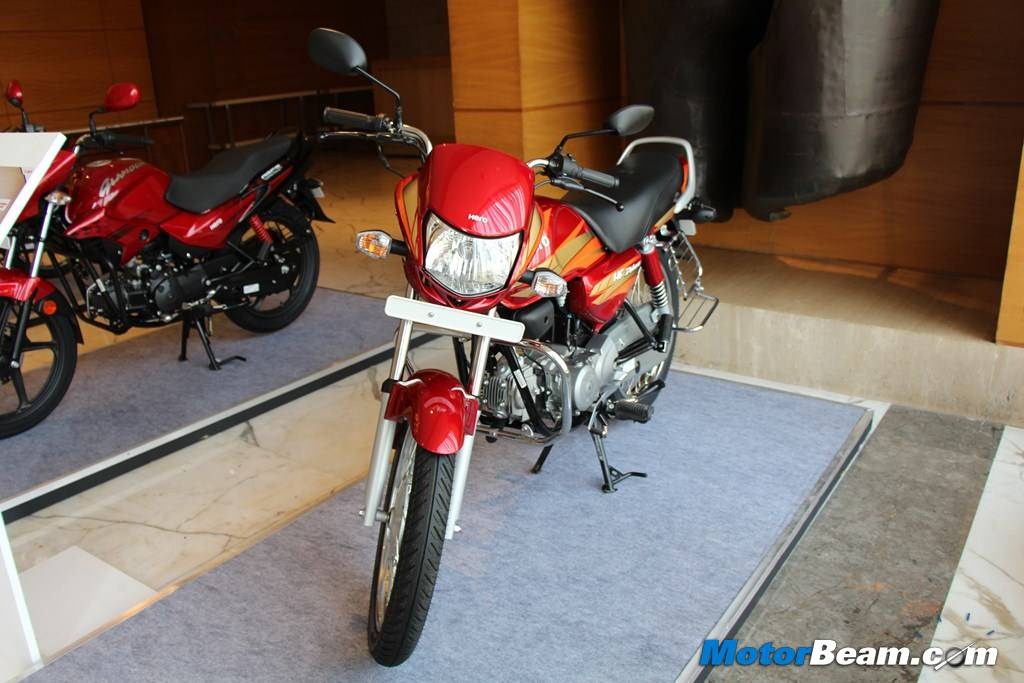 We all are aware about the aggressive strategies being taken by Hero MotoCorp to increase their market share further with large volumes. The country's biggest bike maker has prepared an array of new and refreshed models that will roll out gradually. At a mega event held in Gurgaon, Hero MotoCorp unveiled 15 new offerings which will go on sale before March 2014. Amongst the new refreshed models, they showcased the updated Hero HF Deluxe and HF Deluxe Eco. As expected, the mechanical bits remain unchanged on the new version.
The updates on the 2014 Hero HF Deluxe include a side stand indicator and clear lens turn indicators. The new variant, which is the Hero HF Deluxe Eco is claimed to provide better fuel efficiency than the standard version. It has got air foils on the leg guards, restyled mirrors for better aerodynamics and low rolling friction tyres for improving the fuel economy. Hero MotoCorp will be offering the HF Deluxe Eco with a new green colour and 3D body graphics for a distinct look conveying its eco-friendly credentials.
The Hero HF Deluxe and the Deluxe Eco carry forward the same air-cooled, 97.2 cc, four-stroke, single-cylinder OHC engine that produces 7.8 PS of maximum power at 7500 RPM with 8.04 Nm of peak torque at 4500 RPM, mated to a 4-speed gearbox. It has got the same telescopic hydraulic shock absorbers at the front and swingarm with 2-step adjustable hydraulic shock absorber at the rear. The manufacturer is aiming for huge volumes from this segment, hence the addition of a new variant to the entry level segment.
[flickr size="center" float="medium"]http://www.flickr.com/photos/motorbeam/10193379983/[/flickr]
[flickr size="center" float="medium"]http://www.flickr.com/photos/motorbeam/10193326936/[/flickr]
[flickr size="center" float="medium"]http://www.flickr.com/photos/motorbeam/10193294655/[/flickr]
[flickr size="center" float="medium"]http://www.flickr.com/photos/motorbeam/10193377413/[/flickr]
[flickr size="center" float="medium"]http://www.flickr.com/photos/motorbeam/10193317836/[/flickr]
[flickr size="center" float="medium"]http://www.flickr.com/photos/motorbeam/10193371793/[/flickr]
[flickr size="center" float="medium"]http://www.flickr.com/photos/motorbeam/10193326756/[/flickr]
[flickr size="center" float="medium"]http://www.flickr.com/photos/motorbeam/10193186294/[/flickr]
[flickr size="center" float="medium"]http://www.flickr.com/photos/motorbeam/10193375883/[/flickr]
[flickr size="center" float="medium"]http://www.flickr.com/photos/motorbeam/10193188884/[/flickr]
[flickr size="center" float="medium"]http://www.flickr.com/photos/motorbeam/10193322916/[/flickr]
[flickr size="center" float="medium"]http://www.flickr.com/photos/motorbeam/10193291325/[/flickr]
[flickr size="center" float="medium"]http://www.flickr.com/photos/motorbeam/10193289715/[/flickr]
[flickr size="center" float="medium"]http://www.flickr.com/photos/motorbeam/10193372733/[/flickr]
[flickr size="center" float="medium"]http://www.flickr.com/photos/motorbeam/10193187594/[/flickr]
[flickr size="center" float="medium"]http://www.flickr.com/photos/motorbeam/10193183664/[/flickr]