2014 Hero Glamour & Glamour FI Get Minor Changes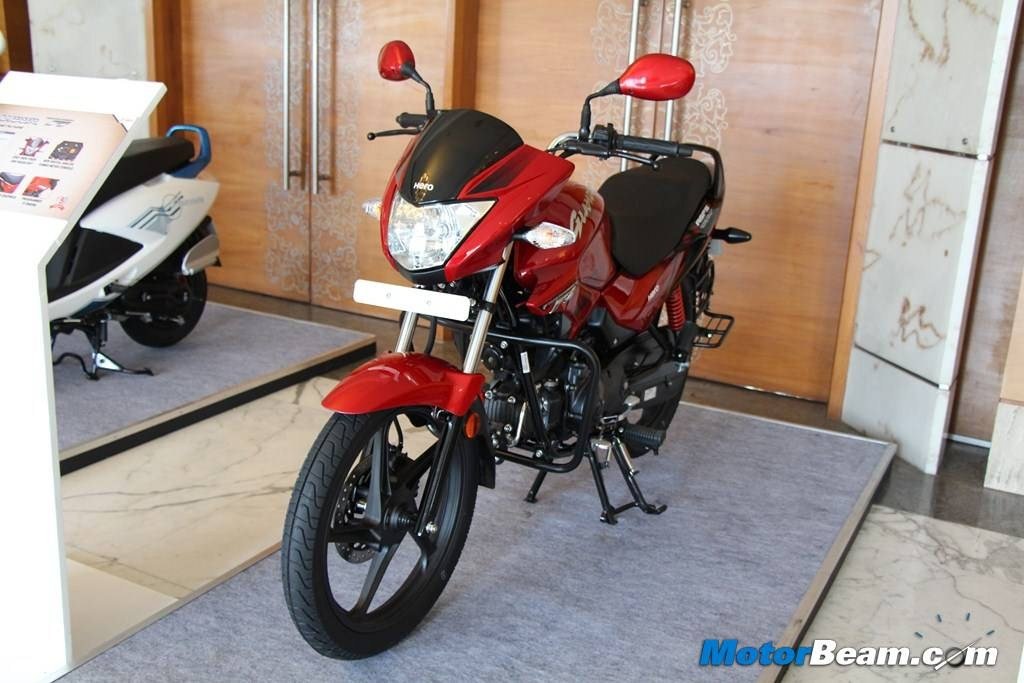 Hero MotoCorp came up with a grand event in Gurgaon, unveiling new and refreshed models of their existing lineup. Our country's largest two-wheeler maker exhibited 15 new offerings, which will be released gradually starting from this festive season. Amongst the 15 new models showcased at the event, Hero introduced refreshed avatars of the Glamour and Glamour FI, which will be launched in the coming months. The mechanicals remain intact and there are no drastic changes apart from some visual tweaks.
The 2014 Hero Glamour and its fuel injected version get updated with new paint job and body graphics. Along with the cosmetic upgrades, the manufacturer has redesigned the dials on the instrument cluster for a fresher look. The tech specs of the bike remain untouched. The Hero Glamour is powered by an air-cooled, 124.8 cc 4-stroke, single-cylinder OHC engine which produces a maximum power output of 9 BHP at 7000 RPM and 10.35 Nm of peak torque at 4000 RPM, mated to a 4-speed transmission.
On the suspension front, the Hero Glamour comes equipped with telescopic hydraulic shock absorbers at the front and rectangular swingarm with five step adjustable hydraulic shock absorber at the rear. The pricing will remain more or less the same. In all, Hero MotoCorp plans to add 50 new products in the next 3 years, which means 35 more offerings to come. To retain the top spot, Hero MotoCorp is leaving no stone unturned. They are definitely feeling some heat from their erstwhile partner, Honda, but they have planned some aggressive strategies to remain at the top as India's largest 2-wheeler company.
[flickr size="center" float="medium"]http://www.flickr.com/photos/motorbeam/10193150494/[/flickr]
[flickr size="center" float="medium"]http://www.flickr.com/photos/motorbeam/10193282856/[/flickr]
[flickr size="center" float="medium"]http://www.flickr.com/photos/motorbeam/10193327593/[/flickr]
[flickr size="center" float="medium"]http://www.flickr.com/photos/motorbeam/10193252815/[/flickr]
[flickr size="center" float="medium"]http://www.flickr.com/photos/motorbeam/10193251365/[/flickr]
[flickr size="center" float="medium"]http://www.flickr.com/photos/motorbeam/10193280676/[/flickr]
[flickr size="center" float="medium"]http://www.flickr.com/photos/motorbeam/10193149434/[/flickr]
[flickr size="center" float="medium"]http://www.flickr.com/photos/motorbeam/10193329223/[/flickr]
[flickr size="center" float="medium"]http://www.flickr.com/photos/motorbeam/10193249015/[/flickr]
[flickr size="center" float="medium"]http://www.flickr.com/photos/motorbeam/10193331203/[/flickr]
[flickr size="center" float="medium"]http://www.flickr.com/photos/motorbeam/10193243965/[/flickr]
[flickr size="center" float="medium"]http://www.flickr.com/photos/motorbeam/10193247535/[/flickr]
[flickr size="center" float="medium"]http://www.flickr.com/photos/motorbeam/10193331563/[/flickr]
[flickr size="center" float="medium"]http://www.flickr.com/photos/motorbeam/10193276416/[/flickr]
[flickr size="center" float="medium"]http://www.flickr.com/photos/motorbeam/10193143764/[/flickr]
[flickr size="center" float="medium"]http://www.flickr.com/photos/motorbeam/10193327633/[/flickr]
[flickr size="center" float="medium"]http://www.flickr.com/photos/motorbeam/10193140134/[/flickr]