Honda Unveils 2014 CBR250R At Tokyo Motor Show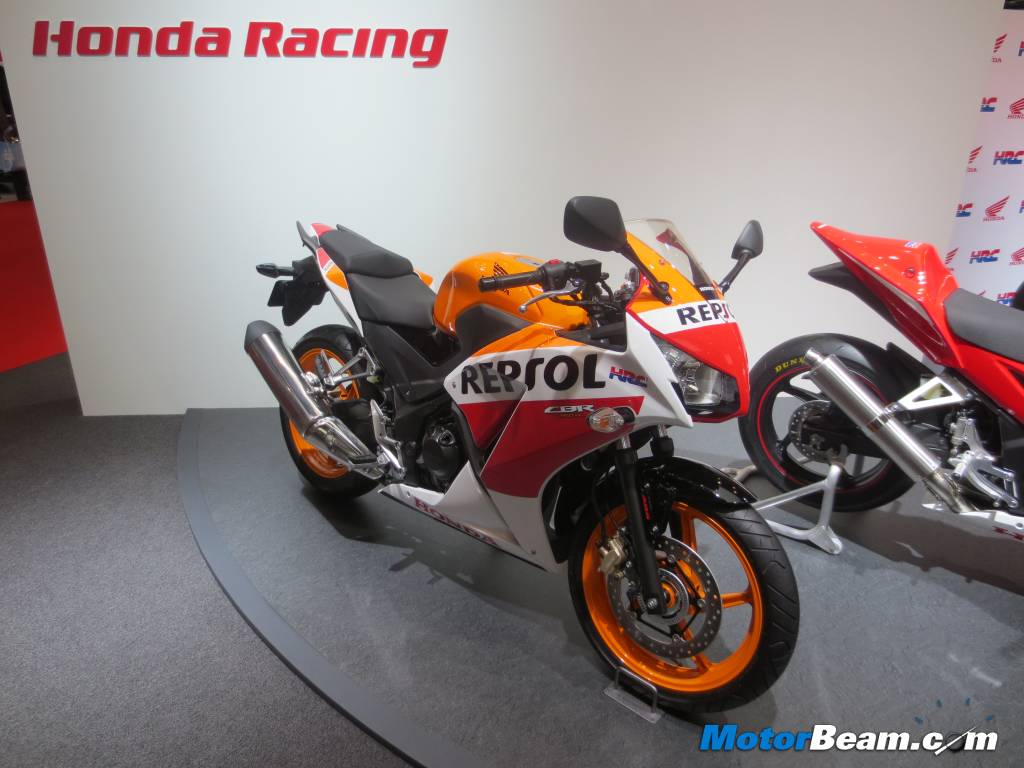 The Tokyo Motor Show is gaining momentum day by day. The motor show has witnessed many launches especially from local manufacturers. Nissan and Yamaha have already come up with their stunning models and so did Honda. We have seen companies scaling down their super bikes just to enter newer markets. Honda and Yamaha are well into this scaling business and have been upgrading the looks of their mini beasts to match the super bikes. We have seen the same happen with the Yamaha R15 2.0 and Kawasaki Ninja 300. As we reported earlier, Honda has updated the CBR250R for 2014 with new styling.
Honda launched the new CBR250R. What? A new Honda CBR250R? You must be kidding. The 2014 Honda CBR250R has been launched with the bodywork of the CBR300R in the hometown; this time in the Repsol edition. The CBR300R was launched just a month ago. First impression says that it is really difficult to distinguish between the 300R and 250R in the Repsol edition. It has got all the same graphics an inch by inch from the 300R. I would rather use the term carbon copy.
So how does one spot the difference when he/she sees a piece from a distance? Fortunately or unfortunately it's the same but as one gets closer by; one can find out the difference in the exhaust pipe but again it is very slim. The other one is the logo which can be spotted on close inspection. The 2014 Honda CBR250R has got the same specifications and hardware which the present generation is having but the bike will get ABS and not C-ABS. Apart from the fairings, the baby firblade has got sharper rear view mirror and well suited exhaust. Overall the new quarter-liter bike is a spot on from Honda.
The move is certainly a good one by Honda as some markets don't have space for a 300cc bike. Now the question is which one of these will be hitting our coast? It can be either or both of them. We have to wait for Honda's plans for India but I would love to get my hands on the CBR300R. After all, the 300R boasts of 30.4 HP of power against the 250R's 26 HP and the former also produces more torque, 27 Nm vs 22.9 Nm. While we are at it, the 300R also weighs lesser and all this results in the bike performing better.
[flickr size="center" float="medium"]http://www.flickr.com/photos/motorbeam/10961125884/[/flickr]
[flickr size="center" float="medium"]http://www.flickr.com/photos/motorbeam/10961127334/[/flickr]
[flickr size="center" float="medium"]http://www.flickr.com/photos/motorbeam/10961179063/[/flickr]
[flickr size="center" float="medium"]http://www.flickr.com/photos/motorbeam/10961030336/[/flickr]
[flickr size="center" float="medium"]http://www.flickr.com/photos/motorbeam/10961125964/[/flickr]
[flickr size="center" float="medium"]http://www.flickr.com/photos/motorbeam/10961127454/[/flickr]
[flickr size="center" float="medium"]http://www.flickr.com/photos/motorbeam/10960952375/[/flickr]
[flickr size="center" float="medium"]http://www.flickr.com/photos/motorbeam/10961126124/[/flickr]
[flickr size="center" float="medium"]http://www.flickr.com/photos/motorbeam/10961181683/[/flickr]
[flickr size="center" float="medium"]http://www.flickr.com/photos/motorbeam/10960956195/[/flickr]
[flickr size="center" float="medium"]http://www.flickr.com/photos/motorbeam/10961124484/[/flickr]
[flickr size="center" float="medium"]http://www.flickr.com/photos/motorbeam/10960951655/[/flickr]