2014 Karizma R, Karizma ZMR Prices Revealed As Hero Dispatches Bikes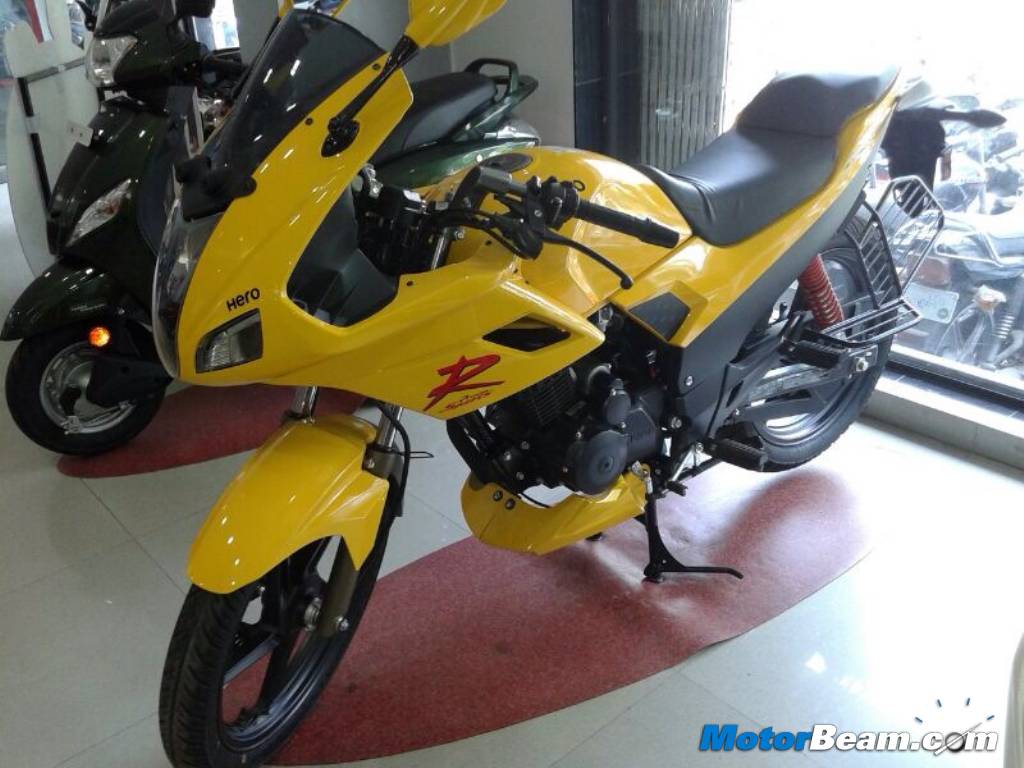 After having delayed the updated Karizmas by a full two months, Hero MotoCorp has finally shipped the motorcycles to dealerships, thereby revealing the prices. Dealers in big cities have received both the 2014 Karizma R and Karizma ZMR bikes but stock is limited at the moment. We already know each and everything about the new Karizmas, the changes made to them and the performance boost they have got. The styling is inspired from EBR's superbikes while the engine hardware remains more or less the same, with an update in output.
The 2014 Hero Karizma R is priced at Rs. 79,884/- (ex-showroom, Pune), while the on-road Mumbai price is Rs. 93,110/-, thereby putting the Karizma R bang in Bajaj Pulsar 220 territory. The Karizma R continues to draw power from a 223cc, single-cylinder engine but power output is now rated at 19.2 PS, with torque output seeing a 1 Nm increase to 19.35 Nm. The 0-60 km/hr acceleration time has improved by 0.2 seconds, the updated model taking 3.6 seconds to do the sprint. The bike is mated to a 5-speed manual gearbox.
The 2014 Hero Karizma ZMR is priced at Rs. 99,478/- (ex-showroom, Pune), while the on-road Mumbai price is Rs. 1,16,610/-. This puts the Karizma ZMR in no man's land as the Pulsar 200 NS is cheaper by more than Rs. 12,000/- while the Yamaha R15 is expensive by more than Rs. 12,000/-. Once Bajaj Auto launches the fuel-injected version of the Pulsar 200 NS, we can expect the Definitely Male bike to be closer in pricing with the 2014 Karizma ZMR. Other than the cosmetic changes, Hero's current flagship bike gets an update in power from its 223cc, fuel-injected motor which now outputs 20 PS of power and 19.3 Nm of torque.
[flickr size="center" float="medium"]http://www.flickr.com/photos/motorbeam/10189058046/[/flickr]
[flickr size="center" float="medium"]http://www.flickr.com/photos/motorbeam/10189109703/[/flickr]
[flickr size="center" float="medium"]http://www.flickr.com/photos/motorbeam/10188920924/[/flickr]
[flickr size="center" float="medium"]http://www.flickr.com/photos/motorbeam/10188919534/[/flickr]
[flickr size="center" float="medium"]http://www.flickr.com/photos/motorbeam/10188920054/[/flickr]
[flickr size="center" float="medium"]http://www.flickr.com/photos/motorbeam/10188915644/[/flickr]
[flickr size="center" float="medium"]http://www.flickr.com/photos/motorbeam/10189062856/[/flickr]
[flickr size="center" float="medium"]http://www.flickr.com/photos/motorbeam/10188918724/[/flickr]
[flickr size="center" float="medium"]http://www.flickr.com/photos/motorbeam/10189059846/[/flickr]
[flickr size="center" float="medium"]http://www.flickr.com/photos/motorbeam/10189058606/[/flickr]
[flickr size="center" float="medium"]http://www.flickr.com/photos/motorbeam/10189062766/[/flickr]
[flickr size="center" float="medium"]http://www.flickr.com/photos/motorbeam/10189018455/[/flickr]
[flickr size="center" float="medium"]http://www.flickr.com/photos/motorbeam/10188449235/[/flickr]
[flickr size="center" float="medium"]http://www.flickr.com/photos/motorbeam/10188544403/[/flickr]
[flickr size="center" float="medium"]http://www.flickr.com/photos/motorbeam/10188495896/[/flickr]
[flickr size="center" float="medium"]http://www.flickr.com/photos/motorbeam/10188343344/[/flickr]
[flickr size="center" float="medium"]http://www.flickr.com/photos/motorbeam/10188543733/[/flickr]
[flickr size="center" float="medium"]http://www.flickr.com/photos/motorbeam/10188545503/[/flickr]
[flickr size="center" float="medium"]http://www.flickr.com/photos/motorbeam/10188494056/[/flickr]
[flickr size="center" float="medium"]http://www.flickr.com/photos/motorbeam/10188548883/[/flickr]
[flickr size="center" float="medium"]http://www.flickr.com/photos/motorbeam/10188353404/[/flickr]
[flickr size="center" float="medium"]http://www.flickr.com/photos/motorbeam/10188548243/[/flickr]
[flickr size="center" float="medium"]http://www.flickr.com/photos/motorbeam/10188547573/[/flickr]
[flickr size="center" float="medium"]http://www.flickr.com/photos/motorbeam/10188546533/[/flickr]
[flickr size="center" float="medium"]http://www.flickr.com/photos/motorbeam/10188546073/[/flickr]
[flickr size="center" float="medium"]http://www.flickr.com/photos/motorbeam/10188540693/[/flickr]
[flickr size="center" float="medium"]http://www.flickr.com/photos/motorbeam/10202667576/[/flickr]
[flickr size="center" float="medium"]http://www.flickr.com/photos/motorbeam/10188542133/[/flickr]