2014 Kawasaki Ninja ZX-14R Test Ride Review
2014 Kawasaki Ninja ZX-14R Review
Bike Tested: 2014 Kawasaki Ninja ZX-14R
Price OTR Mumbai: Rs. 19,55,440/-
The Kawasaki Ninja ZX-14R has so much POWER that if a politician rides it, his greed for more power would instantly finish.
As motorcyclists, we all love speed and in its pursuit we buy the best value for speed motorcycle available to us. For everyone it starts from the quarter-litre segment. This is when you start experiencing real adrenaline pumping speeds and all that thirst ends at a litre class bike. Litre class motorcycles handle very well and give you a serious dose of speed but you can't tame them, even on a racetrack. However, then you realise that you need something that is comfortable and fast at the same time and power can be accessed everywhere, on the twisties, on fast highways and so on. Well this "class of bikes" started with the Kawasaki Ninja ZX-11, then came the Honda Blackbird and took the crown post which the crown was taken by the superhero of motorcycles, the Suzuki Hayabusa. Kawasaki started making the bike on the same platform but dubbed it as a fast sport cruiser. After an agreement, the run for the highest top speed was discontinued.
Come 2006, Kawasaki made the ZX-14R, replacing the ZX-12R in the same year. Year 2012 saw Kawasaki coming back with the aim of making the fastest accelerating bike in the world with the ZX-14R. Styling upgrade and tons of technical changes to the motorcycle made it claim the tag of the "fastest accelerating motorcycle" in the world. Kawasaki launched the ZX-14R in India (late 2013) to make you and me realise what it feels like when you have 'unlimited power'. We ride the Kawasaki Ninja ZX-14R on all types of roads in one single day (yes it is that fast), valley roads, fast highways and crowded Tier-II city traffic to find out who is the boss (us or the bike)!
Motor Quest: Kawasaki launched the Ninja ZX-14R in 2007, as a replacement for the ZX-12R. The bike has been revised over the years but in 2012, it got ABS along with other technical updates.
Styling – One look at the green devil and it captivates your mind and keeps you hypnotised to keep gauging it repeatedly, until the time you decide whether it looks beautiful or insanely gothic. Gothic is what we will choose for its aesthetics. The low and long look of the Ninja ZX-14R makes it undeniably a hyper bike when compared to compact and track focused litre class bikes. The front cowl with RAM air intake and four projector headlights in the front with two pilot lamps (talk about illumination or spread and it will bring shame to an aircraft for sure) dominate the front. Huge side fairing panels with fins on them describe how potent this bike is, when it comes to aerodynamic efficiency. The front mudguard almost covers the entire wheel, which is surely and purely function over form.
The rear is as dominating as the front with a massive tail light piece with LEDs inside and two cannons *ahem* exhaust canisters on each end that give it a look which is hard to miss on the road or even if you are on the opposite side of the road for heaven's sake! Single piece grab rail for the pillion looks dated but he/she obviously needs something sturdy to hold onto if the rider starts exploring the specialty of this machine, acceleration!
Ergonomics – Riding position is the right balance of sportiness and dedicated. Rearset footpegs and the overall riding position is comfortable and well aligned with the clip-on handlebars. The riding position is spot on and yet efficient in cutting air which is the first and foremost job of this machine, which in turn gives great wind protection to the rider. The mirrors give an excellent view of what is behind too. Seats are beautifully cushioned and extremely supportive. 300 kms in a day just vanishes away without a muscle pain anywhere. Proof? Well, we did it when we were testing the bike and came back home fresh as a daisy.
Instrument Cluster and Switch Gear – The cluster shows a host of information such as, reading of litre per 100 kms (current and consumed), clock, intake air temperature, engine temperature, two trip meters, gear position indicator and much more. Information is available on the screen above the two well-crafted dials, which are obviously the tachometer and speedometer. Average and current fuel efficiency, tank range and good old fuel gauge with five bars is displayed on the screen. An economy meter and typical warning lights in small boxes around the cluster are present. Switchgear is top notch and loaded with a hazard button, a dedicated button to choose power modes and traction control level is present on the left switch, which is coloured in a shade of grey.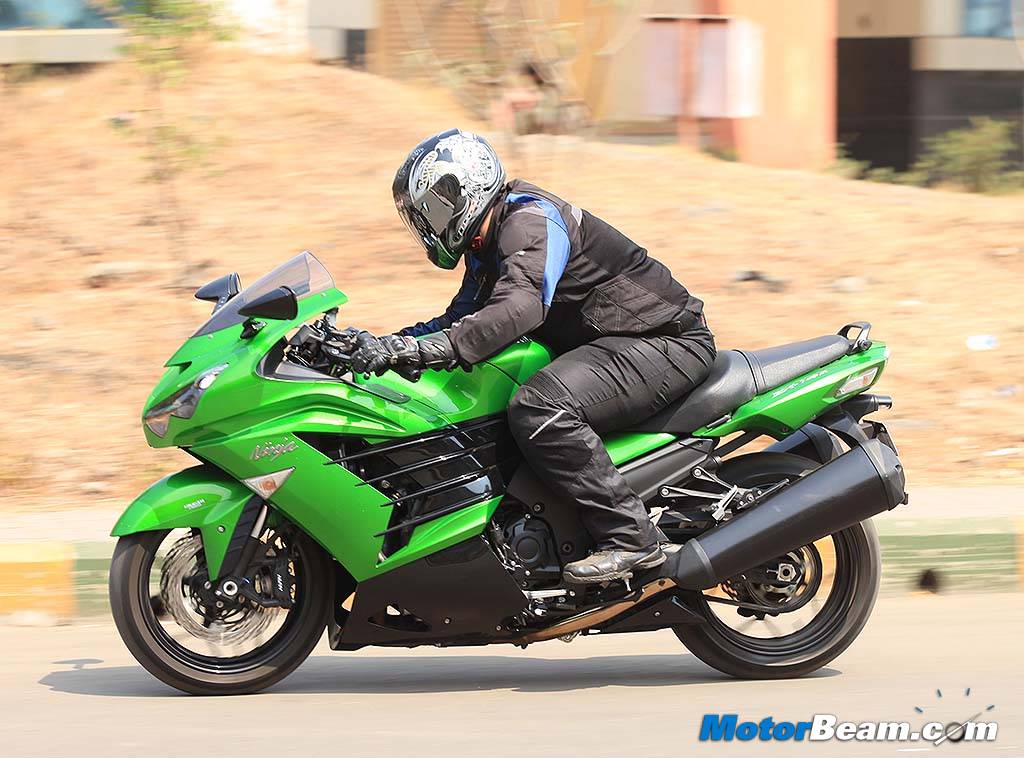 Performance and Gearbox – Powering this motorcycle is a hatchback sized 1441cc engine, which is equipped with DOHC, in-line four layout with increased bore and stroke, better cooling which results in torque throughout the rev band. All of this is also supported by precise fuelling and a short geared 6-speed transmission which the 2012 model received in the last update. Combine everything and the Kawasaki Ninja ZX-14R ends up producing 197 BHP of power at a very low 10,000 RPM (for a hyper bike) and 162 Nm of torque at a ridiculously low 7500 RPM. The engine starts with a low decibel mechanical clunk. Start releasing the clutch and the bike starts moving which shows how insanely tractable the engine is all the way from 1000 RPM to 11,000 RPM. Get out of town area to find out a clear stretch of road and you realise that it feels relatively calm in the city too. The heat from the engine is surely more than the ZX-10R but yet again not intrusive or something that will bother you all the time. Acceleration is the party piece of this motorcycle and it is not far away for winning an award for it either.
The way this motorcycle accelerates from 0 to 200 km/hr cannot be explained in words. The Ninja ZX-14R goes the way it looks, that is, INSANELY! It feels like you are football and Lord Almighty has come down to earth to kick you from behind and you are left awe struck, brutal is the way the ZX-14R picks up speed. When we mean 'picks up speed' we only mean speed. The suspension, engine and gearbox are running so smoothly and confidently that you barely are distracted by anything while looking forward with your eyes glued. You would not feel such speeds until and unless you decide to suicide by throwing yourself of the highest cliff in the world without a parachute (get the ZX-14R and save your life).
The responsibility of ferocious acceleration partly belongs to the intensely short gear ratios, which seems to be working good as new after the bike was given in the valley run. The gearbox is able to handle 162 Nm of torque without a hitch and while in the city, I was in third gear and opened the throttle and guess what happened? The spark was cut off as the traction control kicked in. There is so much torque in H power mode with lowest mode of traction that it will not let you accelerate at all. Best thing to do is keep the power on L mode and traction control on three (highest intervention mode) to enjoy riding in the city. When in full power mode, the Ninja ZX-14R will accelerate from 0-100 km/hr in 2.9 seconds, 0-200 km/hr in 7.6 seconds, 0-250 km/hr in 12.5 seconds and 0-280 km/hr in 18.5 seconds, so it does reach its top speed very quickly.
The top speed we managed to hit was a high 240 km/hr on our secret road when we had to deploy the anchors for a corner. The question in your mind is, "kitna deti hai?" Well, the Ninja ZX-14R did 240 kms in 12 litres of fuel, which equals to a perfect 20 km/l. Not bad after we followed proper test routine. Imagine you would cruise all day long at 160 km/hr, the numbers would rise by a considerable margin. Efficiency reminds us if the ZX-14R would have a 4-2-1 exhaust, it would be more lighter and much more easier to live with on a daily basis. Aftermarket exhaust will work wonders in every aspect for the ZX-14R.
Riding Dynamics – The Kawasaki Ninja ZX-14R with all the oomph is after all a road bike so you expect it to be super stiff and bone jarring and very uncomfortable. You would be wrong. This is a Kawasaki after all and it has its genes planted very well. Ride is extremely comfortable due to well setup suspension on both ends. It becomes slightly uncomfortable when the bike gets bigger bumps to deal with. When the suspension reaches the top most stroke, it's then you feel that you are being thrown off the seat, which yet again is very beautifully controlled. After all, 268 kgs of weight does do the duty. 268 kgs of weight on the fastest accelerating bike is shocking, isn't it. Well when you read the torque figures you would be like, ok it has compensated for it, but what about handling you may ask.
We are in awe too but we have to say that it does not feel like a boat. Suspension is well damped and centre of gravity is extremely low. The weight is concentrated on the rear for superior traction, which results in the front end feeling light. Turn-in is crisp but feels slow and cumbersome in slow speed corners due to the long wheelbase. The results of the well damped suspension is when it does not scare you or makes you shout the moment you put the anchors. That is right, the brakes are intensely powerful and there is no fork dive even when you squeeze the front brake at 240 km/hr. This feat is truly something, at least in our (MotorBeam's) book. The rear brake, like the ZX-10R, does not have initial bite but that is fine when you have excellently sorted traction control to deal with those massive tyre and wheel. There is no doubt the Ninja ZX-14R feels at home while taking sweepers at 160-180 km/hr. This is all possible because of the fabulous aluminium monocoque chassis, which is the star of the package.
Verdict – The Kawasaki Ninja ZX-14R plays multiple roles very well. It's a proven winner on drag strips, it's a comfortable mile muncher, it is the acceleration that will leave you spell bound every single time you open the throttle and the Ninja ZX-14R will fulfil your daily duties if you want to do so with it. Attractive pricing and in your face styling is win-win situation for most people out there. Practicality from this huge machine is always unexpected and it excels at so many things that it's hard to believe, but why not believe? We breathe in the 21st century and it's our duty to demand such motorcycles that should fulfil our every wish. If you ask for the same, have a passion for motorcycles and have green notes to buy, then don't consider anything else, just buy this green monster and prepare yourself to get 'quickly' addicted to the fastest accelerating motorcycle in the world, better known as the Kawasaki Ninja ZX-14R.
The Kawasaki Ninja ZX-14R is surprisingly dynamically rich for a 268 kg bike. Those who want an all-rounder which is comfortable and a practical sports tourer, the Ninja ZX-14R is the motorcycle which really does it all.
What's Cool
* Maddeningly quick acceleration
* Ride and handling balance
* Butter smooth gearbox and engine
* Comfortable and docile nature
What's Not So Cool
* No aural bliss from a hatchback sized engine in a motorcycle
* Currently only two dealership pan India
2013 Kawasaki Ninja ZX-14R Specifications
* Engine: 1441cc, liquid-cooled, in-line four, 16-valve, DOHC
* Power: 197 HP @ 10,000 RPM
* Torque: 162 Nm @ 7500 RPM
* Transmission: 6-speed
* 0 – 100 km/hr: 2.9 seconds
* Top Speed: 299 km/hr (Limited)
* Fuel Consumption: 16-24 km/l
* Fuel Type: Petrol
* Frame: Aluminium Monocoque
* Suspension: 43 mm upside down forks (Front), Bottom-link, gas-charged monoshock (Rear)
* Tyres: 120/70/17 (Front), 190/50/17 (Rear)
* Brakes: 310 mm disc (Front), 250 mm disc (Rear), ABS
2013 Kawasaki Ninja ZX-14R Dimensions
* Length x Width x Height: 2170 mm x 770 mm x 1170 mm
* Wheelbase: 1480 mm
* Ground Clearance: 125 mm
* Seat Height: 800 mm
* Fuel Tank Capacity: 22-litres
* Kerb weight: 268 kgs
Pictures – Subramanya Kotian