Mercedes-Benz Unveils All New W222 S-Class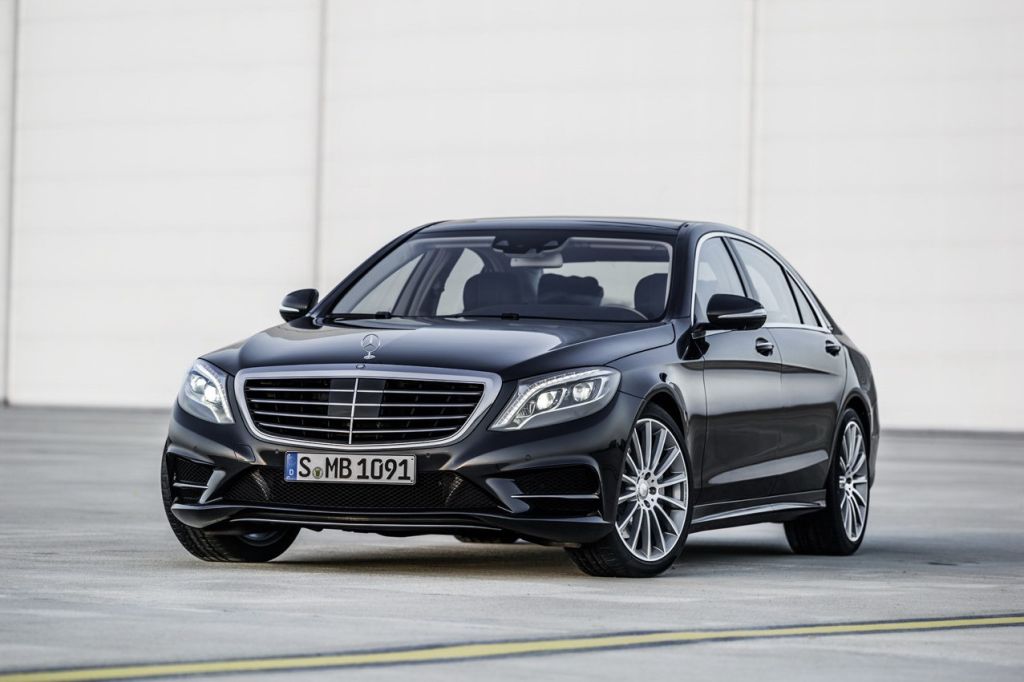 Mercedes-Benz has unveiled the all new W222 S-Class in Germany today. This flagship Mercedes-Benz sedan is known for being the best car in the world. The word S-Class in German means 'Sonderklasse', which translates to special class and the latest generation model further ups the ante in the luxury segment. The original model dates back to 1954 and it was only in 1972 when Mercedes-Benz adapted the S-Class name. The W221 S-Class was unveiled in 2005 and its predessor, the W222 has come 8 years later. So what all has changed?
[flickr size="center" float="medium"]http://www.flickr.com/photos/motorbeam/8740773321/[/flickr]
The styling of the new S-Class gets inspired from the CLA and has a hint of sportyness to it. While the exterior styling makes the new S-Class look smaller than its predessor (at least in the pictures), it is actually bigger on almost all fronts. With a length of 5116 mm, width of 1899 mm, height of 1496 mm and wheelbase of 3035 mm, the new S-Class is 20 mm longer, 28 mm wider and 25 mm lower than the outgoing model. We will be getting the long wheelbase version (V222) in India, which has a length of 5246 mm and a wheelbase of 3165 mm. The headlights have 56 LEDs, the tail lights have 35 LEDs (which dim automatically after some time to be soft on other road users) and 4 LEDs for the rear fog lamp.
[flickr size="center" float="medium"]http://www.flickr.com/photos/motorbeam/8740763015/[/flickr]
The interiors of the new S-Class have taken a huge leap. The old S-Class had fantastic interiors and the new one just takes things to an entirely different level. Mercedes designers has very successfully given the S-Class's dashboard a retro flair while keeping things modern. A 12.3-inch infotainment screen sits in the centre, while the instrument cluster is all digital as well. The steering wheel is a 2-spoke unit and there are loads of luxury functions inside the cabin.
[flickr size="center" float="medium"]http://www.flickr.com/photos/motorbeam/8741876348/[/flickr]
The "Intelligent Drive" safety systems include Active Lane Keeping Assist, Active Parking Assist, Distronic Plus with Steering Assist, Brake Assist Plus with Cross-Traffic Assist, Pre-Safe Brake with pedestrian recognition, Night View Assist Plus et all. Then there is Adaptive Highbeam Assist Plus, Magic Vision Control (cleans windshield without distrupting driver's field of vision), highly sophisticated voice control, etc. There is more inside the S-Klasse, in fact the press release itself is a zillion pages long!
[flickr size="center" float="medium"]http://www.flickr.com/photos/motorbeam/8744143013/[/flickr]
The all new Mercedes S-Class gets air filtering and active perfuming (with a choice of 5 fragrances and is inspired from the Maybach Zeppelin) in its climate control system. The Warmth and Comfort package offers heated function for the steering wheel, armrests, seats (with active ventilation). There is a touch sensitive telephone keypad, rear climate control with two zones, access to infortainment media for all passengers, 300 LEDs inside the cabin with 5 dimming levels and 4 dimming zones (the new S-Class doesn't have a single light bulb), 45 degree reclining rear seat with full centre console control (optional), Magic Body Control which scans the road using stereo cameras and adjusts the suspension in advance, massaging seats with 6 programs and 14 cushions. It also gets Burmester 3D surround sound system with 24 high performance speakers and 24 seperate amplifier channels, belting out a total of 1540 watts.
[flickr size="center" float="medium"]http://www.flickr.com/photos/motorbeam/8741890302/[/flickr]
The W222 Mercedes S-Class will be outfit with three engines (all Euro 6 compliant), all mated to a 7-speed automatic gearbox. They are the following –
– S350, 3.0-litre V6 BlueTEC diesel, 255 BHP, 0-100 km/hr in 6.8 seconds
– S400, 3.5-litre V6 petrol hybrid, 302 BHP, 0-100 km/hr in 6.8 seconds
– S500, 4.7-litre V8 petrol, 449 BHP, 0-100 km/hr in 4.8 seconds
[flickr size="center" float="medium"]http://www.flickr.com/photos/motorbeam/8740765401/[/flickr]
The 2014 Mercedes S-Class will go on sale in Europe later this year with a US launch taking place in the last quarter of 2013. The new S-Class will be offered in S550 and S550 4Matic versions in the States, with the S63 AMG joining in sometime in 2014. Indians will only get to drive the S-Class early next year, which will be assembled via the SKD route. Expect prices to start upwards of Rs. 1.2 crores. Mercedes-Benz has sold 35 lakh units of the S-Class worldwide till date and the new model should continue the strong run of what the German automobile giant likes to call "the best automobile in the world."
[flickr size="center" float="medium"]http://www.flickr.com/photos/motorbeam/8740774709/[/flickr]