2017 Yamaha Fazer 25 Test Ride Review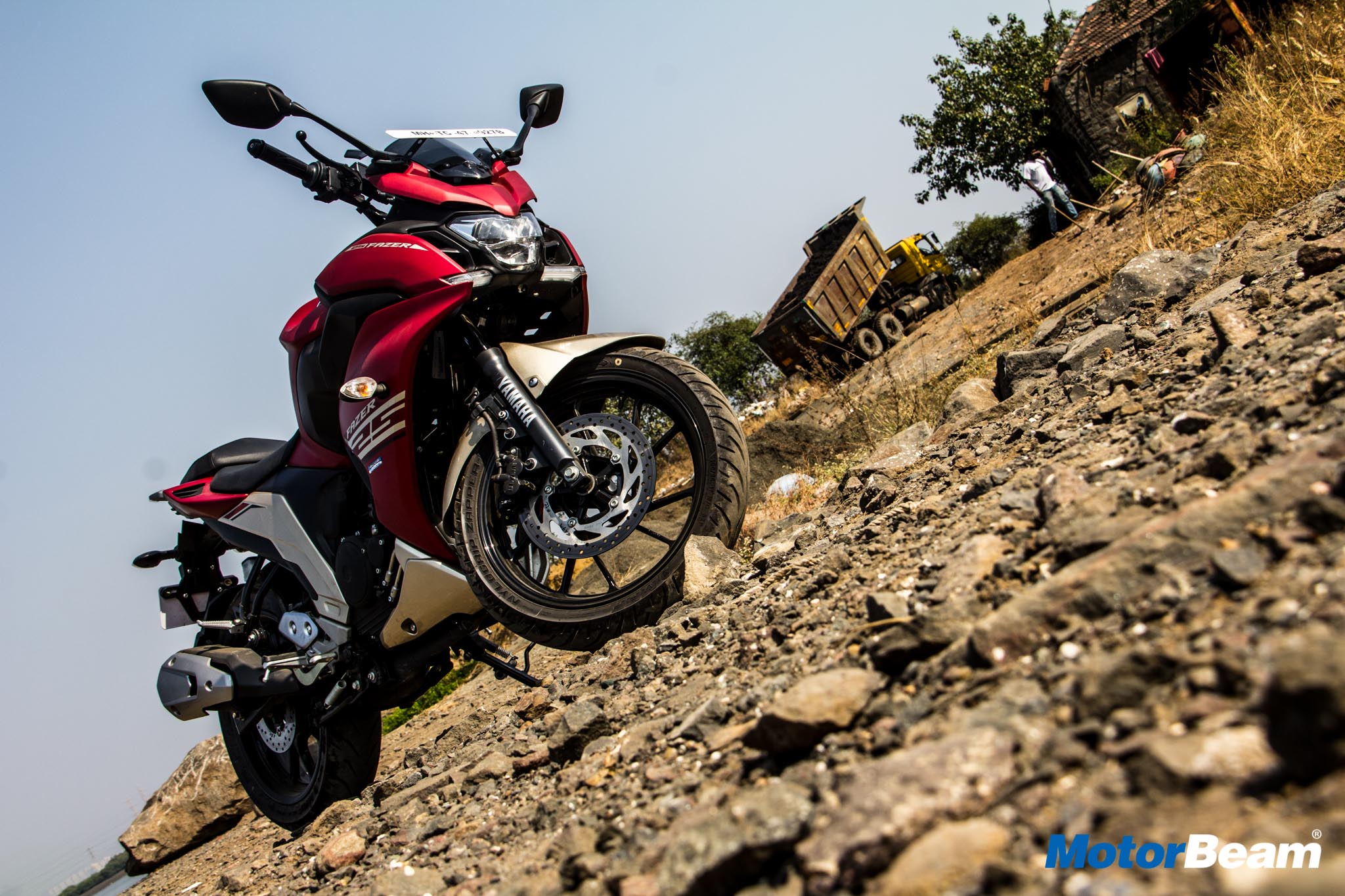 Yamaha Fazer 25 Review
Bike Tested: Yamaha Fazer 25; Road Test No. 895; Test Location: Navi Mumbai
Price OTR Mumbai: Rs. 1,47,202/-
The Yamaha Fazer 25 makes little sense as the FZ25 is just better in almost every way
It's been a long time coming for Yamaha to launch a quarter-litre machine. With the R3 gone, a void needed filling and to fill that, they gave us the FZ25 – a wonderful street-fighter motorcycle. A very capable motorcycle but didn't quite solve the purpose of a quarter-litre machine due to the high price. To further add to the mix, Yamaha didn't waste time and got the Fazer 25 to make its debut as the sports tourer we've all been waiting for, but is it really?
Motor Quest: The Yamaha Fazer 25 is a full-faired sport touring version of the FZ25, both being mechanically the same. It is currently Yamaha's only full-faired offering under Rs. 10 lakhs in India.
Styling – Right off the back I can tell you, the overall design of this machine is not ordinary. Good or bad? I'll leave that for you to decide but personally, I don't quite like it. The LED headlight is the same unit found on the FZ25 but this one has two additional LED strips that supposedly help make it more visible to oncoming traffic. That being said, I see it more as a missed opportunity on having integrated turn indicators. Look at the front for a while and you will notice how the rest of the design has been built around its headlamp and ending immediately once you reach the tank, beyond which it's an FZ25 again.
The design of the Fazer 25 could have been executed much much better
The Yamaha Fazer 150, that is still currently on sale isn't exactly much of a looker and doesn't deliver that tourer feel, especially with its semi-fared body. This being a full-faired machine, the Fazer 25 still can't deliver as the design looks a little too busy to look good, kind of like a Bajaj Pulsar RS 200. The paint scheme doesn't exactly do justice to it either. I'm guessing they took inspiration from Iron Man's choice of colours which does manage to get your attention. I feel the Soulful Cyan colour looks much better than this Rhythmic Red but then again, that's my personal opinion. Apart from of all of this, the Fazer looks rather purposeful and ready to tour. More on that later.
Instrument Cluster and Switchgear – The instrument cluster is the exact same one found on the FZ25 and has no changes to it. It feels a little narrow to use with the tachometer wedged up against the top of the screen. It does get a few basics and some more information but here is the catch, you can never access that information side by side like you can on something like the KTM Duke 200. The bike only comes with one slot to display your odometer, twin trip meters, real-time mileage, average fuel efficiency and a clock but neither of this can be viewed at the same time. You would constantly find yourself pressing that tiny hard button trying to toggle through the information to go between your clock and efficiency figures and let's not forget, the lack of a gear position indicator which doesn't sound very tourer like or even a shift light for that matter. The switchgear feels decent to use and again is the same as its naked counterpart.
Ergonomics – The seating posture is quite upright and comfortable and there is decent legroom. The mirrors which otherwise provide decent visibility find themselves compromised if you're revving too high or wearing a riding jacket. Which again, isn't very tourer like but Yamaha to add to the tourer nature has given it a dual horn which may or may not be on your list of priorities at this point. The pillion comfort is good with the seat being wide and well cushioned. I was quite surprised to not find any bungee hooks for saddlebags on this motorcycle as it is positioned as a sports tourer. As for the FZ25, the ergonomics were bang-on for an upright seated tourer and it's the same for the Fazer 25.