2019 Mercedes A-Class Sedan Unveiled, India Bound?
The Mercedes A-Class Sedan is placed below the CLA and hence is slightly smaller in dimensions.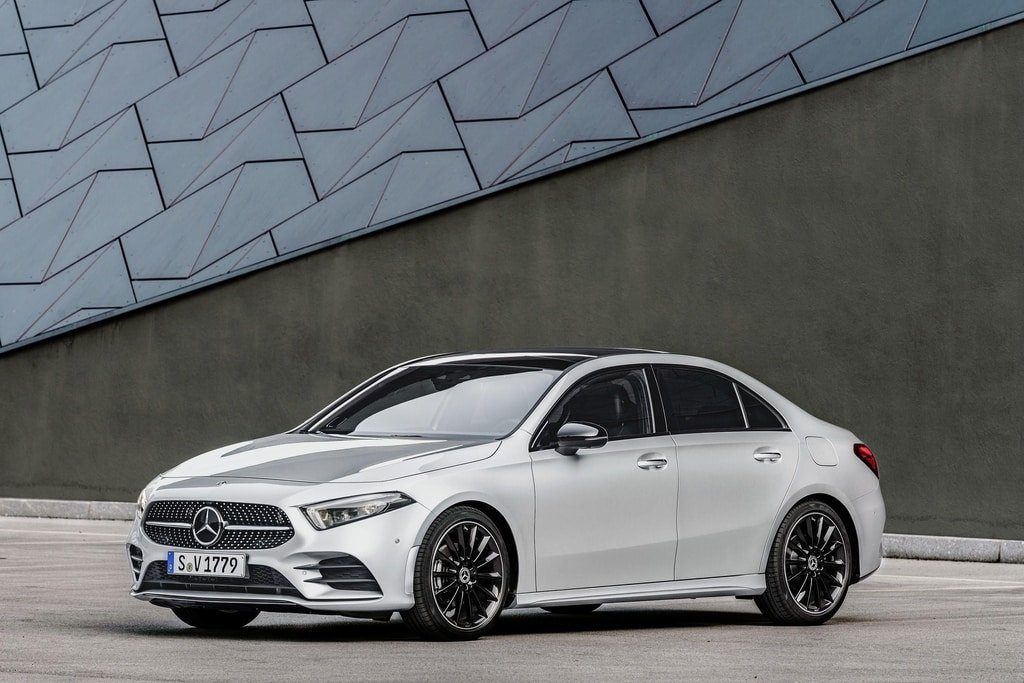 Mercedes almost never stops updating their models and launching new ones. Their A-Class model never made it to America but did make it to India. So, they have decided to launch the new A-Class sedan in the United States which also makes it the cheapest Mercedes model there.
The 2019 Mercedes A-Class sedan is basically a European-spec A-Class hatchback with a boot. There are the new LED triangular headlights that are expected to be picked up by new Mercedes models too. The rear with its LED tail lights looks very in-line with the overall dimensions of the car.
Like the outside, the car feels premium on the inside too. It gets an all black or beige option on the inside with a 7-inch instrument cluster and a 7-inch infotainment system placed horizontally on the dashboard. They can even be mistaken to be a single piece of screen when they are off. You can even opt for 10-inch screens which will spread across almost half of your dashboard. The infotainment system also gets the latest MBUX system. It features natural language voice processing that is activated by saying "Hey Mercedes" and is likely to work much better than the old COMMAND system.
The 2019 Mercedes A-Class sedan also gets advanced features like augmented reality that puts navigation directions 'onto' the road using a front-facing camera. It also works with vehicle-to-x (V2X) communications, alerting the driver if someone ahead slams on the brakes for some reason. Other important safety technology is the automatic emergency braking with pedestrian and cyclist detection. It comes as an option and a fully equipped A-Class will be able to keep itself in its own lane between 60 km/hr and 200 km/hr, in addition to safely changing lanes and maintaining its space in traffic.
People have come to expect dual-zone climate control, key-less start, multiple vehicle modes, panoramic roof, Apple CarPlay and Android Auto support and the sedan surely doesn't disappoint. There are even more features that can be added as options. These include 64-color ambient lighting, key-less entry, heated and ventilated seats, a head-up display, adaptive dampers, wireless phone charging, a Burmester premium audio system and massaging seats.
The 2019 Mercedes A-Class Sedan comes in only a 2.0-liter petrol engine that puts out 188 horsepower and 300 Nm of torque. It is mated to a 7-speed dual-clutch gearbox giving the car an electronically limited top speed of 210 km/hr. One interesting thing is that the car comes in two trim options. One gets an all-wheel drive and the other gets a front-wheel drive. Rest all is the same.
Mercedes has been following an aggressive launch strategy in India and the company doesn't shy away from launching its cars here. India might be a budget conscious country but it doesn't back away from shelling out for a good product which is exactly what the Mercedes A-Class sedan is looking like. If the car does get here, it just might be the new entry-level premium sedan leader and a new favourite for people wanting the German Badge at an affordable price.
For those of you in the USA, the car will go on sale in the latter part of 2018. This clearly means 2019 will be the year of the launch of the A-Class sedan if Mercedes does plan to get it here.
2019 Mercedes A-Class Sedan
– The Sedan is based on the Mercedes A-Class hatchback
– Comes with a ton of media and safety features
– The car will be first launched in the USA and the India launch will be most likely in 2019